Zack Snyder suggests the Superman reboot could have the Man of Steel meet his match. Just who is Joseph Gordon-Levitt playing in The Dark Knight Rises? Plus director David Slade talks the Daredevil reboot and The Wolverine!
Spoilers from here on out!
Top image from Sucker Punch.
The Dark Knight Rises
There's a reason I'm still not considering the casting of Joseph Gordon-Levitt confirmed just yet, as major media news organizations Variety and Entertainment Weekly are flatly contradicting each other over how Gordon-Levitt fits into the movie. Variety broke the story that he is playing Alberto Falcone, while Entertainment Weekly says that's incorrect, although he has been cast as some other character. Anyway, this is going to shake itself out eventually, and the smart money still probably says that Gordon-Levitt will be eventually cast as something, but we're remaining unconvinced until we hear something straight from Christopher Nolan or Joseph Gordon-Levitt themselves. [EW]
---
Superman Reboot
Zack Snyder drops this rather interesting hint about the movie:
"There could be a character in the movie that other people might refer to as Superman."
G/O Media may get a commission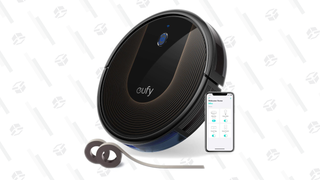 48% Off
Eufy BoostIQ RoboVac
This has already been interpreted as possibly meaning General Zod - who, despite Snyder's earlier denials, is still heavily rumored to be involved - or the deformed Superman clone Bizarro. Of course, it might just be referring to the duality inherent in the Superman/Clark Kent character, or something else entirely. Anyway, Snyder was far more definitive on one point - his version of Superman should "kick ass." [Cosmic Book News]
Snyder also says the world needs there to be a Superman movie - in particularly finding it ridiculous that a relatively minor character like Thor had a movie coming out and Superman, who Snyder calls "the father of all superheroes", didn't - but that he was reluctant to come on board until he heard the story, which he feels is "was the right way to do it." [HollywoodOutbreak]
---
Daredevil Reboot
Twilight's Robert Pattinson has denied even knowing about this newly announced reboot. Pattinson's name had been thrown about in part because of the connection to newly announced director David Slade, who worked with him on Eclipse. The other names that are currently rumored apparently include Tron Legacy's Garrett Hedlund and The Hangover's Bradley Cooper, who is rumored for pretty much every superhero role these days, including Wonder Woman. [Worst Previews]
David Slade issued a series of tweets explaining a little bit about his approach to the new film:
Forgot to look at the internet for a few weeks and its a litany of false (and not so far off) rumours. So without breaking confidentiality, yes Daredevil, we have a great outline for a very strong character driven take on Mr Matt Murdock. It will bare [sic] no relation to the previous Daredevil movie in any way. We are at early planning stages and have not yet discussed any cast.
[/Film]
---
The Wolverine
Slade also offered a few thoughts on another of Fox's superhero movies, which is now in some chaos after the departure of original director Darren Aronofsky. Slade, who was widely rumored to be the runner-up for the job, commented:
WOLVERINE, there have been no discussions about this project to date. Interesting to see what will happen with that as the again excellent script by Chris McQuarrie was set largely in Japan. So that's all the news that's fit to print.
[/Film]
---
Cloverfield 2
Director Matt Reeves offers this update on where the possible sequel stands:
"Well, you are going to see it - we just don't know when [laughs]. At the moment we are talking about the story quite a lot. Drew Goddard, who wrote the original, is going to pen the sequel and JJ Abrams is very much involved. However, the three of us have been so busy that getting the right idea together has been taking a long time."

But will the sequel shoot in real-time again?

"You see, that's a difficult part: we want it to be shot like the first but how can you continue that idea successfully for a second time? We have a lot of affection for the original and the sequel can't just be the same thing. But that is tricky when you need to have a monster destroying stuff once again."
---
The Hobbit
None of this should be too surprising for those familiar with J.R.R. Tolkien's book, but here's the official synopsis, which I assume is describing only the more Bilbo-centric of the two movies:
"The Hobbit" follows the journey of title character Bilbo Baggins, who is swept into an epic quest to reclaim the lost Dwarf Kingdom of Erebor, which was long ago conquered by the dragon Smaug. Approached out of the blue by the wizard Gandalf the Grey, Bilbo finds himself joining a company of thirteen dwarves led by the legendary warrior, Thorin Oakensheild. Their journey will take them into the Wild; through treacherous lands swarming with Goblins and Orcs, deadly Wargs and Giant Spiders, Shapeshifters and Sorcerers.Although their goal lies to the East and the wastelands of the Lonely Mountain first they must escape the goblin tunnels, where Bilbo meets the creature that will change his life forever … Gollum.

Here, alone with Gollum, on the shores of an underground lake, the unassuming Bilbo Baggins not only discovers depths of guile and courage that surprise even him, he also gains possession of Gollum's "precious" ring that holds unexpected and useful qualities … A simple, gold ring that is tied to the fate of all Middle-earth in ways Bilbo cannot begin to know.
---
Harry Potter and the Deathly Hallows: Part 2
Here's a behind-the-scenes featurette. [FirstShowing.net]
---
Magic Kingdom
Acclaimed novelist Michael Chabon is reportedly considered an offer to rewrite the script for Disney's upcoming Night in the Museum style feature set inside Disneyland where the projects come to life. Considering Iron Man and Cowboys and Aliens's Jon Favreau is directing it and Battlestar Galactica's Ronald D. Moore wrote the original draft, this movie might just have the most ludicrously overqualified creative team ever assembled. [The Hollywood Reporter]
---
Hansel and Gretel: Witch Hunters
A few quick casting updates: Norwegian actress Ingrid Bolsø Berdal joins Famke Janssen as another one of the witches that Jeremy Renner and Gemma Arterton's title characters spend their time hunting down, while latest Jason Voorhees portrayer Derek Mears has reportedly been cast alongside Peter Stormare's corrupt sheriff as one of the movie's villains. It's Kind of a Funny Story actor Thomas Mann has also reportedly been cast in an as yet unspecified role. [Bloody Disgusting]
---
The Seventh Son
Julianne Moore has reportedly joined the movie in which Jeff Bridges plays an aging exorcist training a young apprentice to follow in his footsteps. She reportedly plays the powerful witch known as Mother Malkin. Jennifer Lawrence and Alex Pettyfer were both originally linked to the younger characters, but they have since dropped out. [Bloody Disgusting]
---
Doctor Who
We've got a bunch of minor casting updates. Actor Ikay Agu tweeted he has been filming on the show since March 3, which is when Gareth Roberts's episode twelve began filming. He previously appeared as an extra in Steven Moffat's opening two-parter, and he tweeted a photo of himself in a military uniform that featured the same US Air Force logo that was spotted during the filming of the mid-series cliffhanger episode seven. Frankly, this seems difficult to fit together neatly without more information, but it's all intriguing enough. Meanwhile, Matthew Donan, who has played a Cyberman in various Doctor Who capacities, is reportedly playing different monsters in Matthew Graham's two-parter "The Rebel Flesh"/"Gangers" and episode 12. Meanwhile, also for episode 12, Seroca Davies and Holli Dempsey are playing the roles of Shona and Kelly respectively, and unnamed twin babies are playing the child James Corden is seen carrying around in the episode, which is reportedly called Alfie. And, in Toby Whithouse's eleventh episode "The God Complex", Amara Karen is reportedly playing a character named Rita. [Doctor Who Spoilers]
---
Fringe
Showrunner Joel Wyman flat-out denied the most recent rumors of the show's cancellation. [SpoilerTV]
---
True Blood
Here's a short season four promo focusing on Jason Stackhouse.
---
Game of Thrones
Episode three will be titled "Lord Snow." [SpoilerTV]
---
Wonder Woman
Pilot writer and potential shower runner David E. Kelley explains why he took on the show, which is rather outside his usual oeuvre of sassy lawyers, in the process explaining his take on Wonder Woman:
Well I first said no, for all the obvious reasons. It's not really what I do; it's not a genre that's in my wheelhouse. But then I started thinking about, What if there were such a person in today's world and what must it be like to be her? And I was imagining the sense of social isolation that she must feel, that she indeed would probably be a rather complicated beast. When I started thinking about all the complications and potential layers to this superhero, I just got more and more intrigued. It was also something I was a little bit afraid of. That's good, too. Any writer should get out of his or her comfort zone, and this was way outside of mine.
[Vulture]
---
No Ordinary Family
Here's a more detailed synopsis for the season finale, "No Ordinary Beginning":
The Powells must join together to save JJ, who's been kidnapped, courtesy of Mrs. X (Lucy Lawless) and forced to solve an enigma that could lead to the permanence of the trilsettum's effects. Meanwhile, Joshua reconnects with Katie and discovers that he's about to become a father, and George's fate hangs in the balance as a prisoner aboard a plane that's quickly spiraling out of control and about to crash.
I believe that a major character death is being rumored for the finale, so I guess George is now the odds-on favorite for that, huh? Although I suspect this show has at least one last vaguely shocking but ultimately predictable twist in store for us... [SpoilerTV]
---
Supernatural
Here are some set photos from episode 17, "My Heart Will Go On." [multipleverses.net]
A person who claims to have knowledge of CW's dealings says the series has been "unofficially officially" renewed. This is about as shaky and hearsay-stuffed as it gets, but still...the basic story is probably true. Just don't take this as anything vaguely resembling confirmation. [SpoilerTV]
---
Additional reporting by Gordon Jackson and Charlie Jane Anders.