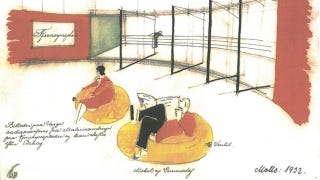 The Danish audiophiles at AIAIAI have what they say are the first ever sketches of a flatscreen TV—from 80 years ago. Beyond an amazing artifact, the drawing raises questions for today: can you really patent a shape?
Don't press us on the sordid details, but we happen to be in the interesting and privileged position of sitting on documents that contain Arne Jacobsen drawings called 'House of the Future'. Produced in 1932, a few years after the original House of the Future was designed, these documents display comprehensive drawings of what we're quite certain has to be the world's first flat screen TV.
As you can tell from the amazing, 78-year-old design sketch by the distinguished design duo, Arne Jacobsen and Flemming Lassen, the flat screen TV is actually an idea that's been out there for quite a while. If you examine the left of the sketch, you'll see a square shape that the designers call 'fjernsynsplade'. The direct translation of this is 'television plate', and it undoubtedly bears a remarkable resemblance to the electronic device that's come to be the focal point of so many modern-day households. The figures are lounging around on what appears to be some sort of beanbag chair and they're watching a bit of television plate, as it were. There's even a hint of cyber-technology in the text that says:' Pictures on walls are transmitted via radio from painting collections to the television plate and can be changed according to preference.' Holy William Gibson. And did we mention that this fictitious setting is, in fact, conceived in 1932? Once again, we're alerted to the undisputable fact that old man Jacobsen is indeed the man. Sadly, we can't claim exclusivity to this story as Louisiana Magazine already published the sketches in 2003. But that doesn't mean we can't claim internet exclusivity, however fleeting and immaterial that may sound. Consider it claimed.
So there you have it; the ubiquitous thin screen that most of us still consider quite modern is, in fact, an age-old invention. Or at the very least an age-old idea. Quite clearly, the design was fully actualised. What they didn't have was the technology (microchips and so on) that could store large amounts of information and facilitate complex technological processes within a small space (i.e a television).
War of the Pads
In the wake of the recent debate about the aesthetic origins of the iPad, this interwar period flat screen design we dare say is not an insignificant find. The increasingly heated case of Apple vs. Samsung has seen Apple sue Samsung for copying the iPad and there's currently an ongoing war over who has the rights to what and, more importantly, who's been copying what. Interestingly, Samsung defended itself in August stating the following: