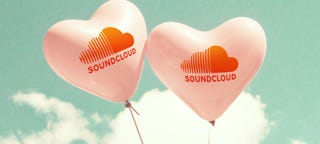 Some of the best ideas are also the simplest. And there are few things more simple than SoundCloud, which in its seven year existence has sneakily become one of the best things online. How'd it get there? Slowly, surely, and with a cadre of artists as diverse as the internet itself.
SoundCloud is to music in 2014 what MySpace was to bands in 2004. Except, you know, without all the blingee bullshit. You can upload all the sounds you want, follow people to listen to the sounds they're posting, and save or repost them. It's music interaction and discovery distilled to its purest form, home to just as many famous artists as ones that will be soon. It's as close to indispensable as you get on the internet today.
That's why it was so troubling when rumors began to circulate that Twitter was thinking about buying SoundCloud. Fortunately those purported talks were suspended, because SoundCloud is by and large one of the rare pure and good things on the internet that the world, in an artistic sense, would be worse off without.