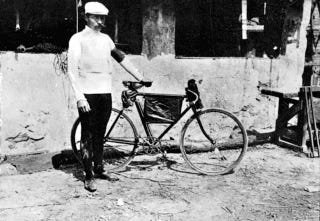 It's July, so it's hot as crap outside. In most parts of the country, it's so balmy you're sitting inside in your underwear with the freezer open trying to stay cool. But for a different kind of reprieve, here are some of the best design posts we found this week.
---
There are simple things we often take for granted, like the fact that we can flippantly glance at a clock to tell the time. But people who can't see don't have that autonomy, which is why designer Hyungsoo Kim of Eone Timepieces has created the Bradley, a watch that lets blind people feel the time.
---
How often do you really use that dining table in your apartment? Most meals are probably consumed in front of the TV, or at a restaurant. And sure, it's handy for the occasional dinner party or tax audit, but the rest of the time it's just wasting space. So reclaim a good 40 square of your pad with this incredibly…
---
Every sofa doubles as a black hole that sucks and traps the pocket contents of all who dare sit on it. But when the TV remote goes missing in a room accented with this lovely Tri-Folds sofa by Camille Paillard, the odds are pretty good that it's just hiding inside one of its folded pockets.
---
Shoe companies have been mass-producing sneakers since the Converse All Star first appeared all the way back in 1917, and their designs have changed immensely since. But how did we get from no-frills kicks to Jeremy Scott's garish winged monstrosities? A print from PopChartLabs shows the evolution over almost a…
---
Another day, another gleaming Silicon Valley headquarters. Today, it's Samsung, which broke ground on this dazzling 650,00-square-foot office in San Jose this morning. How does it stack up, so to speak, with its nearby peers?
---
There are few professional sports as closely bound to technology as cycling. A bike isn't just equipment, as skiis or a tennis racket might be—it's a partner in a symbiotic relationship between the machine and athlete. And it's remarkable to see how drastically certain parts of that machine have changed in the last…
---
Just over a year ago we brought you Anna Farkas' 2500 Watt astronomical lampshade, which projects constellations on the ceiling whenever the light is turned on. At the time, it was just a one-off concept—but as we had hoped, the stars have aligned: Today, the lamps are finally available for sale under the new name …