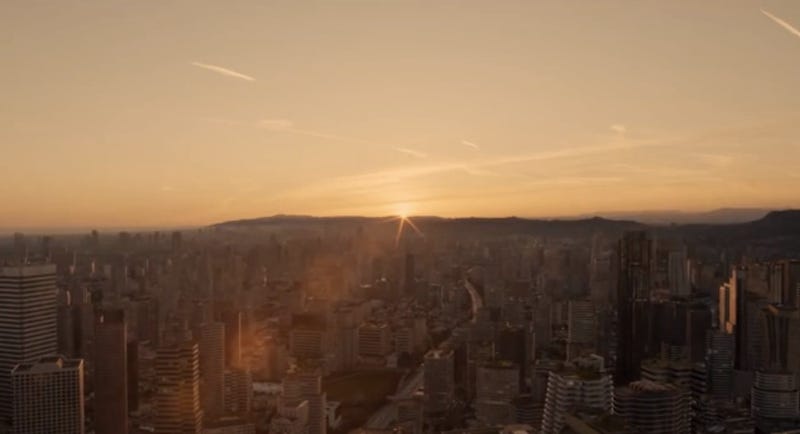 Early in Spike Jonze's film Her, Joaquin Phoenix's character gazes out his Los Angeles window. As the camera pans, we see not a squat, sprawling metropolis, but a golden-lit landscape of skyscrapers stretching all the way to the horizon. When I saw the film, this scene made me gasp.
It wasn't just the shock of seeing L.A. rendered as a vertical city. It was because this L.A. of the future looked like a place where I wanted to live.
This digitally enhanced, metastasized Los Angeles—an L.A. that grew up instead of out—is almost a secondary character in the film. Jonze tapped graphic designer Geoff McFetridge and production designer K.K. Barrett, and also consulted with architect Elizabeth Diller on the look of L.A.'s future, which—for once—was blissfully free of those dystopian stereotypes. Even against the bleak narrative (no spoilers, don't worry!) the city around the characters is bustling, colorful, vibrant. It's a gorgeous world of tall buildings, mass transit, and busy sidewalks.
Dare I say, this movie made density beautiful.
In real life, density remains the villain: the elephant that still looms in our dramatically urbanizing cities. It is invariably what citizens battle against, as they resist development and toss around terms like "soulless towers" and "Manhattanization." In extreme cases, people claim that a single skyscraper can "murder" an entire city. Density is a bad word.
Future cities in Metropolis, The Fifth Element and Blade Runner
Movies haven't helped, by the way. Future cities are either sterile, anodyne spaceships, or grimy, post-apocalyptic wastelands, invariably filled with flying cars. And all that spandex!
Beautiful density is, of course, a reality for many cities; some of Her's most dramatic shots were filmed on the skyways and skyscrapers of Shanghai. But here in L.A.—like many cities that aren't Shanghai, or Tokyo, or New York—many people are doing everything in their power to suppress this future, citing detrimental side effects from building heights, whether it's shadows or earthquake danger. Even some already dense cities make it impossible to secure air rights, pass ridiculous parking restrictions, and work hard to incentivize low-rise development.