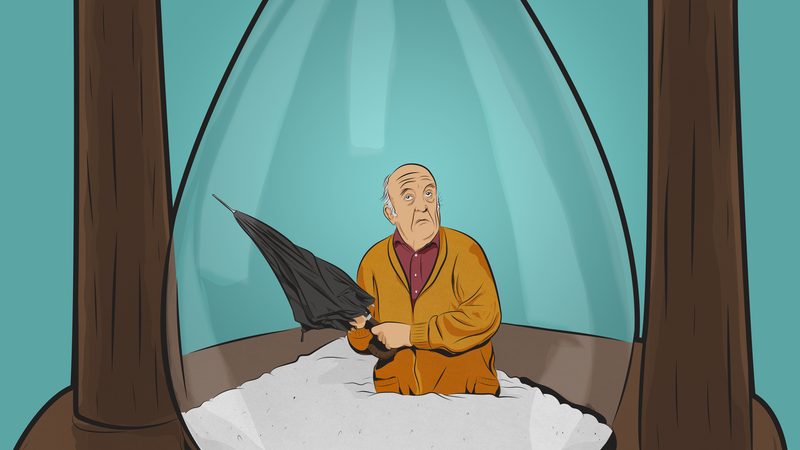 The oldest human to have ever lived died at the age of 122—and that was nearly 20 years ago. A recent analysis of global demographic data suggests this may very well be the maximum age attainable by humans, and that it's extremely unlikely anyone will ever live much beyond this advanced age. That is, unless we science the shit out of this problem. 

In a new study published in Nature, molecular geneticist Jan Vijg and his team from the Albert Einstein College of Medicine in the Bronx make the case that human lifespan has a natural limit, and that we'll probably never exceed this maximum bound. It's a surprising conclusion given the tremendous medical achievements we've made in the past 100 years, and the steady rise in life expectancy. But as this study points out, the benefits wrought by these interventions, and all the things we do to stay vibrant and healthy, only go so far. Our bodies, no matter what we do, eventually become worn out and expire.
No one has lived longer than Jeanne Calment, who died in 1997 at the age of 122 years and 164 days. Given the increasing number of people breaching the 100 year barrier, and considering the steady increases in life expectancy, scientists thought that her longevity record would be broken relatively quickly. This simply hasn't happened. There's a big difference, it would appear, between life expectancy—the average time a person is expected to live within a certain population—and lifespan, which describes the maximum age reached by a member of a particular species.
Vijg and his colleagues took a look at the Human Mortality Database, a publicly available research tool that provides global mortality and population statistics to researchers, students, and others interested in human longevity. The researchers discovered that jumps in survival rates reached a plateau around 1980. A follow-up analysis of data from the International Database on Longevity, which included demographic statistics from developed nations like the US, UK, France, and Japan, showed that the longest lived people haven't been getting any older since the time of Calment's death in 1997. Taken together, the researchers say this reveals a natural limit to longevity.
Models developed by the researchers show that the odds of anyone living much beyond this limit is slim. "Assuming there are 10,000 worlds like ours, then one individual will reach 125 years of age in a given year," Vijg explained to Gizmodo. "The chance is 1 in 10,000, so it's extremely remote."

Sociologist and gerontologist S. Jay Olshansky from the University of Chicago agrees with these findings, saying many people are under the false belief that we can forever manufacture more survival time through medical technology.
"These researchers suggest that we will get diminishing returns from these efforts because we're butting up against a limit," Olshansky told Gizmodo. "Having said that, it doesn't mean that further progress isn't possible. To the contrary, there is still plenty of low hanging fruit available to extend life—this comes from reducing harmful behavioral risk factors such as smoking and obesity, and reducing disparities." He cautions, however, that even these interventions won't yield large gains in life expectancy.
Olshansky isn't surprised by these findings, saying it's something he and his colleagues predicted way back in 1990. But he does take issue with the concept of a "natural limit" to human lifespan. Vijg and his colleagues say this apparent limit is a fixed genetic trait that evolved under the direct force of natural selection, and that limited lifespans may be an evolutionary adaptation.