Hollywood loves remakes. After all, old movies have instant name recognition, and material that's already been proved to work on the screen before. When remaking a book adaptation, you can draw on the previous movie as well as the source material. Of course, remakes are hit and miss — as witness the trail of films like Day The Earth Stood Still and Invasion. But that's not going to stop them coming.
Here are 10 movie remakes and reboots that are in the pipeline right now, and some reasons why they might not actually suck.
Note: There are dozens and dozens of remakes in the pipeline at any one time, and most of them will probably stay there. For the purposes of this list, we're sticking to films that we already know are happening — or which there's been some recent news about. So, no Crow remake, or Frankenstein, or Flash Gordon, or Barbarella, or Fantastic Voyage, or Videodrome. Also, we already posted an early review of Dredd, which you can read here.
G/O Media may get a commission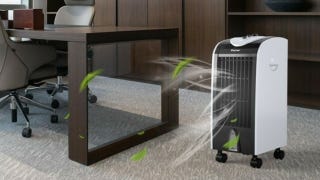 Save $10
Evaporative Portable Air Conditioner Cooler with Filter Knob
1. Carrie
Status: It's filming now. Chloë Grace Moretz (Kick-Ass) is playing Carrie. Kimberly Peirce (Boys Don't Cry) is directing. Julianne Moore is playing the mom.
Why it Might Not Suck: Well, look at the above list of talent. To be fair, we liked Peirce's Stop-Loss more than a lot of other people. But still, seeing Moretz and Moore go head to head sounds like it could be pretty amazing, and Peirce could let it grow pretty intense. Moretz has compared this reimagining of the original film (and Stephen King novel) to Darren Aronofsky's Black Swan. Image via ScreenCrush.
2. Starship Troopers
Status: A reboot from Sony Pictures and Fast and the Furious producer Neal Moritz is in the works. Writers Ashley Edward Miller and Zack Stentz, whose credits include Terminator: The Sarah Connor Chronicles, Thor and X-Men: First Class, are reportedly writing the script. As of a month ago, producer Toby Jaffe was still speaking about the new Troopers as a going concern.
Why it Might Not Suck: Mostly, we have a lot of faith that if anybody can find a fresh take on the Paul Verhoeven movie (and the original Robert A. Heinlein novel) it's Stentz and Miller, who deserve a lot of credit for laying the groundwork for Avengers with their take on Loki. Probably a lot depends on who directs, though.
3. Logan's Run
Status: This one is less certain — a year ago, director Nicolas Winding Refn and his Drive star Ryan Gosling seemed pretty intent on making a new version of the 1976 movie (and novel by William F. Nolan.) But since then, Refn and Gosling have been busy making the Bangkok-set Only God Forgives, and now Refn is reportedly planning on making I Walk With The Dead next. Still, it gets mentioned a lot lately as an upcoming project for Refn and Gosling. (Including here and here.)
Why it Might Not Suck: If you saw Drive, you know that Refn and Gosling are both talented creators who seem to bring out the best in each other. And when we talked to Refn last year, he had a lot of thoughts about a more serious take that updates this story for the 21st century, now that a lot of the predictions in the original have "come true." Cover images via Mubi.
4. Evil Dead
Status: This movie is either a remake or reboot, or maybe even a sequel, depending on which source you follow. In any case, filming has wrapped, and Bruce Campbell says he's seen a rough cut. Diablo Cody (among others) wrote the screenplay, and Fede Alvarez (Panic Attack!) directed. Instead of Ash, Jane Levy plays a new protagonist, called Mia.
Why it Might Not Suck: Bruce Campbell says he, Sam Raimi and Rob Tapert have all been heavily involved. And he calls the new movie "an incredibly solid, adult, shocking, cool horror movie," and says youngsters "have no idea what they're about to see." Raimi similarly promises it'll be "gut-wrenching." Set photo via NewsinFilm.com
5. Robocop
Status: Filming starts in September, according to star Joel Kinnaman. The cast includes Hugh Laurie, Samuel L. Jackson, Gary Oldman, and Jay Baruchel. José Padilha (Elite Squad) is directing.
Why it Might Not Suck: The cast is pretty excellent overall, and Padilha's Elite Squad movies are also acclaimed. And even though the film-makers are saying all the usual things about making a more "grounded" and "gritty" version of this film, the most interesting thing is Kinnaman's statement that the film will revolve heavily around the relationship between Alex Murphy/Robocop, and Oldman's character, the original inventor of the cyborg technology.
6. Fantastic Four
Status: Fox reportedly has the rights to this property and Fantastic Four, but needs to do something with them soon, or else the rights revert to Marvel. During Comic Con, Fox announced that Chronicle's Josh Trank was directing Fantastic Four. But rumor has it that Trank has another commitment at Warner Bros. that could prevent him taking on Fantastic Four. Meanwhile, rumor also has it that Fox needs to get Daredevil in production this fall to avoid losing the rights, and director David Slade recently had to bow out.
Why it Might Not Suck: If it's true that Fox is going to rush Daredevil into production without a script or director currently in place, there's not much reason for optimism. But meanwhile, if Trank does still wind up directing Fantastic Four, and he's able to bring some of the realistic, character-driven take on superpowers that he brought to Chronicle, then that could be something special.
7. Highlander
Status: Juan Carlos Fresnadillo (Intruders, 28 Weeks Later) is on board to direct, and there are persistent rumors that Ryan Reynolds will star — but so far no casting is officially confirmed. Also, there's no clue when filming might actually happen.
Why it Might Not Suck: Fresnadillo's Intruders didn't give us much cause for confidence. But Fresnadillo told io9 in an interview that he wants to make a less cheesy version of Highlander, which focuses on the "curse of immortality," including the loneliness of being unable to love anyone because everyone else dies.
8. Godzilla
Status: We saw a teaser trailer at Comic Con. Monsters director Gareth Edwards is attached to direct, and there's a script by Max Borenstein and David S. Goyer. No clue when filming actually starts, or what humans will appear in it.
Why it Might Not Suck: The teaser trailer was suitably destructive — the most noticeable thing, apart from the glimpses of Godzilla, was the completely trashed cityscape with buildings that looked like something had just crashed through them and torn into them. So far, we're off to a good start in the "urban carnage" department.
9. Short Circuit
Status: Steve Carr, director of Paul Blart: Mall Cop, was in line to direct, but has left the project, to be placd by Tim Hill (Hop, Alvin and the Chipmunks, Garfield: A Tale of Two Kitties, Muppets from Space.) As recently as April, Hill was still talking about the film as though it might happen soon.
Why it Might Not Suck: Hill is also a longtime writer on the Spongebob Squarepants show, and he says he's been studying up on robotics. He wants to make a version that's rooted in our world that's more dependent on robots — although this sounds like another "grittier, darker" remake. At the same time, he wants the Ally Sheedy character to be a teen or even preteen. So, you know, it could be interesting.
10. Man of Steel
Status: This film completed filming a couple weeks ago, and the first official trailers debuted with The Dark Knight Rises. (We saw more footage at Comic Con.) Zack Snyder (300, Watchmen) is directing, and Henry Cavill plays Kal-El.
Why it Might Not Suck: Cavill was great in The Tudors and a lot better than The Immortals deserved, and he seems to be bringing the same intensity to Superman. Writer David S. Goyer reportedly came up with a unique spin on the Last Son of Krypton which he worked out with producer Christopher Nolan. On the other hand, a lot depends on how well the more emo, lonely Superman goes over. Set photo via Beyond Hollywood.