Earlier this summer, Kali Hardig contracted parasitic meningitis, a rare infection caused by brain-eating amoebas. She was given less than a 1% chance to live. But not only did she overcome those tremendous odds — she's up and walking on her own and is set to start school next week.
The brain-eating amoeba, called Naegleria fowleri, has infected 128 people since 1962. Only two have survived, including Hardig. Earlier last month, another 12-year-old, Zachary Reyna of Florida, died from the parasite even after being given the same treatment as Kali.
The parasite, which features three feeding structures that take on the shape of a clown's face, is found in hot springs and warm fresh water, primarily in the southeastern United States. It enters into the nose and travels to the brain. Doctors think that Kali contracted Naegleria at Willow Springs Water Park in Little Rock. It cannot be contracted by drinking contaminated water.
CNN reports:
Soon after entering the Arkansas Children's Hospital earlier this summer, Kali was in critical condition; she was unresponsive and unable to breathe without the assistance of a breathing tube...

..."We decided that we were just going to tell (Kali) she was very sick, and she had to fight like Mom does because Mom has been battling cancer," Traci said. "And then we were going to ask everybody to pray for her."

Dr. Sanjiv Pasala, one of Kali's attending physicians, said doctors immediately started treating her with an anti-fungal medicine, antibiotics and a new experimental anti-amoeba drug doctors got directly from the CDC. They also reduced the girl's body temperature to 93 degrees. Doctors have used that technique in some brain injury cases to preserve undamaged brain tissue.

Two weeks ago, doctors checked the girl's cerebral spinal fluid and could not find any presence of the amoeba.
G/O Media may get a commission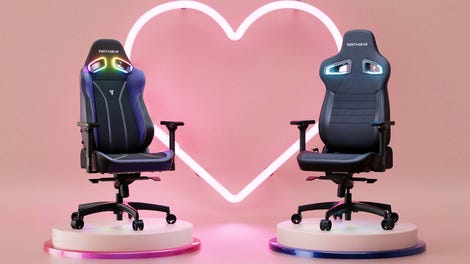 Up to $150 off
Vertagear Gaming Chairs
Pasala says that a key difference in Kali's case was that her mother got her to the hospital very quickly. Symptoms tend to appear about a week after infection, and includes headache, fever, nausea, vomiting and a stiff neck.
Yesterday (September 11), Kali left the hospital after a seven week stay. She can take a few steps on her own and is now in rehab. On Monday she'll head back to school part-time.
Images: Image by D.T. John & T.B. Cole, Visuals Unlimited, via NatGeo; Facebook/Prayers for Kali.