Stairs. They get us up. They get us down. And they're often so much more beautiful than nature ever intended them to be. Here are 13 reasons you may learn to appreciate the humble stair.
Winner: Rothman Library
Here's my stair shot. Its shot with a Canon EOS 70D at Rothman Library in Toronto.
- Megan Patricia Ross
---
Upside Down Subway
This is an image from one of my favorite subway stations in New York City, from the bottom of the stairway. As a native, we tend to pass by many places each day without really noticing things around us. Just need to look at things from a different perspective sometimes.
- Howie Chen
---
Condo Case
G/O Media may get a commission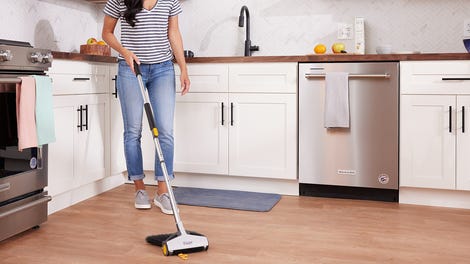 BOGO 50% Off
Flippr - BOGO 50% Off
This is the stair case at my friends condo in North Miami, Florida. I JUST shot this yesterday. I shot this with on a Canon 7D with a 24-70mm f/2.8L II USM. Camera Settings: ISO 100,f/13, 1/40 sec
- Jason Ramsay
---
Orchard Beach
This photo was taken at Orchard Beach State Park in Michigan. Lake Michigan is home to some of the best sunsets in the world, I was camping during this perfect night. These stairs take you down 100ft cliff to an untouched natural beach.
- Joshua Young
---
Chicago
A scale model from concrete that I've built, inspired by the Israeli Urban Warfare Facility named "Chicago" which is placed originally among Tzeelim Base in Southern Israel. Shot with 4x5 Camera on Fuji Provia 100F Slide Film with a Rodenstock 75mm Grandagon-N Lens. Natural morning sunlight.
I am an Israeli Artist who lives in New York. I make models according to photographs, this is one of them. Photographs allow me to enter spaces I wouldn't have had access to otherwise. Staircases truly fascinate me because they lead out of the image and I cannot reach where they are going to. This image was shot this week, I would have sent another one but it was shot about 5 months ago. Staircases in my models function as a key element for tension and creating the illusion of space.
- Yoav Friedlander
---
Vertigo
I love the way light casts the shadow on the wall, that looks like another form of stairs in itself, and I flipped the image to convey a sense of vertigo. Nikon D40 with 18-55mm kit lens, f/4.8, 1.3sec, ISO-400
- Wai Mun
---
Zion National Park
Hey Gizmodo! I took this picture at Zion National Park in Utah. I saw your challenge for a photo of staircases and went out on a search of unconventional stairs. While hiking at Zion they had these stairs carved into the mountains and I thought they were very interesting. It's where man meets nature. I used a Nikon D3200 DSLR camera to capture this shot.
- Vidul Jain
---
Cow Stairs
This staircase is at Sagamore Hill, which is in Oyster Bay, NY. Now managed by the Federal Park Service, it was the personal residence of former President Theodore Roosevelt, and popularly referred to as "The Summer White House." The stairs are by a cow pasture on the grounds providing an easy way over the fence.
The image was captured with a Panasonic DMC-ZS9, and was color balanced and then converted to B&W in Paint.net 4.03. I thought the B&W brought out the lines of the rough hewn timber of the stairs and the fence, as well as the shadows.
- Jonas Demuro
---
McGoogan Library of Medicine
Central staircase at the McGoogan Library of Medicine, University of Nebraska Medical Center. The three-story 50 foot mural is named "Life's Helix", created in 1970 by the artist Bill J. Sammon. It is more relevant today to research than when it was completed over 40 years ago. As Mr. Sammon put it: just as DNA represents the storehouse of man's genetic information, the library represents the storehouse of man's medical knowledge. I am one of the professors in the library, and like to say at this point in each library tour: "Libraries are to research as DNA is to life - you can't have one without the other."
I once had a group of 6th graders on a tour, and asked them to tell me what was on the wall (I do this will all tours, and get various answers from people - those not involved with science generally say 'snakes' as their first answer.) The students as a group shouted, "DNA!" I praised them for their knowledge and said that they must have a wonderful science teacher to recognize DNA so quickly. They said, "We know it because we watch CSI."
I took this with my iPhone 4, using the VividHDR app. I am not sure if I resized the files as you directed, though I included a smaller one and a larger one for your use. I am very glad to share this image with you, and wish all the best to all contest entrants and readers.
- Teresa Hartman
---
Quick Trip Down
So I spent a couple hours wandering around Downtown Denver looking for interesting stair, but only found a couple. On my bike ride home, I was thinking, "it's too bad there isn't a stairway to nowhere," and then I caught this roller coaster with the stairs up the first hill. Nikon D5000, 1/640 sec, f/10, 200 iso, 68 mm
- Chris Thai
---
Hotel Hayward
Not your typical "staircase" but a very long hot, HOT afternoon in downtown LA, this was the best "staircase" that I found interesting. This was in a very trendy part of the downtown area. I love the old brick, old sign, old fire escape laced with the beautiful greenery and American flag on top. The fire escape really looks retro without being rundown and broken. I used my Droid Maxx phone and increased the contrast, vibrance and saturation a bit to make the stairs stand out and not be drown out by the beautiful brick and flag.
- Kristin Erling
---
Monk's Mound
This photo was taken this morning (9-8-14)at 7:56 am. The stairs in the photo are just the first part of the long stairs that lead to the top of Monk's Mound, the large earthen mound in the Cahokia Mounds in Collinsville, Illinois, just East of St. Louis, MO. Early in the morning it's not unusual to find people using the massive staircase for physical training purposes. Shot with a Canon EOS 5D with a Canon 28-135 Zoom F. 3.5-5.6 Lens. Exposure was 1/800 sec. at f. 3.5, ISO 400 @28mm, Aperture Priority.
- John Locus
---
Fantastic entries all around—even if our winner may technically be an escalator. A new challenge will be announced tomorrow. Until then, find the wallpaper-sized shots on flickr.