Insects. We can pretend they don't outnumber us, that they don't have camouflage or several times our strength, proportionately...until we see them up close. Here are the results from this week's Shooting Challenge: Bugs.
WINNER: Wears Contacts
I took this picture in Poznań near the river. The humidity was very high so on the damselfly there are a lot of drops. Picture is a stack of 20 single shots, so the depth of field is high. Camera: Canon 40D
Lens: Old Tamron 90/2,8, F-Number: 7,1, Exposure Time: 1/250, ISO Speed: 250, Flash: Canon 430 EX II with home made diffuser
- Adam Tomasewski
Mountain Top
It was a day for spur of the moment. In brief I'm in Korea on my way to visit my cousin in Pyeongteak. In a hurry to get to the station and then... Bugs...have always interested me, transfixed by its unique color scheme I stood. We where one in my mind I asked "may I have this opportunity?" I swear it waited till after the third shot attempted. I looked at my phone hoping..."it knew!." Rushed yet not on time i missed my train. Missed opportunity is my life story so maybe if I take simpler ones...
- Ryland Rodriguez
G/O Media may get a commission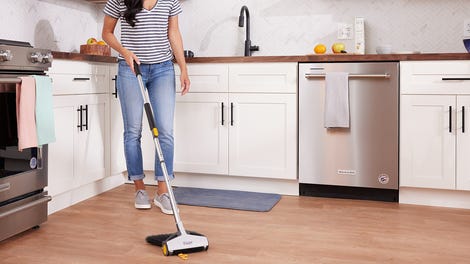 BOGO 50% Off
Flippr - BOGO 50% Off
DragonflyDamselfly Business
I took this photo at my friends house near the pond in his backyard. I laid in the grass for about 10 minutes waiting for these Blue Dragonflies to fly into range. It was surprisingly not turned off by the sound of the shutter and let me take several photos before flying away for more important dragonfly business. Canon EOS 60D, Canon EF-S 60mm f/2.8 USM Macro, Exposure time: 1/125 sec., F-stop: f/3.5, ISO: 100.
- Rob Leifheit
Hey, What Are You Doing?
Shot on a Canon 550D (T2I) with a 100mm Macro lens ISO 800 F7.1 The high ISO being because it was an overcast day and i needed the higher shutter speed for a sharp image.
This picture really came about by chance. I was lining up to take a shot of a small beetle type bug on a flower in my back garden, when this inquisitive fly landed on a flower stalk next to me and waslooking directly at me as if to say "hey! what are you doing?" It hung around for about 30-40 secs struck a few poses and then left. I then took a picture of the Beetle which came out no where near as good.
- Phillip Jinks
Florida Wheel Bug Nymph
Out the door on my way to work, found this Florida Wheel Bug Nymph on the headlight of my car. I went and grabbed my camera and it posed nicely for me even with my camera a few inches away. Shot with a Canon 30d and a Sigma 17-70 lens.
- Andy Graber
Mantis
I've lived in Okinawa, Japan for about 7 years but I'm original from the UK.
We don't have too many interesting bugs in the UK. But they are plentiful and fearsome in Okinawa!
When I decided to try & enter something for this challenge I went out to a local park to walk the dog early Friday evening, it was a frustrating time to get any pics because wind was blowing & the branches moving about too much. So I didn't get anything worthwhile. I was about to leave & was reviewing what I had taken, when I suddenly spotted this praying mantis resting on a dragon fruit growing at the side of the road. It was a stretch to reach the camera over the fence & I had to take the pic upside down, but just as I did he snapped his head around & looked directly at the lens!
I also spent a few hours on Sunday taking more pics, actually some good ones of the Giant Okinawan wood spider, but as it turns out I think this one is best. Camera: Sony NEX C-3, 30mm Macro, ISO 800, 1/250, f/8, Slightly cropped & rotated image
- Paul Roddick
The Gymnast
The final agglomeration of lens parts looks both weird and awesome on the camera— might I suggest a contest for obscure lens assemblies? Camera: Sony a77, raw mode, ISO 100, f/2.8, 1/500 second exposure.
Lens: LensBaby Edge80 optic + ComposerPro + 8mm and 16mm macro extension adapters.
I used this contest as an excuse to experiment with the Edge80 and macro adapters. The a77's focus peaking feature makes the manual nature of this lens much easier. I had the ComposerPro tilted slightly, my thought was that by skewing the focal plane I could deepen the DOF exactly in the direction I needed. Focusing is still pretty hit or miss regardless of the clever tools built into the camera, so I took advantage of the burst mode to fill my memory card with blurry shots, hoping to mine a gem later. Of almost 400 photos only 10 had acceptable sharpness :)
The photo was imported into Lightroom 4.1 and exported as jpegs from there. I bumped the contrast just a little, but otherwise this is what the camera captured.
I'm no taxonomist (and even less of an entomologist), but I am pretty sure this is an odonatoptera. I can't be sure if it is a dragonfly or a mayfly.
- Alec Berry
LED?
I went to Italy to visit my parents. When I saw a firefly in the garden, I immediately took my camera and got some nice shots in the dark. Lumix Gh2, 50mm canon fd f1.4 1/30sec iso 640
- Davide Bellotta
The Nest
I was in the backyard when I bumped my head on a dislodged rain gutter. I looked up and overhead were Yellow Jackets buzzing around their new hive on the underside of my porch.
Not wanting to miss a good shot, I went inside and grabbed my camera. Trying to avoid being stunned if they turned on me, I stayed back. However, none of the shots were to my satisfaction, so I propped myself and my tripod on top of two chairs and took the image from inches away. In the end, I had my shot, I didn't drop my camera, I was able to balance myself, and most importantly, I was not stunned. Canon 40D w/100mm Macro, tripod, and two chairs, 1/200 Secs, f/4.4, ISO400
- Daniel Zhuang
Spider Rise
Shot with a Panasonic GH1 and a late 70s Nikon 55mm AI 1.2 in aperture priority mode @ 1.2. Just after it rained, I went out to catch some wet spiderwebs and spiders, but this shot ended up being my fav. Of course, they'll be a lot of submissions of bugs close-up, but I was looking for something different, something that highlighted the bug, but also the bug's environment. I really liked how the spider's dark silhouette ended up looking like it was a huge monster walking across the earth, with a large Melancholia orange sun setting in the background. In reality, it was just an itsy bitsy one, not an apocalyptic spider, and the sun was just a knee high walkway lamp, the earth the round black top of the lamp. Levels were slightly adjusted in photoshop to bring out a more orange glow to the "sun".
- James Rogers
Burning Rubber
I don't come equipped with a camera on morning walks with my dog through the complex, but I always have my cell phone on me. This was taken with my iPhone. No editing beside some cropping. The only time I see the snails is on my walks with Nate. Unfortunately for him, I make him stop at every snail so I can take a picture just like he makes me stop at every tree. I take a photo of each one because I love the detail in the shells and their coloring. This morning I saw four and he just happened to be the most photogenic of them all.
- Lauren Palmer
Wedding Shoot
Just a few weeks ago, my fiancee and I went location scouting for a place to take some pictures for our wedding website. We picked a random park, and walked down a trail to find a pond with a small dock. It was the perfect vantage point for capturing all the wildlife there (of which there was plenty, including frogs, turtles, fish, and lots of BUGS!). Of course we weren't there to take pictures of wildlife at the time, but I thought of this location immediately when this challenge was posted. We went back at dusk on Saturday, and took tons of pictures of dragon flies. I think it turned out great considering our lack of a macro lens (we were just zooming in from pretty close distances). Equipment: Canon EOS Rebel T3i with a 55-250mm kit lens.
- Brian Potocki
Hey Ladies
Shooting insects is one of my biggest hobbies. I set out to get a photograph of a dragonfly but ran across a grasshopper. It isn't everyday that you see a grasshopper scratching his head with this kind of detail! Although the dragonfly photograph I got was a better photograph technically, this photograph is the one I choose to submit because of subject matter. Canon 5D Mark iii, Canon EF100mm F/2.8L Macro IS USM, Canon 580 ex ii with Gary Fong Diffuser, f/16, ISO 400, Shutter Speed 1/100 sec. No tripod! (Getting insects in the bush, a tripod is too much trouble! That's why the macro lens with IS is so valuable because usually one has precious little time to get a good shot)
- Rocco Saya
Biei Bee
I was in Hokkaido, Japan this weekend on vacation and while chasing the rolling farms of Biei we stumbled upon a massive sunflower patch - something entirely surreal. I flipped between wide angle and macro to get as much of the scene and story as possible and found myself ignoring the larger scale of the shot to chase this Japanese bumblebee hard at work. Hokkaido's Biei is in the peak of lavender and sunflower season, so it is such a treat for the eyes. Camera: Nikon D800E, Lens: Nikon Micro-Nikkon 105mm VR F/2.8, f/8, ISO 100, 1/500
- Jason Arney
The macro challenges never disappoint, which is amazing, as many of these shots required more than a little patience...and unimaginable cajones. Balancing on chairs with tripods over buzzing yellow jacket nests? You're better men than me. The full galleries are below—and they're undoubtedly worth your time. The wallpapers are over on flickr.