Infinity. It's an idea too large for our consciousness, and how can you see that which cannot be contemplated? These 30 photos from this week's Shooting Challenge answer that question, giving us the faintest glimpse of the limitless.
Deadly Mississippi Tornado Kills More Than 2 Dozen | Extreme Earth
Winner - Into the Ink
This contest was a lot of fun, and it was hard to decide which picture to go with! I tried as much as possible to stay away from mirrors for this challenge and played around with illusions and making physical objects that appear to stretch into infinity. The picture I chose for this contest is actually a picture of the inside of a paper cone. What I did was make a black border with a sharpie around the edges of a 8x11 piece of paper, then rolled that into a tight cone. I then taped this cone over my lens and then took a whole bunch of pictures using different lighting sources (must have looked ridiculous). This particular picture was taken with my desk lamp over top of the middle of the cone, which gave me the fade in and fade out (played a little bit with the contrast and brightness as well). It reminds me of space, and every time I look at the picture I feel as though I am being sucked into a black hole and into infinity. Hopefully you feel the same! Panasonic Lumix DMC-G2, Lens: 14-42 (shot at 14mm), ISO: 100, f/3.5, 1/20 sec.
- Jeffrey Groom
G/O Media may get a commission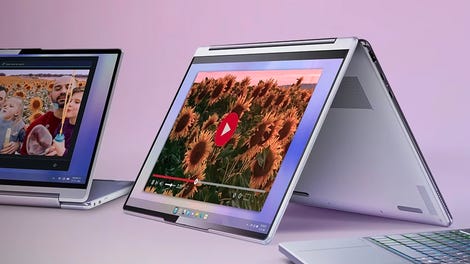 up to 70% off
Lenovo Spring Clearance
Nebotičnik
"Nebotičnik" (Slovenian for "skyscraper") is a prominent high-rise located in the centre of Ljubljana, Slovenia, and is one of the city's most recognizable landmarks. The building's spiral staircase leads up to the top of the building which is 70.35 m high. When you look down from the top of the staircase it almost feels like it's infinite. And it looks amazing. I've never been there; this challenge was the perfect excuse to go up and see the view of the city as well as the spiral staircase. I was a bit lightheaded from walking all the way up to the top of the staircase; when I looked down from the top it almost felt as if the spiral was pulling me downwards, the bottom definitely appearing to be nowhere to be seen. The red banister made a nice contrast to the grey stairs. It felt perfect for the challenge so I took the photo. Canon EOS 60D, Canon EF-S 18-135mm kit lens, ISO 800, f3.5, 1/200sec, 18mm
- Janja Nikolic
Infinite Enough
At first I tried something with mirrors, but that didn't turn out too well. So I had a change of heart (thanks to my girlfriend) and switched to a pipe with the camera on one side and an elbow pipe on the other. While taking the photo, I used the flash to flash into the pipe on the other side. NikonD300 with a Nikkor 18-200mm lense @18mm; ISO was at 200; F-Stop at f/22; Exposure time 6 sec
a Nikon SB-900 Flash in RPT mode remotely triggered; Output level was at 1/128; 10 flashes at 10 Hz
Is that infinity? No
Is it infinitely cool? Maybe
Is it better than shooting in mirrors? Definitely, yes!
- Bernhard Petracek
Age Six, Going On ∞
I had seen this type of photo before and wanted to give it a shot. Luckily I was able to bump up my ISO in order to keep my 6 year old in focus long enough to create the shots needed. My first go around I thought I would try to do some light painting in the photos to try to differentiate my photos from the pack but by photo 3 my mini flashlight died. So I scrapped those photos and decided to process the 2nd to last photo in B&W so it would be surrounded by the last color photo. I was pleased with the outcome. Most of the photos were shot at different settings, but they were all shot with the Canon T2i with the Rokinon 14mm Lens. The final photo is at ISO 200 at 1/5 of a second. The lens was set manually at around f4.
- Drew Eldridge
Infinite Climb
I had no creative idea for this week challenge until I ended up in one of the NYC landmark buildings and thought of the ever continuous stairs. I didn't have any time to set up my tripod, so I just bumped my ISO to 800 and set aperture to f2.8 for a handheld shot. Set the lens to its lowest zoom of 17mm and took a few shots. In post processing I added some split toning to give the straits look a bit more older look. Canon T2i.
- Aleks Oz
The Long Tube
The subject is a large collection of magnetic spheres (generic no-name brand, not the expensive name brand kind), formed into a long tube. The camera was set up so that the center of the lens looked directly down the center of the tube. An external light was used to provide light through the holes in between the spheres, and a flash was used to provide fill light after being reflected off suspended pieces of paper that were strategically placed above the tube. A very small aperture was used to increase the depth of field as much as possible, but even using this the DOF was still quite shallow. A long exposure was needed to get enough light with such a small aperture. This image was taken with a Canon T3i, the EF-S 18-55mm kit lens, and a Canon Speedlite 430EX. Shutter: 30 Sec, Aperture: f/32, ISO: 800
- Matt Hicks
Kudos to everyone who took on this lofty challenge and embraced doing what's ultimately the impossible. The full gallery is below. Wallpapers are on flickr.
Mark Wilson is the founder of Philanthroper, a daily deal site for nonprofits.