You can take a photo and hope it turns out well, or you can take a photo and rip the color palette from a famous painting, claiming the artist's soul as your own. Good artists borrow, great artists use Photoshop.
Winner - Field of Wheat with Cypresses
I spent the entire day on Sunday shooting in and around Rockport MA, not even thinking about the Challenge until I got home late that evening. I started looking at the day's shots to find a good candidate and finally settled on this picture. It was taken in Gloucester on Nautilus road by Good Harbor Beach, looking toward the ocean. The tide was low, leaving a nice "stream" meandering along the beach. Not sure whose house that is but I totally want it :)
I tried color matching with several famous paintings and the best result was with this picture of Van Gogh's "Field of Wheat with Cypresses". I love the fact that the compositions are somewhat similar as well. Nikon D7000, AF-S DX Nikkor 18-105mm f3.5-5.6G ED VR @ 40mm, f/8, ISO 400, HDR from 3 handheld RAW exposures (1/500s, 1/250s, 1/125s) using Photomatix, Color matching in Photoshop CS4
- Frank Poulin
G/O Media may get a commission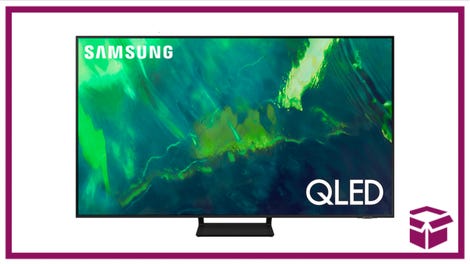 35% off
Samsung Q70A QLED 4K TV
Save big with this Samsung sale
If you're ready to drop some cash on a TV, now's a great time to do it. You can score the 75-inch Samsung Q70A QLED 4K TV for a whopping $800 off. That knocks the price down to $1,500 from $2,300, which is 35% off. This is a lot of TV for the money, and it also happens to be one of the best 4K TVs you can buy right now, according to Gizmodo.
Vase with Red and White Carnations
After my original idea for this challenge flopped at the last hour, I decided to be more effective (read: lazy) and shoot a still life. I picked some random flowers at the supermarket (read: the cheapest ones) and surprisingly, what I picked happened to be Vincent Van Gogh's motif in 1886's Vase with Red and White Carnations on a Yellow Background. Because of the crazy coincidence, I decided to go literal and re-do the painting in a photo.
As I started working with the flowers and the "match colors" adjustment in photoshop, I realized a plain solid background would not work out, so I ended up painting my paper backdrop with a brush to resemble the background from the original painting. Canon T2i, 10mm, f/4, ISO 1600 (w/flash).
-Diego Jimenez
The Sower
My boyfriend and I had some free time and the weather has been pretty mild for this time of year in Pennsylvania. We went to a park not very far from our apartment and many of them still have evidence of the record setting rain fall from summer. I saw this bench in the water and thought it made a good photo. Just as I started shooting the two men in a boat came into view. I wasn't really impressed with the original colors but thought of this challenge as I often check each week and want to participate but lack confidence and time.
The painting used was
Van Gogh's "The Sower" for no other reason than I really loved the colors. Original is located here. Shot on my Canon T3i with kit lens.
-Patricia Boyce
Madame Renoir
This is the first time I participated in the shooting challenge, actually shooting challenge is the reason now I like photography, well for this shot I walked all around the downtown looking for the most colorful place I could find, then I remembered this place called "Barrio de los sapos" in Mexico, which is some kind of flea market where all the buildings are painted different color, the sun was exactly in front of me so I took this picture in 5 exposures from 1/1200 to 1/100 and then made an HDR version with Photoshop so it wasn't just shadows, I wanted the final result to look like a watercolor painting so I tried with several watercolor paintings but the result was usually the same colors of the original picture but pale, then I found this painting called Madame Renoir I found in an art book i had from the high school, it wasn't a watercolor painting but i matched the colors the result was what i was looking for, all the buildings started to look like watercolor paintings and the flare over the little plant on the right side reminded me a lot of my mother's kitchen in my childhood, so I decided this is the picture I had to entry to my first photo contest at Gizmodo.
-Pancho Mejia
Dancers in Pink
An image of quaint old townhouses in the winter twilight have been transformed with a pinkish color scheme ... The original image is here and the match image is here: Degas - Dancers in Pink Taken with my Canon 60D at twilight in Old Town Alexandria, VA....ISO 800, 100 mm, f/5.6
-Cheryl MacLean
International Klein Blue
I was taking a picture of the sky the other day because it just looked so nice and blue! I remembered the challenge and wondered what it would look like if it was really blue. So I took the photo and matched it to International Klein Blue by Yves Klein. Taken on a Nikon D60, 35mm lens, f/9, 1/250, ISO 200.
- Emily Turner
Starry Night
When in New York I had to take the traditional skyline picture. And I knew I wanted to match it up with a Van Gogh. I originally thought Starry Night, but then I saw Starry Night over the Rhone and the reflections on the water that were also in my picture. I knew I had to use that one to steal from. My original is pretty great, at least I think so, but I had no idea how awesome it would turn out. I only wish the picture were more blue and yellow instead of vibrant, but hey, it still is a great piece of art. Canon 7D, 28-135 mm lens, 30 sec, ISO 100.
- Nick Badger
So so so cool. Some of you went with literal interpretations, others just stole colors for your own photos. If you didn't take the time, click on some of the original photo links or check out the wallpapers on flickr. Shots often go from pretty typical to jaw-dropping. And the best part? No one has to know what you did...
Mark Wilson is the founder of Philanthroper, a site that lets you donate $1-$10 to a new nonprofit every day.