If you've been saving up your nickels to get a $800 TiVo Series3, you just got yourself a $500 bonus prize. Today TiVo releases the TiVo HD, a scaled-back version of the original Series3 that lists for just $299. We got our hands on one, and managed the even more complicated task of convincing Cablevision to install two CableCARDs. Now that it's up and running, I can't think of a single reason to ever plug in that Scientific Atlanta Explorer 8300HD again. (Oh yeah, the TiVo's a loaner.) The great news: To reach the low-low-price of $300, TiVo only cuts the corners we'd cut ourselves. It is functionally a Series 3, minus the fluff.


G/O Media may get a commission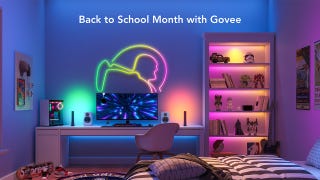 Back to School
Back to School Month with Govee Sale
Big Brother, Meet Little Brother

Although the TiVo HD is built on the Series3 platform, it's not exactly an update. Here's the breakdown:
• The original Series3 can record 300 hours of standard-def video and 32 hours of HD on a 250GB internal; the TiVo HD can record 180 hours of SD and just 20 hours of HD on a 160GB drive.
• It's not THX certified, but it's got the coaxial cable and antenna inputs, plus all the requisite outputs: HDMI, component, S-Video and composite. It also has an optical audio out.
• As you can see in the gallery, it has a dual CableCARD slot so you can record two shows at once (and watch a third, too). One of the slots even supports M-Card, for multistreaming, so you wouldn't need two separate cards. I am not entirely sure if you can use it to go hog wild and record three shows at once—it may not surprise you that Cablevision never mentioned it as an option when I ordered the CableCARDs.
• Instead of the original Series3's glowing OLED display, TiVo HD has an array of multicolored status-indicator LEDs. That's the extent of the glowing, too—unlike the pricier Series3, this one has a standard TiVo remote, happily unchanged these 10 long years.
• TiVo HD has an eSATA port on the back, same as its big brother, so expansion will be easy. It also has hardware support for AVC (H.264) and VC-1, though there still isn't any software implementation of this talent. We're waiting!
• As I just sort of alluded, nothing is different on the software side of things. Any rumors suggesting that TiVoToGo is available in the TiVo HD are incorrect at this point, though we'd love to see someone wave a magic wand and make that happen. The few screenshots I included in the gallery are intended to show you the similarities: it's all there, even though you're paying less than half the price.
Hands On

Though I had been suffereing at the hands of the loathed Explorer 8300HD for some time, I dreaded calling Cablevision and asking for CableCARDs. Fortunately, they knew what I was up to, and—after a couple of visits—were able to make it work. The trouble was not technical. The cards worked just fine. The trouble was that Cablevision installers are not allowed to be in your house when you go through the 20-minute setup, which they claim takes between 4 and 24 hours. In truth, the most time-consuming part of the process is waiting for the CableCARDs to take hold once they are installed. That took hours, but required the cable guy. Can I just say that I hate when people who don't know squat make up dumb rules? Well, I just said it.
The rest of the setup was super easy. TiVo provided the $60 Wi-Fi USB dongle, though you can use others, or just connect via Ethernet. I always love setting TiVo remotes to control the TV; it's a simple thing that any remote in the world can do, but I rarely do it with my cable remotes. Having that reassuring wizard is just a better incentive.
Once all of that was working, I was back in TiVo Country. I could search for shows without growing a beard in the process, jumping to Swivel Search to do stream-of-consciousness browsing. I ended up jumping from The Daily Show to a TiVoCast channel of content from The Onion. Everything we've discussed in the recent past is there: Amazon Unbox downloads, One True Media video and photo sharing, Yahoo! and Fandango. But most of all, it's a $300 way to unlock the HD cable subscription I pay a ridiculous amount of money for but can't navigate using standard cable boxes.
OK, it's not all perfect. My guess is that, since I had an early unit, there was some bugginess that will be fixed in the near term, including:
• Messed-up video decoding; I often got that that weird psychedelic MPEG frame lag, and some entire scenes of standard-def video had a bad iridescent quality, though that could have been due to a crappy analog source.
• At least one HD channel remains scrambled, and not a premium one. OK, I admit, it's CBS. I just got caught off guard by how funny The New Adventures of Old Christine is.
• Worst—though perhaps most fixable—of all: when I fast forward through lengthy stretches of content, the cursor jumps and skips, so that I end up way far away from where I want to be. Again, though I'm a bit traumatized, my guess is that it'll be fixed in the next firmware update.
• Also, as you know, decommissioning your cable box means no one-touch VOD. I like VOD, I will admit. But I am trying to figure out if I like it most because it's a way of getting around the frustrating user interface of cable DVRs.
How to get one

As you know, TiVo still has a monthly fee, one that can be as high as $17 per month if you don't commit to anything over a year, or as low as $9 per month, if you pay, up front, $299 for three full years of service. (That's a special offer. It's been around a while, but it might disappear at any time.) I figure if you're already saving $500 in not buying the deluxe Series3, might as well pay $300 of it back for the better service plan.
TiVo is taking pre-orders starting right this second. (According to one tipster, they actually started taking orders earlier, but quickly stopped.) The units themselves will start showing up in early August. If you are one of those sorry sons o' guns who recently bought a full-priced Series3, I really hope you can dig up the receipt.

TiVo Unveils New Attractively Priced TiVo® HD DVR—the Ultimate Companion to HDTVs

The new TiVo® HD DVR seamlessly combines ease of use, new content and affordability.

ALVISO, Calif.– July 24, 2007 – TiVo Inc. (NASDAQ: TIVO), the creator of and a leader in television services for digital video recorders (DVRs), announced today the launch of a new TiVo high definition DVR, delivering a premium HD experience at an affordable price. Starting today, consumers can pre-order TiVo HD at www.tivo.com for just $299.99, with product expected to arrive on retail shelves in early August. The new TiVo HD DVR is the ultimate HDTV companion, maximizing the HD cable experience by combining a new popular price with the clarity of HD programming and our Emmy® award-winning TiVo™ service. The new TiVo HD is also a Digital Cable Ready set-top-box that works seamlessly with any cable provider in the U.S. Moreover, the new product also enables the latest and greatest exclusive TiVo service features such as Movie & TV Downloads from Amazon.com, Home Movie Sharing and universal Swivel™ search, delivering the best of broadband video directly to the television set.

"TiVo HD extends the TiVo experience to an even wider audience than ever, giving sports and entertainment enthusiasts the ultimate companion to their HDTV set," said Tom Rogers, CEO and President of TiVo. "It is the ultimate media centerpiece for the living room with the broadest selection of broadband content, right alongside your favorite broadcast and cable programs, giving HDTV viewers more choice and control than they've ever had before. And it can be used in place of the customer's existing cable box."

The TiVo HD is designed to fit seamlessly with home entertainment centers, replacing cable boxes while complimenting other entertainment devices. It is compatible with digital cable, analog cable and digital antenna (ATSC). TiVo HD offers 20 hours of HD or up to 180 hours of standard definition content. The new TiVo HD DVR allows users to record two HD channels at the same time, while watching a third previously recorded show. With a built-in Ethernet jack, two CableCARD™ slots and USB ports, TiVo HD also provides advanced connectivity and easy networking, making it simple to access an additional suite of exclusive TiVo features.



"TiVo HD is a perfect complement to the HDTV sets that are quickly becoming the standard for home entertainment," said Jim Denney, Vice President of Product Marketing at TiVo. "With an affordable price and uncompromised quality, TiVo HD is an obvious choice for anyone with a passion for home entertainment and HD programming."

TiVo HD includes access to a number of renowned TiVo features, furthering the difference between the TiVo service and generic DVR competitors, such as:

• Movie & TV Downloads - In partnership with Amazon.com, TiVo brings you Amazon Unbox™ on TiVo®, allowing you to download thousands of movies and TV shows straight to your TiVo DVR. Amazon Unbox on TiVo allows you to rent or buy movies from Amazon Unbox using your remote, download them to your TiVo box over your home network, and enjoy them right on your television set whenever you want. The movies you want are always in stock and new releases are available for purchase the same day they arrive on DVD. Best of all, order with your TiVo remote from the comfort of your living room and your rentals and purchases end up in your Now Playing list, right where you'd expect them to be. It's like having an entire video store connected to your TV.

• Universal Swivel™ Search - Exclusive to the TiVo service, universal Swivel search lets you quickly find everything you want in the world of broadcast and broadband television with a single, powerful search. It's the first truly TV centric onscreen search tool that allows subscribers to explore and discover broadcast, cable, and broadband content in an easy-to-use experience. TiVo subscribers can search using the way they intuitively think about television; that is, by starting with a program they currently enjoy and using elements of that program to find more of what they like. Universal Swivel search allows viewers to seamlessly link from descriptions of one program to all others that have common elements, including program name, actors, or suggestions based on other viewers' feedback.



• TiVoCast - TiVoCast delivers original video programming directly to your TiVo box over your broadband Internet connection from a variety of media brands and producers, including the New York Times, CNET, iVillage, The Onion, and many others. The content appears in your Now Playing List, alongside regular broadcast programming as well as your Amazon Unbox rentals and purchases and even Home Movies. It's all seamlessly integrated into the entire TiVo experience.

• Home Movie Sharing - Instead of burning your home movies to DVD and mailing them to friends and family, now you can share them through a private TiVo channel of your own. Simply upload your video footage or photographs to One True Media (www.OneTrueMedia.com), get a channel code, and send the code out to your audience. Your home videos will show up right in the Now Playing list on their TiVo boxes, so they can enjoy them on their own TV. No need to huddle around a computer screen anymore, home movie sharing delivers those precious moments directly to the TV.

• Online Services -With your TiVo box connected to your broadband home network, you can access a variety of online services right on your TV, including Yahoo! Traffic and Weather, Fandango movie tickets, live radio, podcasts, games and more.

• TiVo KidZone - Only TiVo-branded DVRs give you total control over what your kids see on TV. With TiVo KidZone, you get to choose which shows your children can watch and record. It also helps you discover great new shows for them through recommendations from leading national children's organizations. TiVo KidZone provides a customized Now Playing List for your children that displays only the shows you pre-approve, keeping their shows separate from your own shows. TiVo KidZone relies on your own personal settings and password to ensure your kids only see what you want them to see, keeping TV as safe as possible.

Pre-orders begin today with the first boxes being shipped in early August. See www.tivo.com for details on ship dates. A subscription to the TiVo service is required and sold separately. TiVo HD will be available starting early August at Best Buy, Circuit City and other retailers for $299.99.

About TiVo Inc.

Founded in 1997, TiVo (NASDAQ: TIVO) pioneered a brand new category of products with the development of the first commercially available digital video recorder (DVR). Sold through leading consumer electronic retailers, TiVo has developed a brand which resonates boldly with consumers as providing a superior television experience. Through agreements with leading satellite and cable providers, TiVo also integrates its full set of DVR service features into the set-top boxes of mass distributors. TiVo's DVR functionality and ease of use, with such features as Season Pass™ recordings and WishList® searches and KidZone have elevated its popularity among consumers and have created a whole new way for viewers to watch television. With a continued investment in its patented technologies, TiVo is revolutionizing the way consumers watch and access home entertainment. Rapidly becoming the focal point of the digital living room, TiVo's DVR is at the center of experiencing new forms of content on the TV, such as broadband delivered video, music and photos. With innovative features, such as TiVoToGo™ and online scheduling, TiVo is expanding the notion of consumers experiencing "TiVo, TV your way.®" The TiVo® service is also at the forefront of providing innovative marketing solutions for the television industry, including a unique platform for advertisers and audience measurement research. The Company is based in Alviso, California.

TiVo, Season Pass, Swivel, TiVoToGo, WishList, the slogan 'TiVo, TV your way.', Series2, Series3, and the TiVo logo are trademarks of TiVo Inc. or its subsidiaries worldwide. © 2007 All rights reserved.
CableCARD™ is a trademark of the Cable Television Laboratories, Inc. All other trademarks are the property of their respective owners.