Indiana Jones may not be beloved by real-life archaeologists, but there is one thing that Dr. Jones has in common with many historical archaeological and scientific explorers: he's lived a very exciting life. Here are some real historical figures who had remarkable adventures and made plenty of discoveries along the way.

1. Percy Fawcett, the Adventurer Who Disappeared into the Amazon
Lt. Colonel Percival Harrison Fawcett was an explorer whose adventures inflamed the imagination of Arthur Conan Doyle, who was inspired to write The Lost World in part because of Fawcett's field reports from South America. The Royal Geographical Society tapped Fawcett for an expedition to to map the border between Brazil and Bolivia in 1906, and he brought the region to life for readers back home. He wowed them with tales of the "green hell," of the people who lived there, of the remarkable plans, and of the fearsome animals (although many scientists doubted his claim that he had run into a 62-foot-long anaconda).
Fawcett mapped swaths of the jungle for the RGS, but he also dreamed of making archaeological history with a massive discovery. Fawcett's experiences led him to believe that an advanced civilization could exist in the jungle, and he wrote extensively on his rationale for believing in such a lost city, which he called "Z."
G/O Media may get a commission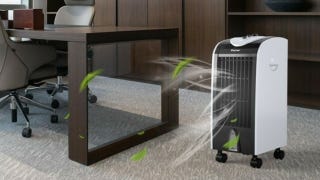 Save $10
Evaporative Portable Air Conditioner Cooler with Filter Knob
Fawcett made his final expedition to the Amazon, ostensibly in search of the Lost City of Z, in 1925, with his son Jack and Raleigh Rimell. They disappeared, and numerous explorers have attempted to trace their journey and figure out what happened to the trio. Fawcett may be bound for the big screen soon; a movie based on David Grann's book The Lost City of Z: A Tale of Deadly Obsession in the Amazon is in the works. (You can also read Grann's shorter piece about Fawcett in the New Yorker.)
Fawcett actually meets Indiana Jones, at least in fiction. In the novel Indiana Jones and the Seven Veils, Indy is the latest explorer to seek out Fawcett and his fabled city.
2. T.E. Lawrence, Better Known as "Lawrence of Arabia"
Long before Harrison Ford picked up Indiana Jones' whip and fedora, Peter O'Toole starred in Lawrence of Arabia. Thomas Edward Lawrence was a real person, however, one who was an archaeologist, diplomat, soldier, and spy.
He made his first trip to the Middle East while studying history at Oxford, but would return after graduation, working on an excavation in Carchemish, Syria. After World War I broke out, his role as an archaeologist provided the perfect cover for him to travel to the Sinai Peninsula and Negev Desert on a covert survey mission. But it was Lawrence's later role as an Allied officer in the Arab Revolt that would lead to his fame. In addition to his work on the battlefield, Lawrence became an advisor to Emir Faisal, who would become king of the newly created Iraq.
Of course, given how the Arab Revolt and creation of Iraq still affects the world today, Lawrence's life and legacy are far more complicated than a mere swashbuckling adventure. Even Lawrence seemed torn about his role in the creation of the modern Middle East — or at least when it came to Britain's treatment of the Arabs after the war. In 1917, Lawrence arrived at Buckingham Palace to find that King George V planned on knighting him. Lawrence awkwardly walked out of the investiture, refusing the knighthood. The king's secretary wrote "that he had pledged his word to Feisal, and that now the British Government were about to let down the Arabs. . . . He was an Emir among the Arabs and intended to stick to them through thick and thin and, if necessary, fight against the French for the recovery of Syria."
After such an eventful life, Lawrence died as the result of a motorcycle accident. Thanks to a dip in the road, he failed to see two boys on their bicycles until it was almost too late; when he swerved to avoid them, he flew over the handlebars. One of his attending surgeons, Hugh Cairns, was so struck by the event that he devoted his research to motorcycle head injuries, which, in turn led to the promotion of protective headgear for motorcyclists.
3. Gertrude Bell, Queen of the Desert
If we're going to talk about T.E. Lawrence, we should also talk about Gertrude Bell, who worked closely with Lawrence and leaves behind a similarly complicated legacy. Like Lawrence, Bell studied history at Oxford. (She was the first woman to receive a first-class degree in modern history from the institution.) After she received her degree, she became a world-class traveler. She circled the world twice in her life, became fluent in Arabic, Persian, French, and German, and wrote extensively about her travels.
At first glance, Bell may not seem like the action star that Lawrence was. After all, she didn't distinguish herself on the battlefield as Lawrence did. But Bell's adventures are full of impressive physical feats. She was an expert mountaineer, the first to climb all the peaks of the Englehörner ridge, including seven previously unclimbed summits. One peak, Gertrudspitze, still bears her name. She was the first woman to travel alone through the Syrian desert. And, she was Britain's first female intelligence officer.
Bell actually first encountered Lawrence not in the context of war, but in the context of archaeology. She, too, was involved in an excavation in Carchemish. (Bell was a self-taught archaeologist.) In the wake of World War I, both Bell and Lawrence worked for Britain's Arab Bureau, pushing Britain's interests in the Middle East. She helped install Faisal as king of Iraq, and was referred to as "al-Khatun," a respected lady of the court. She would go on to establish the Baghdad Archaeological Museum (now the National Museum of Iraq) before her death from an overdose of sleeping pills in 1926.
Another thing Bell had in common with Lawrence: She advocated for Iraqi self-rule. But her own prejudices certainly came into play as she helped usher the fledgling nation into the world. An atheist herself, Bell favored Mesopotamia's more secular Sunni Muslims over the Shiite majority and is credited with helping promote Sunni dominance in the country.
Nicole Kidman played Bell in the recent (critically panned) Werner Herzog film Queen of the Desert. And Bell is, unsurprisingly, the subject of numerous biographies, including Janet Wallach's Desert Queen: The Extraordinary Life of Gertrude Bell: Adventurer, Adviser to Kings, Ally of Lawrence of Arabia and Georgina Howell's Gertrude Bell: Queen of the Desert, Shaper of Nations.
4. Roy Chapman Andrews, Gun-Toting Naturalist
Andrews was actually a naturalist and paleontologist rather than an archaeologist, but he warrants a spot on this list because many people believe he's a possible inspiration for Indiana Jones. Andrews taught himself taxidermy in order to pay his way through university, and after graduation, Andrews wanted to work at New York's Natural History Museum so badly that he was willing to sweep the floors. In fact, he did sweep the floors; he was first hired as a janitor and assistant taxidermist.
He eventually became a full-fledged taxidermist for the museum, and traveled the world on specimen collecting trips. He collected lizards, filmed seals, and became one of the foremost experts on whales. But some of his most significant discoveries involved prehistoric animals. During an expedition through the Gobi, Andrews' party stumbled across the first nest of dinosaur eggs ever identified. They also discovered a skull from the Cretaceous period, one that, to their surprise, belonged to a mammal.
If we can believe Andrews' own accounts, his contributions to these expeditions were more than scientific. An avid hunter, Andrews would hunt animals for food and defend his camp from bandits with his trusty pistols. He was also often photographed wearing a fedora, much like Indy.
5. Hiram Bingham III, Who Excavated the Lost City of Machu Picchu
Maybe he didn't find any alien artifacts, but Hiram Bingham III did bring an ancient Incan city to public consciousness. Bingham wasn't trained as an archaeologist, but was a professor of Latin American history when he traveled on an expedition to Peru sponsored by Yale University. In 1911, while in the Urubamba Valley searching for the city of Vitcos, Bingham asked the locals about nearby ruins and Melchor Arteaga, a local farmer, led him to Machu Picchu, an Incan city little known to outsiders. He spent his next few expeditions studying the city, learning all he could about the ruins.

Bingham may not have been the first foreigner to reach Machu Picchu, but he introduced the city to the English-speaking world. He wrote about his experience in National Geographic and much later published a bestselling book, Lost City of the Incas.
Bingham didn't pursue field archaeology after his final expedition to Machu Picchu, but he went on to have a very interesting life. He became an aviator, serving in the US Signal Corps and the Air Service, then went into politics. He was elected Governor of Connecticut, but only served for one day, because he had, in the same election, won a US Senate seat.
6. Giovanni Battista Belzoni, the Strongman Egyptologist
Few archaeologists can claim that they once earned a living performing feats of strength, but that's exactly what Giovanni Battista Belzoni, also known as the Great Belzoni, did. In the early 19th century, Belzoni and his English wife worked in circuses, where he served as a strongman. So how did he go from lifting weights to uncovering the secrets of the pharaohs?
Well, Belzoni wasn't just a strongman; he also exhibited hydraulic engines. And in 1815, he traveled to Cairo, hoping to sell the engines to Muhammad Ali of Egypt. After a plan to use the engines fell through, Belzoni ended up doing archaeological work for the British consul to Egypt. He made excavations at the Ramesseum at Thebes, opened the tomb of Seti I, and became the first modern person to enter the pyramid of Khafre at Giza. When he returned to England, he published two accounts of his travels and experiences and exhibited copies of Seti I's tomb. Many of the artifacts Belzoni uncovered were acquired by the British Museum.
Like Indiana Jones, Belzoni isn't exactly held up as a paragon of modern archaeology. The British Museum notes:
Belzoni's methods were crude by modern standards. He disregarded many items that did not interest him and must have damaged much in pursuit of his goal. However, although he has been accused of 'pillage' he was no worse than his contemporaries.
7. Jane Dieulafoy, Cross-Dressing Soldier and Explorer
Jane Dieulafor, born Jeanne Henriette Magre, first disguised herself as a man in order to fight in the Franco-Prussian War. Her husband, Marcel Dieulafoy, volunteered, and Jane wanted to fight by his side, so she donned a man's uniform and went to the front.
When Marcel received an assignment to go to Persia, Jane went with him, often disguising herself as a man so that she could travel more freely in the region. (She also sometimes referred to herself in the masculine, calling herself Marcel's collaborateur.) She even received a lifetime dispensation from the French government to dress in men's clothing, something that was otherwise illegal for a woman at the time.
Together, Marcel and Jane performed excavations at Susa, and their mission discovered the famous Frieze of Lions. The site TrowelBlazers notes that Jane Dieulafor led some of the excavation teams and pioneered techniques of her own. She was also an author, writing not just nonfiction, but also historical fiction sometimes set in ancient times.