Fitbits are a great way to track your activity and encourage yourself to get off the couch. Now, popular web service IFTTT (If This Then That) is getting in on the action. Here's how you can use IFTTT to plug fitness data from any Fitbit into a host of other services and apps.
If you're completely new to IFTTT, we'd advise you to go and sign up for a free account immediately. The service lets you connect a wealth of apps and services up to each other using simple logic "recipes." Each recipe uses a trigger and a subsequent action, opening up a wide range of new possibilities. Here are the best that you can use with your Fitbit.

---
1) Blog about your activities
You don't necessarily have to share your runs and sleeping schedule with the entire world, but a blog can act as a daily journal for you to look back on. Alternatively, if you're already a regular blogger then the occasional automatic Fitbit update can add some variety to your posts.

IFTTT plugs straight into the likes of Blogger, Day One, Medium, Tumblr, and WordPress, so you've got a decent choice of options when it comes to where your updates get published, and you can customize which bits of your logged data get posted to the web as well.

G/O Media may get a commission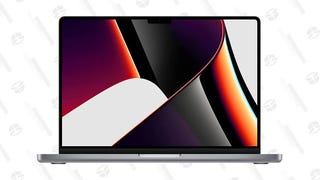 Save $300
2021 14" 1TB MacBook Pro
---
2) Get a notification if you've missed your daily goals
Your Fitbit device will come with a number of options for setting and reminding you about your daily goals, but you can set up something a little more personalized. Get IFTTT to send a simple notification straight to your phone if you haven't yet met your workout goals for the day.

To get this up and running, you'll need the IF app for Android or iOS. After you install that, use the "Daily goal not achieved by..." trigger, select a specific goal from the list, and then pick "IF Notifications" as the resulting action.

---
3) Send your Fitbit data to other fitness apps
IFTTT works with the Jawbone UP and Misfit apps, so you can pipe data collected from your Fitbit tracker to these other platforms (and vice versa). If you're using more than one tracker at the same time, it's a simple way of keeping all your data in the same place.

Set up Fitbit as the trigger action in your recipe—choosing from steps, distance, calories, active minutes, weight or sleep—then pick the app you want to export the data to. There may not be an exact match but most types of data can be transferred over successfully.

---
4) Remind yourself to go to bed earlier
One of the commands available in the Fitbit channel is triggered if you don't reach your daily amount of sleep, and that can then be used in all kinds of ways through the other apps. You can log it in Evernote, send out a tweet, or make a note in Google Calendar.

Setting yourself a reminder on iOS is another good option if you're not getting enough shut-eye and it's very straightforward thanks to the iOS Reminders channel. IFTTT lets you customize the text of the reminder and specify a particular list name and priority for it.

---
5) Text your partner if you reach your goals
There are so many channels available on IFTTT that there are all kinds of ways you can celebrate or notify friends if you meet your daily goals. Sending a text (from an Android phone) to your better half is one of the more private and actually useful options, though.

You can customize the text of the message and include data like steps and the date directly from Fitbit's logs. If you've been promising the love of your life that you're committed to a healthy lifestyle, this is one way of proving it.

---
6) Block out distractions until you taken enough steps
IFTTT also plugs into the RescueTime app, which has the power to block out distracting websites on your computer—by combining this action with a Fitbit trigger, you can block off access to sites that aren't all that productive until you've recorded enough steps.

Again you need to make use of the "Daily goal not achieved by..." trigger and pick a specific goal and time of day. After that, select RescueTime as the action and Start a FocusTime session where distractions are blocked out (you do need to be a premium user though).

---
7) Export all of your data
With over 200 actions to choose from, we can't cover all the options here but hopefully we've given you an idea of what's possible. Essentially, IFTTT enables you to export many different sections of the logs created by Fitbit into other apps to do with as you like.

Whether you use Google Drive, OneNote, Evernote, Dropbox, or something else, you can get your data out of Fitbit and create tables and charts of your own, with very little manual effort required. For more ideas, search for "Fitbit" from the main IFTTT home page.