Good coffee is easier to get a hold of than ever, and it's not so crazy anymore to obsess over every cup. Here's some gifts for certified coffee dorks, or the coffee curious, ready to ditch Starbucks for something better.
1. Baratza Virtuoso grinder Put simply: If you bone the grind, you bone the coffee. Grinding is the first step in making coffee, making it one of the most important, but it's sadly where most people skimp or get it wrong. It's all about particle uniformity for even extraction. Or more simply: You need a good burr grinder. (Blade grinders suck.) The best bang for your buck is Baratza's Virtuoso, which handle grinds for basically any kind of brew method you wanna throw at it. At $200 MSRP, it's pricey, but it's the most expensive piece of equipment on this list. $200 [Amazon]

G/O Media may get a commission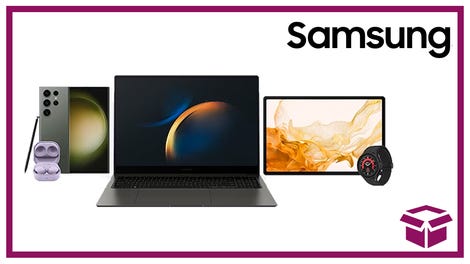 24 hour deals
Discover Samsung - Daily Deal
2. Hario Mini Mill Slim hand grinder An ultraportable hand grinder for making decent coffee basically anywhere—like the Folger's wasteland that is your parents' home during the holidays—it's a surprisingly capable little machine. It's adjustable, grinds evenly and packs light. $35-$40 [Amazon]

3. Capresso H20 glass water kettle If you're going make coffee manually, you wanna boil water as fast and un-messily as possible. Capresso's H2O Plus glass water kettle is gorgeous piece of equipment that just works. Insert water, flip switch, wait 2 minutes. (I think they use these at Intelligentisa Coffee's shops too.) $50. [Amazon]

4. Hario Buono Drip Kettle If you're planning on mastering manual pourover techniques, there may not be a finer kettle for the money—the long spout ensures a smooth, concentrated flow of water that makes the ideal pour much easier, whether it's Chemex or a ceramic dripper. It's a little splurge-y though. $60. [Amazon]

5. Clever dripper The proper technique for pourover coffee can be tricky to master, but this $15 piece of plastic is easy to use, combining immersion brewing (like a press pot) with a pourover's simplicity. And it's ridiculously cheap. Used at places like New York's Gimme Coffee. $15 [Sweet Marias]

6. Aeropress Diehard devotees to Aeropress border on fanatical: There's even an annual World Championship dedicated to the brew method. (Fortunately, they make their recipes available so you can make awesome coffee using the Aeropress too.) It's a single-cup brew method, combining pressure and a paper filter to produce a fairly distinctive cup of coffee. Better yet, it's super portable, making it the ideal way to brew decent coffee while you're traveling. $29 [Amazon]

7. A coffee subscription Perhaps the easiest, best gift to give to coffee nerds or the coffee curious is simply good coffee. Stumptown, Intelligentsia and Counter Culture—the big three of speciality roasters—all offer coffee subscriptions, ensuring regular deliver of fresh, awesome coffee. Counter Culture's is the most straightforward to order, starting at $80 for 3 months. Varies [Counter Culture, Stumptown, Intelligentsia]

8. Coffee with Tim Wendelboe For the coffee curious, this book covers everything from picking coffee to brewing methods. It's written by former world barista champion Tim Wendelboe, who now runs perhaps one of the best roasteries in the world. $70. [Hario USA]

9. MyPressi Twist handheld espresso maker Home espresso machines won't produce anything close to the 'spro you'd get at a top tier coffee pulling from a La Marzocco, Slayer or Synesso machine, but the $150 MyPressi Twist is a stellar performer for the money, outclassing a lot of machines that are much pricier. Also, it's tiny. And you actually have to learn a bit about making espresso in the process. An ideal first espresso machine. $150. [MyPressi]
10. VSTApps MoJoToGo and coffee refractometer Want to perfect your coffee brewing technique? MoJoToGo paired with a coffee refractometer will show you precisely how well extracted your cup of coffee is, so you can make fine-tuned adjustments to your brew method, or diagnose faulty equipment. Be warned, pursuing the perfect extraction can quickly become an obsession. $360 + $30. [VST Apps, iTunes]
The burning sensation that comes from holiday shopping isn't from rubbing against the unwashed masses at malls: It's trying to pick out presents for everybody on your list. Gizmodo's daily gift guides are the all-natural, non-smelly cure.