Check out new videos for Star Trek Into Darkness, Iron Man 3, Doctor Who, The Walking Dead, and more. Captain America: The Winter Soldier starts filming, while The Avengers 2 makes plans for 2014. An Arrested Development star joins Ninja Turtles. Guillermo del Toro is optimistic about a Pacific Rim sequel, while James McAvoy explains why he still isn't imitating Patrick Stewart in X-Men: Days of Future Past. Spoilers from here on out!
Top image from Doctor Who.
Star Trek Into Darkness
Here's a new TV spot.
Captain America: The Winter Soldier
Acting legend Robert Redford talks some more about his role in the sequel, revealing that he will be playing the head of S.H.I.E.L.D.:
"Well, the head of S.H.I.E.L.D. The head of S.H.I.E.L.D.... The Captain America thing is just a very simple thing," he continued. "I wanted to do something different. I wanted to do something just to be different. Something bold, different. And that felt like a good thing to do. That was it, nothing more to it than that. Well, it's bold in terms of expectations, I guess. "
Filming has reportedly begun, although don't expect any set photos just yet — production is underway inside Marvel's Manhattan Beach Studios in Los Angeles. [On Location Vacations]
G/O Media may get a commission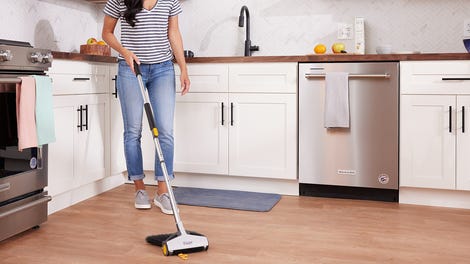 BOGO 50% Off
Flippr - BOGO 50% Off
Iron Man 3
Here's another promo video.
The Avengers 2
Joss Whedon's Avengers sequel will reportedly be at least partially shot in Britain's Pinewood-Shepperton Studios in early 2014. [ScreenDaily]
X-Men: Days of Future Past
Professor X actor James McAvoy goes back to his conscious decision in First Class to play the young Charles Xavier as very different from Patrick Stewart's older, sage-like interpretation, and he says he also won't be moving closer to Stewart's performance in the sequel:
No. Not yet. I think that may come. I mean, who knows? Who knows where it's going to go? That may come in the third movie but definitely not in this movie. We're not in the same place that we were in the first movie with Charles — a very different place from there. But we're also still on a very different place from where Patrick was in the other movies.
The third movie to which he refers isn't officially announced — and it likely won't be until around when Days of Future Past premieres at the earliest — but it's another indication of longer-term planning for the franchise. [The Huffington Post]
Pacific Rim 2
Guillermo del Toro offers this update on his and Travis Beacham's planned sequel to his upcoming monster epic:
We pitched a pretty good outline to Legendary several weeks ago, and they loved it, so Travis and I, as soon as we land this monster (no pun intended) into the screen, we will start actively working on the script. The outline was basically approved.
[Collider]
20,000 Leagues Under the Sea
Fight Club and The Social Network director David Fincher's long-planned Jules Verne adaptation appears to be officially happening, thanks to a sweet deal offered by the Australian government to film the movie in their country. Here's an excerpt of their announcement:
Prime Minister Julia Gillard and Arts Minister Tony Burke today announced The Walt Disney Studios film 20,000 Leagues Under the Sea will join a growing list of blockbuster productions filmed in Australia. While casting decisions are still to be made and locations are yet to be finalised, the filming of 20,000 Leagues Under the Sea will give Australian talent the opportunity to work with some of the best screen professionals in the business – both in front of the cameras and behind the scenes.
The rest is at the link. [Coming Soon]
Ninja Turtles
Arrested Development actor Will Arnett has reportedly joined the cast of the Michael Bay-produced film. It's not known what role he is playing, but it will reportedly not be Casey Jones. Transformers actress Megan Fox has already been announced for the part of April O'Neil, while Alan Ritchson, Pete Ploszek, Jeremy Howard, and Noel Fisher are playing the motion-captured turtles. [Heat Vision]
The Infinity Principle
Summit Entertainment has reportedly bought a pitch from Grace of Monaco and I Am Legend 2 screenwriter Amash Amel. The sci-fi project is reportedly about "a physicist who, after discovering the secret of time travel, accidentally causes the fabric of the universe to come apart." [Coming Soon]
Doctor Who
The BBC tweeted an official set photo revealing which monster will return for the 50th anniversary special. Thirty-eight years after their first appearance, the Zygons are back. This doesn't necessarily mean that the Zygons will be the bad guys in the special — a more powerful adversary could still be revealed — but it's pretty great to see them again. [@BBCDoctorWho]
And here are the first, rather blurry set photos from the filming of the 50th anniversary special. Matt Smith and David Tennant were reportedly both on set, though the photos don't show much just yet. Still, for those worried that Tennant will be playing the 10th Doctor's clone from "Journey's End" as opposed to the actual 10th Doctor, here's some good news: one of the photos shows what appears to be the 10th Doctor's TARDIS. That's maybe not definitive proof, but it's a decently good sign that the real 10th Doctor is going to show up. Check out the rest here. [Life, Doctor Who, and Combom]
Meanwhile, let's go back to the episodes that are actually airing right now, with this video that reintroduces us to Matt Smith's Doctor.
S.H.I.E.L.D.
Star Clark Gregg says the upcoming TV show won't explicitly reveal how Agent Coulson survived his apparent death in The Avengers:
"After people see the show, they'll have some clue as to why I'm still there, still breathing. But I don't think they'll know everything...
He also discusses his possible return in subsequent Marvel films:
"Joss is right over there. That's a really good question. I want to go ask him. I don't know. If my schedule doesn't conflict, and they need him in one of the movies, will they come calling? My feeling is that there's no breaks in continuity with this and the Marvel movie universe. It makes sense in that universe, and I certainly feel like his chances of appearing in those movies are far better than when he was far out dead."
And here are his thoughts on Agent Coulson in general, and why he signed on to resurrect the character for the show:
"I signed a multi-year deal for Agent Coulson when it was just three lines. It just turned into something more. It's always a little nerve-wracking because it's not something you're used to. We have designed obsolescence, we actors. At the same time, the relationship between Agent Coulson and the fans is moving to me, and I don't think it comes along very often, and I've been doing this a while. And some of this stuff is happening to me when I'm not in my 20s, not by a long shot. Once I knew that Joss and his brother Jed and Maurissa, his wife, were involved, and I saw the script, and thought, "This is what it's going to be like," then there's nothing else I'd rather be doing."
[Collider via Comic Book Movie]
The Walking Dead
Here's a video that looks ahead to season four.
The show is reportedly casting a new regular character named Roy Stark, who is described as "a former army medic who is deeply haunted by his past — pre- and post-zombie apocalypse... [and] as a result, he's a bit of a loner, although he maintains a charming/self-deprecating/confident public face. [TV Line]
Comics creator Robert Kirkman previews the fourth season, starting with the return of David Morrissey's Governor:
Yeah, he's still very much in the mix. That's certainly not the last that we'll see of him. When we see him again and where we see him again, that's the big question. It's not going to be like it was in Season 3; it's not going to be Rick and the Governor on a collision course with a conflict between them. He'll be used in very different ways next season.

Carl and Rick seemed to have almost switched roles to some degree, with Carl being incredibly cold and Rick finding a sense of optimism to some degree. How does that inform their relationship from this point forward?
Rick has had a success. The people at the prison have survived this conflict with the Governor, he brought people from Woodbury into the prison, and he's kind of had this big win. He's had this moment where he's brought people together and he's doing good things. But he's had this tremendous loss in that Carl has lost this piece of his humanity. This has been Rick's main mission throughout the show, to protect his family. We've seen two very big failures on that front this season. Moving into next season, we're going to see a very different Rick, but one of his main goals is to manage this situation with Carl and see if he can bring him back from this darkness that's crept into him. Whether or not he's able to do that, we'll have to see. But this is a big change in the character of Carl, but it's something that's going to be weighing heavily on Rick next season.
Kirkman offers this general teaser for the upcoming season:
I'll say that there are a lot of familiar elements that are remaining. Michonne is still around, Rick and his group are still in the prison, the Governor's still out there… so there are a lot of things that are carrying over from Season 3 to Season 4, but I can't stress how different things are going to be. There are going to be some radical changes to those elements that are going to bring in a lot of new storytelling. While [Season 4] does seem somewhat familiar, it's going to be vastly different from Season 3.
[IGN]
Person of Interest
Here's an extended promo for the next episode, "Trojan Horse."
Revolution
Here's a promo for the next episode and thirteenth overall, "The Song Remains the Same."
And here's a short description for episode fifteen, "Home":
The past catches up with Miles and Monroe when Emma returns; Aaron goes with Rachel to the Tower.
Arrow
Here's a sneak peek at tonight's episode, "Unfinished Business."
Warehouse 13
Here's a short description for the midseason premiere, "The Living and the Dead":
Pete and Myka race to stop a global plague before it kills half the world's population.
Being Human
Here's a promo for next Monday's season finale, "Ruh Roh."
Lost Girl
Here's a promo for the twelfth episode, "Hail, Hale."
Teen Wolf
Dylan O'Brien discusses his character Stiles in the interview below. [KSiteTV]
Additional reporting by Amanda Yesilbas and Charlie Jane Anders.