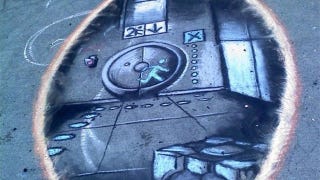 Here's a chalk portal created by an unknown artist in an unknown city of an unknown state. Despite all the unknowns, the sidewalk drawing is absolutely fantastic. [James Stowe via NerdApproved]
Update: Thanks to some help from @izenmania and @Tom, we found the artist behind this chalk drawing. It's James Stowe and he entered this creation in the Frost Park Chalk Off held in Tacoma, Washington.
---
You can keep up with Kelly Hodgkins, the author of this post, on Twitter.