We've long known that Bane and Catwoman would be in The Dark Knight Rises, but there's been intense speculation about another classic Batman villain making an appearance. Now we finally have confirmation... all because an eight-year-old refused to go bald.
Deadly Mississippi Tornado Kills More Than 2 Dozen | Extreme Earth
All that plus a fan favorite Walking Dead character might make a debut in the season two finale, and find out which familiar face might play the part!
We've got the latest choices to direct and rewrite Thor 2. Steven Spielberg gives the latest update on Jurassic Park 4, while Nick Frost talks the apocalyptic follow-up to Shaun of the Dead and Hot Fuzz.
Plus the latest on Fringe, Chuck, Terra Nova, The Vampire Diaries, and more.
Spoilers from here on out!
Top image from The Dark Knight Rises.
The Dark Knight Rises
At this point, I think we're all just sort of assuming that Marion Cotillard's character, Wayne Enterprises executive Miranda Tate, is really Talia al Ghul - and certainly, a bunch of set photos have shown her doing things that look less business executive and more international terrorist - but we've yet to have any official confirmation that Talia is even in the movie. Well, we now might have that confirmation from what absolutely has to be the most unlikely place imaginable: a profile of eight-year-old actress Leilah De Meza in an English local newspaper. Her mother is quoted in the piece as saying her daughter was offered the part of "young Talia al Ghul", and here's why they supposedly turned down the role:
"After careful consideration we turned it down as they were insistent that Leilah had to shave all her hair off. We were prepared to have it cut short but not shaved at such a young age. We were concerned how this could have affected Leilah's confidence and general social welfare."
G/O Media may get a commission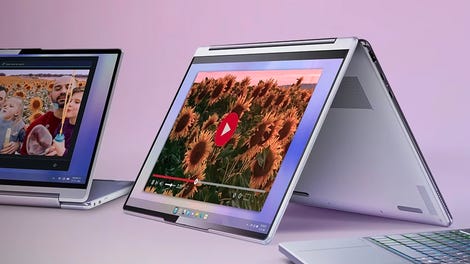 up to 70% off
Lenovo Spring Clearance
This seems relatively likely to be true, if only because it seems like such a bizarre thing to just make up, though it admittedly wouldn't be the first time an actor and/or their coterie embellished the sorts of roles they were offered but ultimately turned down. Still, working on the assumption that this is legitimate, we can say that Talia is in the movie as a child and her head is apparently shaved. And perhaps she appears opposite Josh Pence's previously announced part, the young Ra's al Ghul. It seems like a reasonable extension to assume that Talia will also show up as an adult, but that can't necessarily be assumed from this. There's also the question of who might have ultimately gotten the part — the only young actress known to be cast in the film is 11-year-old Joey King, though she's a bit older and American, so it's not a perfect fit. Assuming this part is indeed still there, I would guess we just haven't learned who is playing it yet. [The Surrey Comet; big thanks to Ashley for the tip!]
When asked about Gary Oldman's recent reveal that there's now a Harvey Dent Act that has helped clean up Gotham City, Christopher Nolan responded:
Well, that's funny, I didn't read that. But there is a piece of legislation, and we are dealing with a Gotham that's moved on. In the last eight years, it has come to revere Harvey Dent in the way that Batman intended at the end of the last film.
He also refused to comment when asked whether Batman and Gordon's decision not to reveal Two-Face's alter ego will come back to haunt them in this final entry.
Nolan's wife and producer, Emma Thomas, explains the decision to eschew an origin story for Bane and just show him already more or less fully formed:
And I think in some ways it's kind of fun. In The Dark Knight we did the same thing when we introduced the Joker, and he was in mid-heist. And it very much, if you remember, it very much gave you the sense of who the Joker was. And I think the same thing goes for this prologue. Bane is already doing his thing, and you can see that he's a brute. He's a smart brute, but some things — there's a real grandeur.
More at the link. [IGN]
Elsewhere, Nolan was asked about the reported difficulty understanding Bane's lines in the prologue, which will also form the opening moments of the film. He attributed this to a mix of Tom Hardy's accent, the fact that audiences can't see his mouth, and that some sound work still needs to be improved, and should end up sounding better in the finished cut. However, he said he accepts that audiences may not always understand all of Bane's lines, and that this shouldn't matter as the visuals should be strong enough to compensate. [Heat Vision]
---
Thor 2
The original choice to direct this sequel after Kenneth Branagh's departure was reportedly Game of Thrones episode director Brian Kirk, and in the wake of Patty Jenkins's own exit from the project Marvel is reportedly looking along similar lines once again, with fellow Game of Thrones directors Alan Taylor and Daniel Minahan the reported frontrunners to take over. Plans are also reportedly afoot to do a rewrite of Don Payne's script draft, with the top choices for that spot reportedly being Master and Commander: The Far Side of the World writer John Collee, Falling Skies co-creator and Saving Private Ryan writer Robert Rodat, and - perhaps most intriguingly - Quentin Tarantino's Reservoir Dogs and Pulp Fiction co-writer Roger Avery. [Heat Vision]
---
Jurassic Park 4
Here's Steven Spielberg's latest brief update:
"I haven't been active in the last year because I've been so busy obviously on 'War Horse,' 'Tintin' and now I'm currently shooting 'Lincoln,' but right now, it's on the schedule to bring out another 'Jurassic Park.'"
---
The World's End
The final part of Edgar Wright, Simon Pegg, and Nick Frost's loose "trilogy" that began with Shaun of the Dead and continued with Hot Fuzz is reportedly a comedy about the apocalypse - hence the rumored title, The World's End - and here's Frost with the latest update on it:
"There is a draft out there, which I've read, and it's great, and I think our plan is to crack on and shoot next year. Touch wood. They move and they change but we definitely want to get on with it."
---
Battleship
Here's a poster for the board game adaptation that features aliens for some reason. [ComingSoon.net]
---
The Divide
Here's the opening scene from the upcoming post-apocalyptic thriller.

And here's a full synopsis:
Strangers — all tenants of a New York high rise apartment — escape a nuclear attack by hiding out in the building's bunker-like basement. Trapped for days underground with no hope for rescue, and only unspeakable horrors awaiting them on the other side of the bunker door, the group begins to descend into madness, each turning on one another with physical and psycho-sexual torment. As supplies dwindle, and tensions flare, and they grow increasingly unhinged by their close quarters and hopelessness, each act against one another becomes more depraved than the next. While everyone in the bunker allows themselves to be overcome by desperation and lose their humanity, one survivor holds onto a thin chance for escape even with no promise of salvation on the outside.
---
Underworld: Awakening
The latest promo photos continue this third sequel's bold strategy of not always just showing Kate Beckinsale holding guns all the time — this time around, she's threatened by someone else holding a flamethrower, and we see someone else (specifically new addition Michael Ealy) holding a gun, which just proves the sort of layers this film has. [ShockTillYouDrop]
---
The Man From U.N.C.L.E.
Guy Ritchie has reportedly been hired to direct this spy show adaptation in the wake of Steven Soderbergh's departure. Ritchie's producing partner Lionel Wigram, who has just completed work with Ritchie on the Sherlock Holmes sequel, will serve as producer. [Deadline]
---
Fringe
Episode 12 is reportedly called "Welcome to Westfield." [SpoilerTV]
Here's a set video from the recent filming in the Vancouver suburb of Cloverdale.

Here are a couple of videos in which the cast answers questions from the fans. The first features Anna Torv, while the other one features everyone who isn't Anna Torv.

---
The Walking Dead
This is all based on a ton of shaky information and supposed inside sources, but the latest rumor going around is that the katana-wielding badass Michonne will make a dramatic appearance in the thirteenth and final episode of the season. An actor wrote a since-deleted post on his Tumblr that he had played one of Michonne's two pet zombies in the finale. A subsequent inside source confirmed Michonne's appearance, and went a step further by revealing the fan favorite character will be played by Rutina Wesley, who has spent the last four years playing pretty much the exact opposite of a fan favorite character as Tara on True Blood. There's technically two different stories here - Michonne showing up in the finale and Rutina Wesley playing her - and I'd say the former is more plausible at this point than the latter... but still, I wouldn't bet anything on either of them at this stage. [The Walking Dead Fan Club]
Here's an interview with the cast in which they preview the rest of the season.

---
True Blood
Here are some set photos from the filming of the fifth season, one of which features a bearded Alexander Skarsgaard, perhaps suggesting a facial hair change for Eric this season. You can see some more and also check out a brief set report at the link. [True Blood Online]
---
Terra Nova
Skye actor Allison Miller promises (and/or threatens) that a lot of mysteries remain unsolved after the finale, and the show needs a second season to provide the answers:
"There's going to be so much left unanswered. It would not be fair to anyone to not give us a second season."
That said, the two-part finale will reveal "why Lucas is trying to get the portal to go both ways, they will learn of an organization that has 'something else in mind for Terra Nova,' and the source of the conflict between Lucas and Taylor will be revealed," and Skye will spend her time trying to save Josh's life. The finale will also feature a death that Miller called "heartbreaking." [EW]
And here are a ton of photos and a synopsis from the two-part finale season. [multipleverses.com]
THE COLONY MAKES A LAST STAND TO FIGHT THE FUTURE - In the two-hour season finale, the 11th Pilgrimage arrives in Terra Nova and the mysterious Phoenix Group in 2149 makes its move to pillage the past with the help of Lucas and Mira. Meanwhile, Jim and Taylor team up in a last stand against the Phoenix Group, a colonist makes the ultimate sacrifice and a decision is made that will change life in Terra Nova forever.
---
Chuck
Here's a promo for the next episode, "Chuck vs. the Curse."

Here are some promo photos for the Christmas episode 7, "Chuck vs. the Santa Suit", which airs December 23... presumably because NBC has given up on this show getting ratings, even more than the network already had. You can also check out a synopsis below. [KSiteTV]
GHOSTS OF CHRISTMAS PAST RETURN TO HAUNT CHUCK AND SARAH WHEN OLD SECRETS AND THREATS RESURFACE — COMIC BOOK LEGEND STAN LEE GUEST-STARS — Chuck (Zachary Levi) and Sarah (Yvonne Strahovski) discover who's behind the plot to destroy Carmichael Industries. Meanwhile, Ellie's (Sarah Lancaster) plans for a perfect Christmas begin to come apart. At the Buy More, Morgan (Joshua Gomez) and the gang must fend off angry customers as a computer virus threatens to ruin Christmas.
And here's the description for episode 8, "Chuck vs. the Baby", which is being aired December 30, which somehow manages to be an even more blatant way to burn these episodes off than showing one the day before Christmas Eve. Anyway, to the synopsis:
"CHUCK VERSUS THE BABY" - SARAH'S PAST COMES BACK TO HAUNT HER AND THREATENS THOSE CLOSEST TO HER — CHERYL LADD AND TIM DEKAY GUEST STAR — Sarah (Yvonne Strahovski) is forced to confront a secret from her past and feels she must do so alone, while Chuck (Zachary Levi) urges her to let him help. When Sarah encounters her original handler, Kieran Ryker (guest star Tim Dekay, "White Collar"), she fears that he will harm those closest to her, including her mom (guest star Cheryl Ladd, "Las Vegas").
---
Grimm
Here are some behind-the-scenes photos. [BuddyTV]
---
Supernatural
Misha Collins discusses the now confirmed return of Castiel, dropping a rather interesting hint in the process:
"I can confirm that the character of Castiel is returning to 'Supernatural.' I'm not supposed to talk about any details, but I will tell you this: The character is coming back somewhat changed. I'm not going to tell you everything, but I will tell you that the "new" Castiel no longer wears undergarments."
[AOLTV]
---
American Horror Story
Here's a promo for the next episode, "Birth." You can also check out a sneak peek right here.

And here are some promo photos. [multipleverses.com]
---
Being Human (US)
Here's a poster for the second season. [SpoilerTV]
---
Sanctuary
Christopher Heyerdahl, who plays Bigfoot and Druitt on the show, discusses the latter character's fate:
"I'd like to think that Druitt has taken his growth or development on to the next level and become some kind of Doctor Manhattan-type energy creature, but perhaps that's something for Sanctuary's fifth season. At this point, Druitt is dead and pushing up daises if he could."
He also discusses the upcoming conclusion of this season:
"As for the culmination of this season, it's sacrificial in many ways. It's always hard to finish a season of Sanctuary because it's not like most other TV shows where you think, 'Okay, our numbers are good and we're airing in 170-odd countries around the world, so I think we're safe and can look forward to next season.' With Sanctuary we always hope that we get another season, but who really knows. So it's kind of like saying goodbye every year and this one was no different. Again, this year's finale is sacrificial, renewing and filled with possibility."
---
The Vampire Diaries
Here's a complete list of the next seven episode titles:
3x10: The New Deal
3x11: Our Town
3x12: The Ties That Bind
3x13: Bringing Out the Dead
3x14: Dangerous Liaisons
3x15: All My Children
3x16: 1911
La Femme Muskateer actor Caspar Zafer and Out of the Blue's Nathaniel Buzolic have reportedly been cast as Klaus's Original brothers Finn and Kol. [TV Guide]
---
Additional reporting by Marykate Jasper and Charlie Jane Anders.