Two years ago, students at Carlsbad High School began filming a documentary, The Invisible Threat—a report on the "science of disease and the risks facing a society that is under-vaccinated." But it is only now that the public is able to see the film, which became the target of a national anti-vaxxer campaign.
The 40-minute documentary is an extracurricular project produced by CHSTVfilms, the California high school's award-winning journalism and film program, which has also produced documentaries on food insecurity in affluent areas of San Diego County and the experiences of American teenagers first learning about the Holocaust.
But when a local newspaper reported that 16 students had begun tackling the issue of immunization, the documentary became a lightning rod for anti-vaxxer outrage even before it was finished. Activists claimed the naïve teens were being duped into making a propaganda film by adult advisors who had been paid off by pharmaceutical companies.
The blog, Age of Autism, wrote:
I was hopeful that a class in broadcast journalism might actually tackle this issue an ethical and balanced manner. Sadly, it was clear from what I read that these students were being taught to report on questions of vaccine safety in the same one-sided manner the mainstream media has for years....

This documentary won't change anyone's thinking on this issue. What was produced here was propaganda. People everywhere (especially parents) will recognize the bias. They've heard it all before. There is too much information available on the Internet to challenge what was said by the vaccine promoters interviewed for this film.
G/O Media may get a commission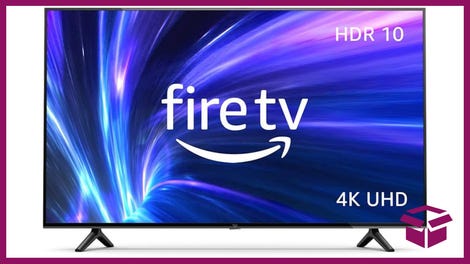 42% Off
Amazon Fire TV 50" 4K Smart TV
The Los Angeles Times reports that the students got the idea from local Rotary Club volunteers. But they bristled when the Rotarians told them how the movie should be made:
"We said, if we do this, we have to do this on our terms," said Bradley Streicher, one of the students. "We wanted to explore this from both sides."

They read studies. They talked to medical experts who praised vaccines. And they interviewed parents who distrusted vaccines, as well as a local osteopath who treats autistic children.

Some of the students initially believed vaccines and autism were linked, they said, but changed their minds as they researched.

"It was all social controversy. There was no science controversy," said Allison DeGour, who will be a senior this fall.

Lisa Posard, a parent advisor who served as the film's producer, said she hadn't realized that vaccines were such a controversial subject. She and CHSTV teacher Douglas Green wanted to shut down production, she added. But the students, angered by what they saw as bullying, insisted on completing the film.

The final version of "Invisible Threat," completed in spring 2013 but shown only to select audiences, took a strong pro-vaccine position.

Critics, who said they hadn't been allowed to see the movie, leaped back into action about a year later, when the film was set to be screened on Capitol Hill.
The criticism had become so heated that the high school's parent-teacher association canceled an on-campus screening for fear that activists would show up, as they had at a previous screening. "We didn't want to put the kids who worked on this into a position where people could get on campus and harass them," said Kym Szalkiewicz, president of the parent-teacher group.
The film has finally been posted online, in conjunction with National Immunization Awareness Month. You can see the trailer (below) for free, though it costs $5 to rent the film. (The students raised $60,000 to make the documentary, and their website is also asking for donations to the CHSTV film program.)
Meanwhile, the reviews are in from public health specialists.
"It is a wonderful movie," says Dr. Trish Perl, an infectious-disease specialist at Johns Hopkins Medicine. "I would have loved it to be shown in my children's school."