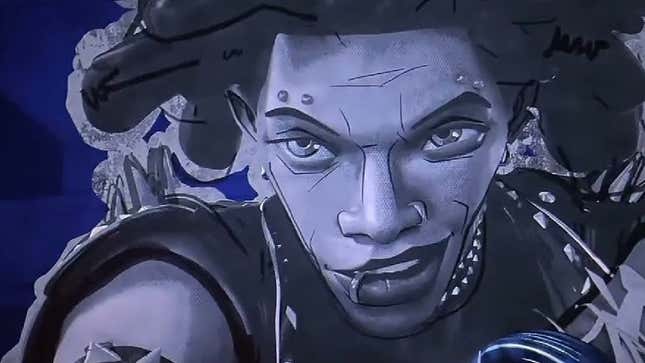 Spider-Man: Across the Spider-Verse introduced audiences to a whole plethora of Spider-heroes they may not have otherwise heard of, and one of the most prominent of the bunch was Hobie Brown, aka Spider-Punk. Voiced by Daniel Kaluuya, the Black Brit spider quickly became a fan favorite due to his stylized look and being a fun little troublemaker with a lot of charm.
io9 Interview: Oscar Isaac Was 'All In' on Moon Knight
It'd be hard to imagine a version of Across without Hobie, but according to producers Phil Lord and Chris Miller, that very nearly happened. Talking to Entertainment Weekly, they revealed that Hobie was "in and out" of the movie during its (reportedly stressful) production. They were apparently so indecisive that they weren't even sure he'd be in Beyond the Spider-Verse, but they elected to keep him on once they got Kaluuya for the part. Upon meeting the Nope actor, said Lord, "we realized that he had to be Hobie Brown, no matter the cost. And Hobie had to be in the movie because that personality needed to be part of the story."
After the two decided to beef up Hobie's prominence, there was pushback, mainly because there were already so many Spider-heroes already. But Miller said that once they got to know Kaluuya, the character's part was written so he became "more necessary" to the plot. Upon showing up in the movie, Hobie quickly shifts from what seemed like a rival for Miles to something more like a big brother who wants to teach the younger Spider-Man to stay woke and not put all his trust in the Spider Society.
To co-directors Kemp Powers and Joaquim Dos Santos, Hobie's popularity is largely in part because he was so openly skeptical of the Society. Speaking to the scene where Hobie gives Miles advice to help him break out, Dos Santos revealed that the scene almost didn't have Hobie in it. "He really pushed that scene over the edge," the director said. "We were trying to figure that out for a very, very long time, and he was the chaos element who told Miles not to fall in line. He really saved the day."
"No matter how cool the character design looks," said Powers, "[Hobie] really earned his way into this film because every character has to be in service of Miles' story."

Spider-Man: Across the Spider-Verse is now available on digital, with physical releases on September 5. Additional insight into Hobie's creation, and how Kaluuya came to further inform the character, can be read here.
---
Want more io9 news? Check out when to expect the latest Marvel, Star Wars, and Star Trek releases, what's next for the DC Universe on film and TV, and everything you need to know about the future of Doctor Who.