Seeing the Ghost—the spaceship from Star Wars Rebels—in Rogue One was a cool moment for fans of the Disney XD show. But there was more to it than just a bit of subtle cross-promotion.
"You see the film and think it's a kind of corporate synergy," Hal Hickel, the animation supervisor on Rogue One, told io9. "But really it's just casual and friendly contact between folks at Lucasfilm working on different aspects of the Star Wars universe and going, 'This would be super cool. Can we put your ship in our movie?'"
That's how the Ghost, the hero ship of the Disney XD show, showed up not just on Yavin IV (above, top left), but in the space battle above Scarif. "I was chatting with [Rebels executive producer] Dave Filoni," explained Rogue One producer John Knoll. "[I asked] 'How would you feel about having the Ghost show up somewhere in Rogue One?' They were all excited about the idea."
That was the easy part.
It was a bit more complicated, though, for the Hammerhead Corvettes. In Rogue One, that's the ship that crashes the disabled Star Destroyers, resulting in the shield around Scarif being destroyed. Many people don't realize, though, those particular ships originated on Rebels, when Princess Leia "stole" them for the Alliance. Knoll didn't know any of that. He just knew he needed ships for a space battle, and everything went from there.
G/O Media may get a commission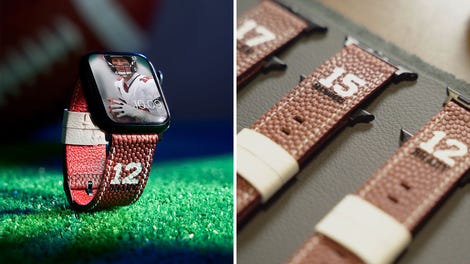 Official NFL PRODUCTS
Official NFL Apple Watch Bands
"[Using the Hammerheads] came out of discussions a bunch of us had about 'What should the Rebel fleet really consist of?'" Knoll explained. He knew of a few obvious ones but, to get the definitive answer, he approached the Story Group.
[They said] "Well, they could have the Hammerhead Corvette" and they showed me some images from Rebels. So that prompted me to grab the model and make a movie version of it. And we had that underway as a background ship when we were fleshing out some of the story beats of what happens in the space battle. Suddenly I needed a ship that could act as a tugboat and I thought, "Well, let's use the Hammerhead for that." So it kind of turned into a starring role.
To actually turn those CG animated ships into live-action CG elements, Knoll explained that the Rebels team gave the team at ILM the CG models from the show, then model supervisor Russell Paul "did a bit of a rebuild on them to add up a level of detail that was needed for it to hold up in a feature film." And, that's that. A few conversations around the office, fans have some fun easter eggs, and two major Star Wars stories get connected in an exciting way.