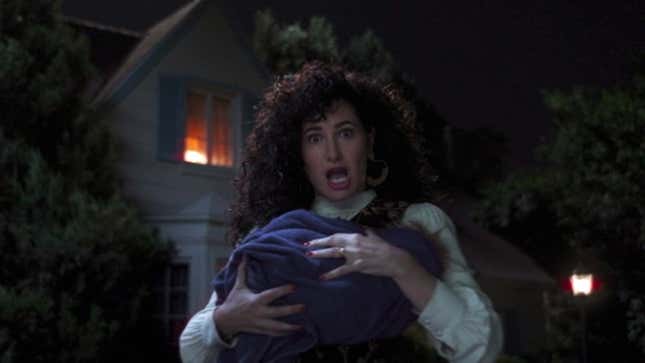 Sure, we knew Katharyn Hahn would be returning to play her breakout character in the upcoming WandaVision spin-off Agatha: Coven of Chaos. We knew who had joined her for the show, including Patti LuPone, Aubrey Plaza, and Heartstopper's Joe Locke. But until today, we didn't know about its plot or characters, and it's thanks to LuPone.

Bryce Dallas Howard on a Feature Star Wars Film and Book of Boba Fett
Speaking on The View, the actor/singer announced—likely without Marvel Studios' permission—she would be playing Lilia Calderu, an obscure comics character who is "a 450-year-old Sicilian witch whose power is divination and whose trial is tarot." But she also gave a hint as to who her co-stars would be playing:
"It's a coven of witches, and I play Lilia Calderu, who apparently is in the Marvel world. I researched her, she's hot, she's really hot, she's got a great body and hair. I didn't know there were witches, I didn't know anything about the Marvel world. There are witches in the Marvel world. So, we are a coven of witches and the witches are Kathryn Hahn, Aubrey Plaza, and [their] familiar—if anybody knows Heartstopper—is Joe Locke."
There was no chance in hell Aubrey Plaza was going to be in a show about witches and not play a witch, so that's not surprising. Making Locke the coven's supernatural attendant is unexpected but still quite vague. However, the reveal that LuPone's playing Calderu is interesting because she's incredibly obscure. The Marvel Fandom site says she debuted and died in the same 1973 issue of Marvel Premiere #12, and is notable for only two things: 1) having a kid with Doctor Strange foe Baron Mordo and 2) guarding The Book of Cagliostro, a magical tome which has already appeared in the MCU during the first Doctor Strange movie.
Assuming The Book of Cagliostro will be in play in Coven of Chaos, it could mean appearances by Chiwetel Ejiofor's Mordo or Benedict Wong's Wong (with, if there's a lord in heaven, Madisynn in tow), since I doubt Benedict Cumberbatch has the time or inclination to guest star as the ex-Sorcerer Supreme on a Marvel TV series. But just because the comics' Lilia did a thing, there's no guarantee the MCU's Lilia will do the same; after all, the character apparently used to be the "Witch-Queen of the Gypsies" back in 1973, and that's obviously been changed, thank goodness.
LuPone expects Agatha: Coven of Chaos to debut on Disney+ sometime in 2024. Seems legit to me.
[Via EW]
---
Want more io9 news? Check out when to expect the latest Marvel, Star Wars, and Star Trek releases, what's next for the DC Universe on film and TV, and everything you need to know about the future of Doctor Who.