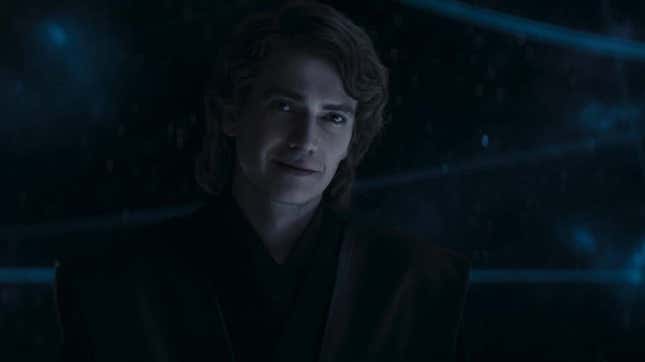 Ahsoka's metaphysical step into the unknown in the climax of last week's episode, "Fallen Jedi," paved the way for the first truly big moment of the series so far—a fated encounter between Ahsoka Tano and her former Jedi Master, Anakin Skywalker. But to find the right balance of such a moment, director Peter Ramsey pushed his guest star to a personal place.
Spoilers of the Week May 9-13
Speaking to IGN about the moment, Ramsey discussed what it was like having Hayden Christensen—already on the high of his prior return in Obi-Wan Kenobi—back as Anakin for Ahsoka. "He's a really sweet, low-key guy," Ramsey told IGN of the actor's return. "He was pretty happy about being there after all this time. It had a lot of meaning for him."
That joy extended as to how Ramsey and Christensen dialed in Anakin's emotions for seeing Ahsoka after so long—with Ramsey pushing Christensen to see Ahsoka as if it was the actor's own daughter. ""We just talked about what it's like for him to be seeing Ahsoka after all this time, that it's a reunion for them," the director said. "And I just told him, 'it's like you haven't seen your daughter in two years. She'd gone off to college and you're seeing her again and she's like a different person but still your daughter.'"
What's interesting beyond Ramsey's insight is that, while the director himself doesn't explicitly note this one way or the other, IGN's piece describes this version of Anakin as being "one before the events of Revenge of the Sith." Ever since "Fallen Jedi" dropped there's been a lot of discussion of just when this Anakin is actually from, given that the World Between Worlds is a Force nexus between periods of time, and not necessarily a quasi-afterlife. Is it his redeemed spirit after the end of Return of the Jedi? Is it more than just that this Anakin appears visually as he does leading into the events of Revenge of the Sith, or could it perhaps be as IGN suggests, that this indeed is an Anakin out of time, from the point before his fall to the Dark Side?
We don't have too much longer to find out, at least—a new episode of Ahsoka hits Disney+ tonight, at 6 p.m PT.
---
Want more io9 news? Check out when to expect the latest Marvel, Star Wars, and Star Trek releases, what's next for the DC Universe on film and TV, and everything you need to know about the future of Doctor Who.