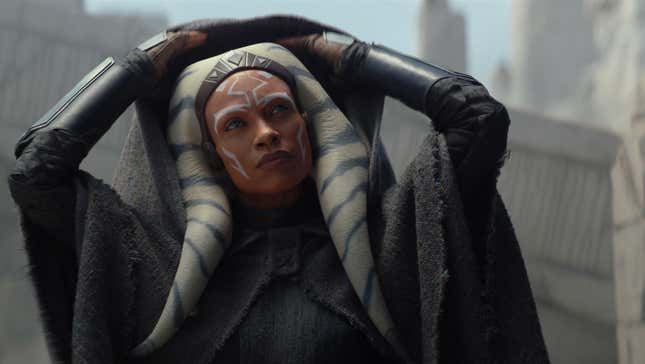 I haven't seen much of Ahsoka. Not just in the sense that there are only two episodes of her show currently released, but in the sense that I haven't watched much of the animated shows where she shows up. I haven't seen all of Clone Wars, I've got no memory of Tales of the Jedi, and I've dipped into maybe three episodes of Rebels, just to see what it was about. I did read the novel, Ahsoka, which was categorically fine, but I'm playing out a much better version of queer anti-agricorp hardscrabble fighters in my Orbital Blues campaign.
It's because of my willful ignorance and my general love of Star Wars that I was tapped to answer the question: "How much television do you need to watch before you understand Ahsoka?"
The short answer is: not much. If you go into Ahsoka having watched very little of the animated shows, you should expect to be introduced at speed to a lot of characters you've never seen before and learn very little about what they care about to start with. Which, as we all know, is how most television works. It's pretty classic Star Wars fare; a missing map that might lead to people who are very special for some reason, and a handful of Sith parading around making trouble. If you go in knowing nothing and paying attention, Ahsoka starts out just fine.
The long answer is: a lot. Ahsoka, as a character, has been around for 15 years and in that time has gone from a hated tweenybopper to a beloved fan favorite. But watching Ahsoka, and having seen the character appear briefly in The Mandalorian and The Book of Boba Fett, I'm left wondering… why do we care so much about her? Yes, she's a badass and clearly on her own side in a way that I appreciate in a Star Wars character, but she also appears emotionless, distant, and with a disrespect towards allegiances that make her seem a rebel without a cause and a master to none. Is she a Jedi or isn't she? Does she care about the rebellion or does she care about her former master, Anakin Skywalker, infamously known as Darth Vader? How does she feel about any of her associates and… I guess… friends? I really don't know, and I'm unsure if this is a fault of the character's fragmented on-screen history or a failure of Ahsoka's writing.
The larger problem with Ahsoka, the show, is that after two episodes I'm wondering why we're focusing on Ahsoka at all. Sabine Wren, another character who showed up in Rebels, seems to have a much stronger plot, character, and momentum throughout the two episodes of Ahsoka. She's also a Mandalorian, and we have a large rolodex of on-screen Mandalorians to refer to, so for someone like me who has only seen the live action shows in full, Wren seems the natural main character.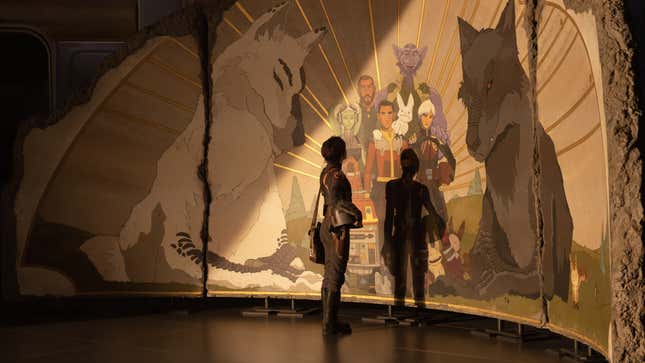 The show is entirely watchable without knowing who these characters are, but without any real grasp on the ties between Ahsoka Tano, Sabine Wren, Hera Syndulla, and Ezra Bridger, many will be left feeling cold towards the whole endeavor. A lot is done to make Wren moody, unpredictable, and brilliant, but the missing-presumed-dead Ezra Bridger seems to be the fulcrum on which this entire series swings, and we are told literally nothing about him other than he was a Jedi, or possibly a Jedi-in-training. Grand Admiral Thrawn (whom, I admit, I'm aware of because I read at least one if not all three of the Thrawn books back in high school) is also a boogeyman waiting on the edge of the universe, but for both Ezra and Thrawn there is an implied importance to these characters that simply does not translate.
Besides the fact that I'm watching Ahsoka and sort of assuming it'll make more sense down the road, is the issue that the show itself seems to realize that they are working with characters that most people won't recognize. The first two episodes are less about Ahsoka and much more focused on this expansive, previously-seen-on cast. Which is also frustrating, because the new characters—the Nightsister Morgan Elsbeth, the Sith master Baylan Skoll, and his apprentice Shin Hati—are incredibly interesting. Without the burden of expectation that comes from being a beloved character on some other show, these three were able to emerge as fully formed and necessary characters, something that Ahsoka fails to do with its lead.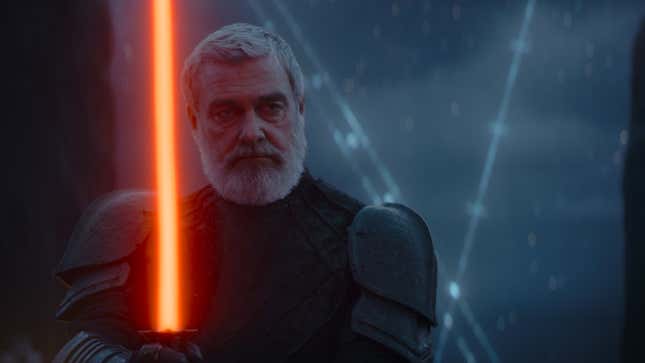 The problem I'm running up against is that the show seems to want me to know who these people are and their connections and connect to the story through their personal emotional struggles. This isn't a show about Ahsoka, it's a Rebels sequel and it isn't shying away from that. The reliance on classic Star Wars plots—maps, powerful chosen ones, fractures between Jedi and Padawan—makes Ahsoka easy to understand, but without a built-in love for these characters, it's in service of an ultimately boring plot that we've all seen before. I wouldn't mind a character-driven show, but I don't know these people and Ahsoka doesn't do enough to make me care. The worst part is that I'm not that curious about these characters either! Rebels is 75 episodes over four seasons and it cannot be worth it just to understand the intricate web of emotional connection going on in this show.
So can you watch Ahsoka without watching Rebels? Yes. You'll get it, but you'll probably find the show rather uninspired, and you'll wish that Sabine Wren had been the main character instead. Hopefully Ahsoka can find more personality in the next few episodes. Is there a map for that?
New episodes of Ahsoka premiere Wednesdays on Disney+. The first two episodes are available to stream now.
This piece was written during the 2023 WGA and SAG-AFTRA strikes. Without the labor of the writers and actors currently on strike, the movie being covered here wouldn't exist.
---
Want more io9 news? Check out when to expect the latest Marvel, Star Wars, and Star Trek releases, what's next for the DC Universe on film and TV, and everything you need to know about the future of Doctor Who.