Don't let anybody tell you there's no money in writing science fiction. Revelation Space and Pushing Ice author Alastair Reynolds just got a £1 million book deal (about $1.65 million) from his publisher, Gollancz.
It's not quite as massive as it sounds at first — that £1 million is for ten books over the next ten years, so it's only £100,000 per book. But that's still quite a sweet advance, and as Reynolds himself points out, the deal "gives me a huge amount of security for the next ten years." It does mean he has to put out a book a year, but Reynolds, who quit his job as a scientist with the European Space Agency to write full-time starting in 2004, says he's proved over the past decade that he can meet deadlines. He's already written eight books during that time, a few of them while he was still at the ESA.
Says his editor Jo Fletcher at Gollancz:
We don't sling that sort of money around lightly. Al's got big ideas for the future and we wanted to make that happen, but it's also a signal to the publishing industry that we're taking him seriously, and that they need to... He is very good at characterisation, he is very good at complex plots and he's very good at making you feel the vastness out there. He's got the whole package.
The big book deal does sort of confirm Reynolds' status as one of the giants of the new British space opera. And it's especially interesting because I don't get the sense that he's quite as big a name in the U.S. as he is in the U.K. Reynolds' most recent book, the Clarke Award-nominated House Of Suns, only just came out in the U.S. months after its debut in England.
G/O Media may get a commission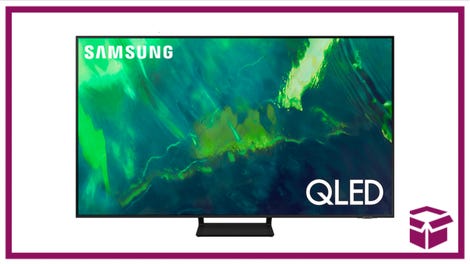 35% off
Samsung Q70A QLED 4K TV
Save big with this Samsung sale
If you're ready to drop some cash on a TV, now's a great time to do it. You can score the 75-inch Samsung Q70A QLED 4K TV for a whopping $800 off. That knocks the price down to $1,500 from $2,300, which is 35% off. This is a lot of TV for the money, and it also happens to be one of the best 4K TVs you can buy right now, according to Gizmodo.
Top image is Chris Moore's cover art for Reynolds' next novel, Terminal World.
[Guardian]