The tie-in toys for The Amazing Spider-Man could reveal crucial details about the movie's big final showdown. Christopher Lee talks about his roles in The Hobbit and Dark Shadows. Plus more on Fringe, Game of Thrones, Chuck, and The Vampire Diaries!
It's spoilers all the way down!
Top image from The Dark Knight Rises.
The Dark Knight Rises
Some more from the Anne Hathaway interview that reveals Catwoman is apparently working with the movie's main villain, Bane, in at least some capacity - first, Hathaway explains how she approached playing Catwoman, and how the character has some unexpected similarities to the Joker:
"Gotham City is full of grace. You look at Heath [Ledger]'s performance as the Joker, there was a lot of madness there but there was also a grace and he had a code there. There's a lot of belief and codes of behavior in Gotham and my character has one, too. A lot of the way she moves and interacts with people is informed by her worldview. Chris [Nolan] has given us all such complex, defined, sophisticated worldviews that it's just a matter of doing your homework and getting underneath the character's skin."
Hathaway also explains she looked for inspiration from the actress who Batman co-creator Bob Kane credited as a major inspiration for the character: Hedy Lamarr, who was the conniving Attorney General in Blazing Saddles a major star for MGM during Hollywood's Golden Age. Specifically, Hathaway says she changed her breathing to resemble Lamarr:
"I know this sounds odd, but her breathing is extraordinary. She takes these long, deep, languid breaths and exhales slowly. There's a shot of her in [the 1933 film] 'Ecstasy' exhaling a cigarette, and I took probably five breaths during her one exhale. So I started working on my breathing a lot."
G/O Media may get a commission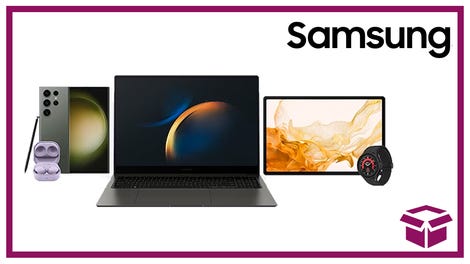 24 hour deals
Discover Samsung - Daily Deal
TNA wrestler D'Angelo Dinero, previously known during his time with the WWE as Elijah Burke, reportedly plays one of Bane's henchmen in the film. It's unknown if this is an actual part with lines or just a background player. [WhatCulture!]
---
The Avengers
Here's a Russian trailer that features a bit of otherwise unseen footage, albeit all dubbed into Russian. [/Film]

Here's a piece of promotional art that gives us our first full look at the Hulk's body - usually, his legs and feet are hidden behind the other Avengers. [Comic Book Movie]
---
The Amazing Spider-Man
Here are some promo images for the upcoming Mega Bloks tie-in toys, which appear to depict scenes from the film. If that is indeed the case, then the last photo, which includes "SWAT Lizard" figurines, would seem to confirm the longstanding rumor that the Lizard will transform a SWAT team into fellow lizard-men during the big climactic showdown. [Bleeding Cool]
---
The Hobbit
Christopher Lee discusses his work on the two movies, mentioning some characters that won't be back for these films, and what to expect from him as Saruman:
"Some of the characters from The Lord of the Rings are not in either of these films, sadly. Aragorn is not. I don't think the Rohirrim appear, from what I can remember. I'm not going to talk about the films because it's all confidential... I've done my part in each one. And that took about four days. What is extremely important is that in these two films, which of course are long before Lord of the Rings, in these two films Saruman — who I play again — is indeed still Saruman the White, but he is a good and noble man and a head of the Council of the Wizards as he always was."
---
Snow White and the Huntsman
Nick Frost, who plays one of the dwarves in this gritty reimagining of the fairy tale, praises Kristen Stewart's work as Snow White and offers a defense against criticisms of her previous work:
"It was our last day on Friday, and she has kind of a big rabble rousing speech, and she's great. She's fun on set. She's a fantastic actress...I think people forget she's fairly young still, but she's dedicated and she wants to do a good job."
---
Dark Shadows
Christopher Lee comments on his brief appearance as Bill Malloy in Tim Burton and Johnny Depp's upcoming adaptation of the old supernatural soap opera:
"I don't play long parts. They must be short parts, but they've got to be parts that mean something, that matter, where people will notice when I'm on the screen and people will remember the character after they've seen the film."
---
Fringe
Here are some promo photos from the midseason premiere, "Back to Where You've Never Been", which airs January 13. [BuddyTV]
---
Game of Thrones
The official site has posted another set report from producer's assistant Cat Taylor, and in it she reveals "the last scene shot of the whole series is one with Bran, Hodor, Rickon and Osha." She also drops these small clues:
For a super nerd like me, what happened to Jon Snow and his crew is some of the most exciting and intriguing occurrences in the series. That, and the scope for creating new yo'momma jokes is just endless.
[The Making of Game of Thrones]
---
Chuck
Here's a sneak peek for tonight's episode, "Chuck vs. the Baby", guest starring original Charlie's Angels actress Cheryl Ladd as Sarah's mother and White Collar's Tim DeKay as her former handler. [ChuckTV]

Here's the synopsis for episode eleven, "Chuck vs. the Bullet Train", which will air January 20:
A MISSION ABOARD A JAPANESE BULLET TRAIN SPIRALS OUT OF CONTROL, PUTTING THOSE CLOSEST TO CARMICHAEL INDUSTRIES IN DANGER – ANGUS MACFADYEN GUEST STARS - When a mission in Japan becomes a hostage situation, Sarah (Yvonne Strahovski) and Chuck (Zachary Levi) must face the merciless Nicholas Quinn (guest star Angus Macfadyen, "Braveheart") aboard a speeding Japanese bullet train. Meanwhile, the mission leaves Casey with an impossible decision.
[ChuckTV]
And episodes twelve and thirteen form the two-part finale on January 27, and they are called "Chuck vs. the Last Mission: Part I" and "Chuck vs. the Last Mission: Part II", and Linda Hamilton is confirmed to be returning as Chuck's mother, Mary Bartowski. [multipleverses.com]
---
Grimm
Here's the official description for episode nine, "Of Mouse and Man", which will air January 20:
A VICTIM OF ABUSE TAKES MATTERS INTO HIS OWN HANDS TO GET RID OF THE MEMORIES OF HIS TROUBLING CHILDHOOD — While investigating a gruesome homicide, Nick (David Giuntoli) learns that a seemingly mild-mannered resident could be festering a potential monster created from a dark childhood. Meanwhile, Monroe (Silas Weir Mitchell) is sent an unsettling message by the creature community, who are beginning to wonder if his priorities lie with them or a Grimm.
[KSiteTV]
---
Lost Girl
Emmanuelle Vaugier will reportedly return for episodes twenty-one and twenty-two as the Morrigan, joining the previously reported Paul Amos as Vex. The two will appear as part of the culmination of the dark-fae storyline. [SpoilerTV]
---
The Vampire Diaries
Executive producer Julie Plec discusses what's coming up in the midseason premiere, "The New Deal", which airs January 5:
"[Elena and Damon] are trying very hard to understand that the Stefan that they know is gone forever and that he betrayed them. Elena understands...that ultimately it's time for her to move on with her life and not hold onto a ghost of her past...One of the big things in the episode back, however, is when Stefan reappears in their lives. At what point do they start to understand the part he played in saving Damon's life and then what does that mean to each of them?"
There's more at the link, and you can check out some additional tidbits about the episode here. [TV Guide]
Here's the official description for episode twelve, "The Ties That Bind", which doesn't have a transmission date set as of yet but will likely air on January 19:
PERSIA WHITE GUEST STARS AS BONNIE'S MOTHER - Bonnie (Kat Graham) believes her recurring dreams about Klaus' (Joseph Morgan) coffins will tell her how he can be killed. The dreams also lead Bonnie to a reunion with her mother, Abby (guest star Persia White, "Girlfriends"), whom Bonnie hasn't seen for 15 years. At Abby's remote farmhouse, Bonnie and Elena (Nina Dobrev) meet Jamie (guest star Robert Ri'chard, "One on One"), the young man Abby took in years earlier. Bonnie's sudden appearance catches Abby off-guard, but she does her best to explain the past. Tyler (Michael Trevino) turns to an unexpected ally in his quest to regain his free will. Damon (Ian Somerhalder) is intrigued by Alaric's (Matt Davis) new friend, Dr. Fell (guest star Torrey Devitto), and Klaus continues his bitter negotiations with Stefan (Paul Wesley) over control of the coffins containing his family members.
---
The Secret Circle
Here's the synopsis for the twelfth episode, "Witness", which also will most likely air on January 19:
JAKE RETURNS AND OFFERS CASSIE THE CHANCE TO FIND OUT WHAT HAPPENED 16 YEARS AGO - Jake (Chris Zylka) returns to Chance Harbor to warn Cassie (Britt Robertson) that unless they find out how her father was killed in the boat fire 16 years ago, she'll meet with the same death. He suggests an extremely dangerous method to finally uncover what happened on that fateful day, but Adam (Thomas Dekker) and Diana (Shelley Hennig) suspect he has ulterior motives. In an effort to usurp the other, both Charles (Gale Harold) and Dawn (Natasha Henstridge) try to get Ethan (Adam Harrington) on board as an ally. Faye (Phoebe Tonkin) gets trapped in a dangerous situation when one of Lee's (guest star Grey Damon) friends, Callum (guest star Michael Graziadei) stops by the shop. Jessica Parker Kennedy also stars.
---
Additional reporting by Charlie Jane Anders.