Some of the edgiest, most interesting writing in the past several years has come out of Night Shade Books, a scrappy indie publisher in San Francisco. But now, it looks like one way or another, Night Shade might not be around much longer.
Top image: Matthew Stewart Cover art for The Cloud Roads by Martha Wells, Night Shade Books
Night Shade has been struggling for a few years now, with authors complaining about difficulty getting paid. The publisher had a run-in with the Science Fiction and Fantasy Writers of America (SFWA) a few years ago, when SFWA put Night Shade on probation. But last night, the other shoe dropped. Night Shade wrote to its authors, saying that it's selling its assets to Skyhorse Publishing and Start Publishing.
Night Shade editor-in-chief Jeremy Lassen tweeted: "My exciting news is that Night Shade is being bought by a larger publishing company! NS authors are recieving formal notification now."
That notification reads, in part:
As you probably know, Night Shade Books has had a difficult time after the demise of Borders. We have reached a point where our current liabilities exceed our assets, and it is clear that, with our current contracts, sales, and financial position, we cannot continue to operate as an independent publisher. If we filed for Chapter 7 bankruptcy, or liquidation, the rights to your books could be entangled in the courts for years as could past or current unpaid royalties or advances. However, we have found an alternative, which will result in authors getting paid everything they are due as well as finding a future home for their books, subject to the terms and conditions stated in this letter.

Provided that a sufficient number of Night Shade authors agree to certain changes to their contracts with Night Shade, Skyhorse Publishing, Inc. and Start Publishing, LLC have agreed to acquire all Night Shade Books assets. To be clear, this is an acquisition of assets, not a purchase of the company as a whole. The revenue received from the sale would go towards paying off the debts of the company. If you sign below, and a sufficient number of other Night Shade authors and other creditors also agree to these terms, you will receive full payment to bring all royalties and overdue advances current.
G/O Media may get a commission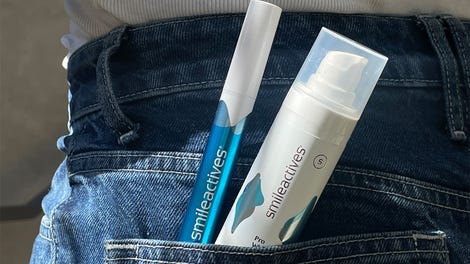 58% off
Whitening Powerhouse Pen & Gel Duo
The deal will only go through if enough Night Shade authors agree to it, and according to Publishers Weekly, SFWA has told its authors that the only real alternative is for Night Shade to go into Chapter 7 bankruptcy, which could result in authors being unable to regain the rights to their books, or having their contracts purchased during the bankruptcy process by another entity.
Still, author Jeff Vandermeer, who published one anthology with Night Shade, has publicly stated that he won't sign this "crappy deal." In the comments on Vandermeer's Facebook post, other authors voiced anger and frustration. Kameron Hurley (God's War) wrote: "It feels like a gov bailout of the banks, where once again, the writers get fucked because somebody else made shitty business decisions." Other Night Shade authors have taken to blogs and twitter to say they won't be associated with this deal.
It's not clear what will happen to Eclipse Online, the electronic short fiction magazine edited by Jonathan Strahan on the Night Shade website — here's hoping it finds a new home.
We wrote to Lassen, asking for comment, and didn't hear back before our deadline.