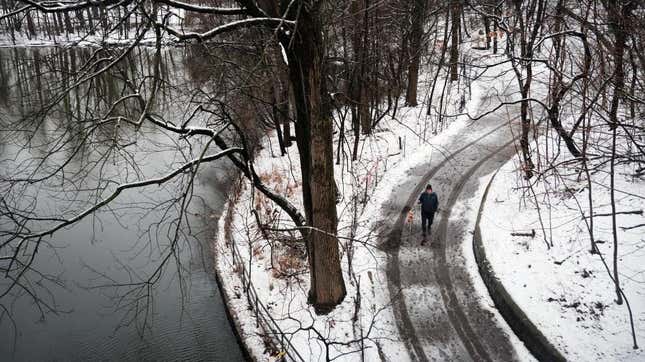 Winter weather hit both coasts over the last few days, dropping snow over California and across the Northeast. Cities around the country experienced power outages and massive transit headaches. And there's more to come.
Heavy snowfall also accumulated in California over the weekend and into Monday. Some communities saw snow for the first time in decades, the LA Times reported. The heavy snowfall prompted San Bernardino County to declare a local emergency on Monday after several feet of snow trapped county residents in their homes. Other local residents were unable to reach their homes. More than 53,000 customers in the state are without power today from the recent winter weather, according to Poweroutage.us.
Over in the Midwest, Michigan was battered by another round of ice and snow on Monday. The wintry weather has cleared up as of this afternoon, according to the Grand Rapids National Weather Service station. Though the precipitation has paused for now, more than 130,000 customers in Michigan are without power, according to Poweroutage.us.
More snow may be on its way across the Northeast, especially throughout states in New England. "Hazardous driving conditions are expected today for parts of New England and upstate New York so use extra caution while driving," the National Weather Service said in a weather alert. "Closures and disruptions to infrastructure may occur." Anywhere from 4 to 8 inches of snow are expected to fall across the region, the alert said.
California is going to experience more snowfall too. The state can expect "heavy snow rates of 2 to 3 inches per hour and additional snowfall of 2-4 more feet for the Sierra Nevada and southern California ranges through Wednesday," the National Weather Service warned.
You can click through to see photos of the snow-fallout all around the country.