After numerous reports popped up claiming that Apple's recently refreshed MacBook Pro were suffering from lackluster performance, in a statement released today, Apple officially confirmed issues related to excessive heat generation in new MBPs and promised that the company will release a patch to address the problem later today.
Apple says "Following extensive performance testing under numerous workloads, we've identified that there is a missing digital key in the firmware that impacts the thermal management system and could drive clock speeds down under heavy thermal loads on the new MacBook Pro. A bug fix is included in today's macOS High Sierra 10.13.6 Supplemental Update and is recommended."
The company also wanted to "apologize to any customer who has experienced less than optimal performance on their new systems," while simultaneously standing its ground in regards to Apple's initial performance claims by saying "Customers can expect the new 15-inch MacBook Pro to be up to 70-percent faster, and the 13-inch MacBook Pro with Touch Bar to be up to 2X faster, as shown in the performance results on our website."
While the majority of the discussion and speculation surrounding the new MacBook Pros was centered around the performance of the top-end Core i9 15-inch MacBook Pro, Apple claims its bugfix should should help boost performance across all the new MacBook Pro models, including both 13 and 15-inch versions and those with the 8th-gen Core i7 CPU as well.
That said, it will be interesting to see how much of an improvement Apple's software fix will have, as it's too late to address concerns related to the thermal limiations presented by the MacBook Pro's sleek aluminum chassis and built-in cooling, which according to teardowns, are almost entirely unchanged from those found in previous-gen MacBook Pros.
G/O Media may get a commission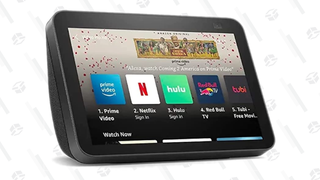 According to Phillip Rosenthal ( user randompersonx on the MacBook Pro subreddit), it seems one of the MacBook Pro's major issues is caused by power throttling of the computer's VRM (voltage regulator module), which when configured incorrectly forces the CPU to inefficiently cycle between its highest and lowest clock speeds, thus resulting in lackluster performance. Apple's software solution could help resolve that issue, but it might shorten the lifespan of the VRM and it doesn't necessarily mean the MacBook Pro would be able to achieve speeds similar to more robust laptops with the same CPU.
Additionally, after hearing concerns about thermal throttling on the new MacBook Pros and other Core i9-equipped thin-and-light systems like Dell's XPS 15, I reached out to some sources familiar with the kind of thermal issues you often see on high-powered mobile workstations in order to get a little more insight into the latest controversy.
While they wished to remain anonymous, they told me they weren't surprised at all to hear that the Core i9 MacBook was suffering from throttling. Based on their testing, they said that the cooling tech needed to get optimal performance from a hot-running chip like Intel's Core i9-8950HK crammed inside laptop that are less than an inch thick simply isn't available right now.
The source also added that during experiments with the Core i9, so far they have only been able to reach around 90 percent of the chip's max performance when installed in a thin-and-light system, which largely eliminates the performance gain the company was hoping to get by offering a Core i9 versus a Core i7 CPU.
While this surely isn't the end of the story, it seems the performance woes of the new MacBook Pros is due to a myriad of issues instead one single problem, and while Apple's fix should do a lot of alleviate those concerns, it seems unlikely that users will ever see sustained clock speeds near Intel's 4.8GHz listed spec for its Core i9 CPU. And that's before anyone attempts to overclock it.
We've reached out to Apple for additional comment about the fix and we'll update if we hear back.
[Update 7/25 at 8:40 AM] Added credit to Phillip Rosenthal, who is /u/randompersonx, for his post looking into the new MacBook Pro's VRM on Reddit.
Do you know more about the problems Apple is facing? You can reach me at sam.rutherford@gizmodo.com or contact Gizmodo securely via our SecureDrop.