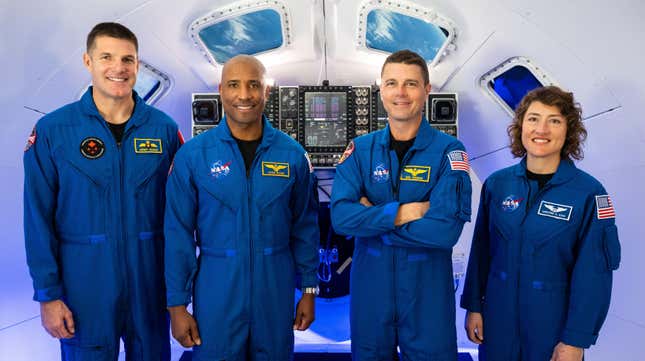 A brave group of astronauts has been assigned a mission of a lifetime, carefully selected by NASA and the Canadian Space Agency according to their unique set of skills like leadership and ingenuity—but perhaps not punctuality.
Better Mobility & Cameras: NASA & Axiom's New Spacesuits | Techmodo
On Monday, the Artemis 2 mission crew made its way to the stage at NASA's Johnson Space Center's Ellington Field, revealing a secret that they had known for a few weeks: They're going to the Moon.

But before the identity of the crew was made public, space agency officials had arranged a secret meeting to inform the three Americans that they had been chosen for the Artemis 2 mission. Incredibly, all them were late to that meeting, as The Washington Post reports.
NASA Astronaut Christina Koch, who will serve as mission specialist for Artemis 2, logged onto her computer for what she thought was a virtual meeting but instead had to rush in to the Johnson Space Center after her boss texted her, "You're going to want to be in person for this one."
In an interview published in WaPo, Koch said that she was "very late" to the meeting in which she was being assigned a seat on the first crewed spacecraft headed to the Moon since the days of Apollo. "I realized when I got to the room that it was a bigger meeting than I realized," Koch is quoted as saying.
NASA generally keeps its astronaut selection under wraps, but the space agency was likely even more secretive when it came to assigning the first Artemis crew, hence the "secret meeting." Three NASA astronauts were selected from the agency's 42 active astronauts, all of whom are eligible to take part in the Artemis missions to the Moon. There had been speculation over who will get to fly as part of the Artemis 2 crew but nothing had been confirmed until this week's official announcement.
Reid Wiseman, the Artemis 2 mission commander, was going to skip out on the meeting altogether, according to WaPo. Wiseman was running late because of a doctor's appointment across town. He texted his boss that he wasn't going to make it to what he thought was a meeting held to update the astronauts on a damaged Soyuz spacecraft docked to the International Space Station at the time. But Wiseman's boss, NASA's chief astronaut Joe Acaba, texted back, "You have to get here."
NASA astronaut Victor Glover, who will serve as pilot for the mission, also ran late to the meeting due to lunch with his staff, WaPo reported. "And one of the things [Acaba] talked about was punctuality, being on time," Glover is quoted as saying. "One way or another all of us were late."
The three NASA astronauts will be joined by Canadian astronaut Jeremy Hansen for the Artemis 2 mission, scheduled for late 2024. The four astronauts will strap into the Orion capsule headed for the Moon, marking humanity's return to Earth's natural satellite after more than 50 years.
"This is a big day, we have a lot to celebrate," Glover said during Monday's event. "It's so much more than the four names that have been announced. We need to celebrate this moment in human history because it's more than a mission to the Moon...It is the next step on the journey that gets humanity to Mars."
The astronauts are about to venture on a trip that only a select few will ever experience. But honestly, nothing makes them more relatable than being late to a meeting with their boss.
For more spaceflight in your life, follow us on Twitter and bookmark Gizmodo's dedicated Spaceflight page.