Uber-ninja Nick Denton asks:
Why are those Skype phones taking so long to come out? Promised by Belkin, Netgear, etc. Available on pre-order from Amazon since the Spring. STILL not out. What went wrong?
From our own experience with a pre-release model of the Belkin WiFi Skype phone, we can say these devices are 95% of the way there. The only issues holding it back are delay when calling Skype-out, intermittent sign-offs, crashing during calls and call dropping. Some significant problems there.
We posed the same question to Belkin and Netgear. Their responses after the jump.
G/O Media may get a commission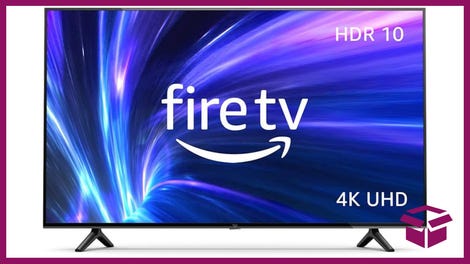 42% Off
Amazon Fire TV 50" 4K Smart TV
Belkin:
We're set to ship our Wi-Fi Phone for Skype in October. The reason for the delay is that there a number of complications involved with making an embedded Skype device communicate correctly with the Skype network.
Belkin gives us some info, but doesn't really get to the heart of it. Why are they delaying their release until October, whereas the SMC WiFi Skype phone, an OEM of the Belkin one, is available on eBay already? Logitec is also getting into the OEM game and releasing their own version of the Belkin phone soon. Are SMC and Logitec setting their bar lower?
Netgear:
...
Yes, Netgear never bothered to get back to us. We'll assume that their answer is similar to Belkin's, and that getting an embedded phone device to work on WiFi and Skype is quite challenging. Their manufacturing and product design is all done, it's just down to the software and firmware on the phones. Once that's all done—by October, hopefully—we'll be Skyping like we've never Skyped before.
Do you have a question for Gizmodo? Send it on in and we'll do our best to answer it.