Orbiting a nearby red dwarf star called Gliese 581 are 6 planets. One of them is a rocky ball, bigger than Earth, in the "habitable zone" where water is liquid and temperatures are human-friendly. It's possible we could live there.
Unlike Earth, this planet called Gliese 581g, is "tidally locked" to its star. That means one side of the planet always faces the sun, and the other faces darkness. Temperatures on the two sides would be dramatically different, with the livable area in the "terminator" between day and night.
Living on Gliese 581g would put you in an eternal twilight, which doesn't sound bad at all. Temperatures in the terminator area might be between -24 and 10 degrees Fahrenheit (-31 to -12 degrees Celsius), which is the average temperature of the planet's surface. So things would be a bit chilly, but you could always visit the perma-sun on dayside if you needed a dose of red dwarf radiation.
According to AFP:
The planet, found by astronomers at the University of California, Santa Cruz, and the Carnegie Institution of Washington, is orbiting in the middle of the "habitable zone" of the red dwarf star Gliese 581, which means it could have water on its surface.

Liquid water and an atmosphere are necessary for a planet to possibly sustain life, even it it might not be a great place to live, the scientists said.

The scientists determined that the planet, which they have called Gliese 581g, has a mass three to four times that of Earth and an orbital period of just under 37 days.

Its mass indicates that it is probably a rocky planet and has enough gravity to hold on to an atmosphere, according to Steven Vogt, professor of astronomy and astrophysics at the University of California, Santa Cruz, and one of the leaders of the team that discovered the planet.
G/O Media may get a commission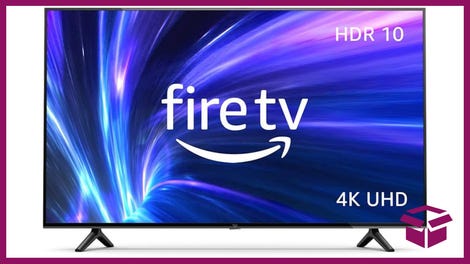 42% Off
Amazon Fire TV 50" 4K Smart TV
The researchers say the most important aspect of this discovery is that it means Earthlike worlds are probably pretty common, given that we found one that's practically in our own stellar backyard.
via AFP [PDF of scientific paper from Astrophysical Journal via Steven Vogt's website]
Image by Lynette Cook