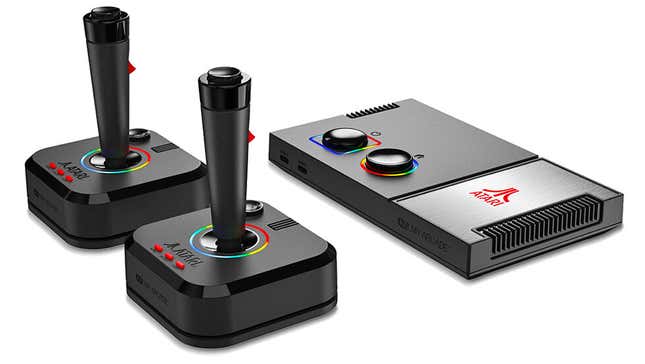 Unlike previous attempts to resurrect the Atari and its library of classic games that helped launch an industry, the Gamestation Plus—a joint venture between Atari and My Arcade—should come with considerably less drama, although when it will actually arrive remains a mystery.
The Playdate Is Unique, Charming and Full of Potential
Gamers who can trace their roots back to the late '70s and consoles like the original Atari will probably be familiar with the company's most recent attempt to repackage its library of games for both retro enthusiasts and later generations curious why Atari is such an iconic brand. Unfortunately, delivery of the $300 Ataribox, later renamed the Atari VCS, first teased back in the middle of 2017, was plagued with endless issues including crashed crowdfunding sites and a lawsuit from the console's designer.
By late 2021, just over 10,000 Atari VCS consoles had been sold, with the price tag and the drama making retro gaming enthusiasts hesitant to embrace it. The new Gamestation Plus will likely fare a little better. It was created with My Arcade, a company known for its cheap retro gaming machines including tiny Street Fighter II arcade cabinets that can be linked together for two-player fights and beefy portables capable of playing original NES cartridges.
The Gamestation Plus sheds the retro aesthetic of the Atari VCS for very modern looking plug-and-play hardware including a pair of wireless joysticks, but that's all we really know about the hardware as the announcement was made through tweets on the Atari Twitter account, the My Arcade Twitter account, and with hardware on display behind glass at My Arcade's CES 2023 booth. The console will include, "legendary games from Atari 2600, Atari 7800, and Atari Arcade," although many of the best games from those systems are played using paddle controllers with a spinning wheel—not a joystick.
The biggest question we have about the Atari Gamestation Plus is how it will be priced. Without the streaming and download capabilities of the Atari VCS, it will, we hope, be much cheaper than $300. But as much as we love those earliest video games, their gameplay and graphics often leave much to be desired, even for retro gaming enthusiasts. This is going to have to arrive below the $100 mark to convince us to not just stick with our existing Retropie emulation setups.