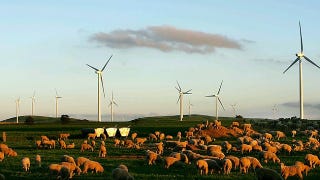 The Australian government has big plans for wind power— like increasing its use ten-fold by 2020. However, the planned expansion may be at risk if authorities verify claims that the wind towers are making a nearby farming community sick.
Residents of the small Victorian farming community of Waubra have asserted that they've experienced maladies ranging from severe headaches and nausea, to increased inner ear pressure ever since nearby wind farms became operational— one man was even diagnosed (by his doctor, no less) with electromagnetic spasms in his skull.
"I started getting a sort of tingling in the head and headaches and then it just, you could feel it eventually getting worse and worse," Carl Stepnell said, "(It's) like being in a cabin of a plane ... it's just the ear pressure and headaches and the nausea just in, the pressure in my ear - it didn't go away." He blames the wind farm constructed 900m from his home caused such discomfort that he has had to move to Ballarat, 30km to the South.
Electrical engineer Graeme Hood from the University of Ballarat was called in to investigate and, found that the turbines actually produced sound at a frequency too low for humans to hear. "The brain thinks it's quiet, but the ears may be telling you something else or the body may be telling you something else, it's much louder," he said. However, this finding has done little more than further stoke the already contentious fight between wind farm supporters and detractors . The government is has ordered further scientific testing as to the safety of wind farms. [News.com.au - Image: Yuri Kouzmin]
---
You can keep up with Andrew Tarantola, the author of this post, on Twitter or Facebook.