Authorities arrested a California man on Friday who had allegedly sent several death threats to Ajit Pai, the Donald Trump-appointed chair of the Federal Communications Commission behind the death of net neutrality rules.

According to a Department of Justice press release, the individual in question is 33-year-old Norwalk resident Markara Man, who the DOJ wrote sent at least three emails to Pai threatening the chair and his family in December 2017, days after the FCC voted in favor of the regulatory rollback:
The first email accused Chairman Pai of being responsible for a child who allegedly had committed suicide because of the repeal of net neutrality regulations. The second email listed three locations in or around Arlington, and threatened to kill the Chairman's family members. The third email had no message in its body, but included an image depicting Chairman Pai and, in the foreground and slightly out of focus, a framed photograph of Chairman Pai and his family. The FBI traced the emails to Man's residence in Norwalk, California, and when initially confronted in May 2018, Man admitted to the FBI that he sent the email threatening Chairman Pai's family because he was "angry" about the repeal of the net neutrality regulations and wanted to "scare" Chairman Pai.
According to a copy of the affidavit posted to the Washington Post's website, the first email included an image appearing to depict a news article claiming two children had committed suicide as a result of the net neutrality rollback, as well as a picture of Pai eating popcorn. It read:
Two kids have killed themselves over [the Official Action] so far.

Since you're the tiebreaker vote...

* Stares hauntingly past you*

* Slowly raises arm and points directly at you*

Their blood is forever on your hands.
The second email, titled "Cheers," included the names of three preschools in or near Arlington, Virginia and read, "I will find your children and I will kill them."
G/O Media may get a commission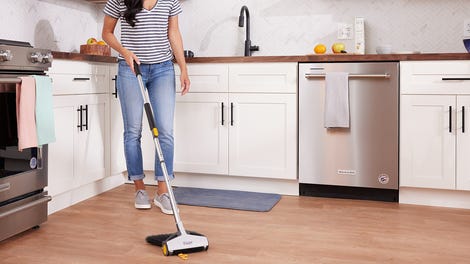 BOGO 50% Off
Flippr - BOGO 50% Off
As task force officer with the FBI wrote in the affidavit that they were able to trace the email address used to send the threats, Stubblemanliness@gmail.com, to an IP address associated with Man's house. They also wrote that Man admitted he had sent the emails when approached by law enforcement, and said he had chosen that handle to sound "tougher."
"They pretty much ignored, like, 80 percent of comments," Man allegedly told law enforcement. "They ignored us and just didn't care."
That appears to be a direct reference to the way Pai and his fellow Republican commissioners ignored overwhelmingly negative public feedback about the net neutrality rollback. After the FCC's public comment system crashed as it was being flooded with comments on net neutrality in 2017, agency officials spread lies to bolster dubious claims the downtime was the result of a cyberattack.
According to the affidavit, Man also provided police with a handwritten apology letter reading in part, "I'm sorry I made a threat against your kids. That was crossing the line."
If convicted on charges of threatening to murder the family of an acting US official with the intent of intimidating or retaliating against them for carrying out their duties, the DOJ wrote, Man could face a maximum sentence of up to 10 years in prison.
Pai has repeatedly claimed that net neutrality activists have targeted him and his family for harassment, the Post wrote, including a number of death threats. The FCC hearing where Pai and his fellow Republican commissioners repealed the net neutrality rules was briefly interrupted by a bomb hoax. In January, Pai dropped out of an appearance at 2018's Consumer Electronics Show, with sources who spoke to Recode citing death threats as the reason why.