I picked up a copy of Joshua tree National Park Geology while on an adventure in Joshua Tree National Park. I found my copy at one of the park entry bookstores, but you can also order it online. If you're going to the park, you want a copy.
The book is written for general audiences, with clear definitions of terminology that is familiar to most geoscientists. Even so, I was pretty grateful for it when I was switching from physics to geophysics and didn't yet know that a bajadas was an alluvial fan as a river spills out and deposits in a desert instead of a delta at a lake or ocean. The glossary is perfect for people without a geology background reading the book out-of-order, or needing a reminder, and will be completely overlooked by geoscientists.
Now that I'm a few years past my proto-geoscientist stage, I still love the book for using the terms properly once they're defined, and for providing a thorough geologic history for an area totally unfamiliar to me. The page of additional reading and references, and the full-spread geologic map including major structures is ideal for self-guided explorations.
Barker Dam reservoir is part of the Wonderland of Rocks, a site of a much shorter exfoliation dome than the more famous Half Dome at Yosemite National Park. Photography Credit: Mika McKinnon
G/O Media may get a commission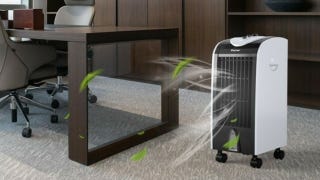 Save $10
Evaporative Portable Air Conditioner Cooler with Filter Knob
This book contains the clearest, most beautifully illustrated examples of arid weathering (exfoliation, honecombs, ventifacts) that I've encountered, with lots of tips on where in the park to roam to see examples with my own eyes. It also includes a few pieces on the interaction of people with their environment, suggesting some more anthropology-centric stops of cave painting and historical structures to keep my less rock-obsessed companions cheerful.
This book review was originally written for the Accredtionary Wedge #59 hosted on GeoMika.