The temptation to use the anonymous online commenting for the purpose of telling other people how stupid they are is strong. But one judge in England has learned the hard way that giving yourself a pseudonym doesn't mean that no one will ever find out who's talking shit.

Jason Dunn-Shaw was a judge (called a recorder in England) at the Canterbury Crown Court in Kent. In his spare time, he liked to read the local news outlet KentOnline and when stories about his cases were covered he often posted comments under the username Querelle, which is French for quarrel. It was a fitting name because he was fond of calling other commenters "donkeys" or "trolls" and when he didn't like a post he'd say things like "lots of warty fingers at work here." Pretty mild stuff honestly, but what ended up getting him found out was making the mistake of going into unusual detail about a case he'd worked on.
In the British legal system, some barristers can also serve as part-time judges. Dunn-Shaw worked as the counsel for two defendants who were accused of fraudulently taking £57,000 from an 80-year-old woman who suffered from dementia. Dunn-Shaw's clients were convicted and KentOnline wrote about the case twice. For some reason, neither of the posts have comments on them now, but at the time Dunn-Shaw commented on the stories and went "into great detail about the circumstances," according to KentOnline. The son of the fraud victim noticed this oddly well-informed commenter and proceeded to file a formal complaint with the Judicial Conduct Investigations Office (JCIO).
It was later discovered that Dunn-Shaw had also elaborately defended his actions in a case involving a woman who was accused of being responsible for a deadly car crash. She got off without jail time and Dunn-Shaw felt the need to pseudonymously explain why that was the court's decision.

G/O Media may get a commission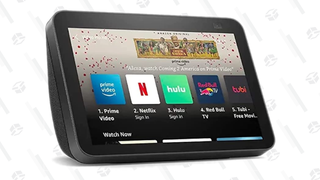 The dumbest mistake that Dunn-Shaw made was posting trolly comments on friend's Facebook pages that he thought were private. In those cases, his real name was attached.
The JCIO reviewed all of these incidents and decided that Dunn-Shaw's "behavior fell below the standard expected of a judicial office holder," and now Dunn-Shaw holds no such office. The disciplinary statement went on to say that Dunn-Shaw's Facebook posts were "not compatible with the dignity of judicial office or suggested a lack of impartiality on matters of public controversy." He is currently appealing the decision.
"The JCOI accept that comments were made on KentOnline under a pseudonym," Dunn-Shaw told KentOnline. "It seems to me unfair that the tracking of anonymous material places me where I am now."
The JCIO's statement may focus on the judge's lack of decorum but it's clear that Dunn-Shaw used very poor judgment.
[BBC, KentOnline]