Earlier today, Bumble—the social network and dating app where "women make the first move"—removed a profile purportedly belonging to professional bullshit megaphone Jack Posobiec. An alt-right internet activist, Posobiec is known best for promoting the Pizzagate and Seth Rich assassination conspiracy theories and once getting retweeted by Donald Trump.

Twitter user Lindsey Ledford posted several screengrabs from the profile of "Jack, 33" earlier today where he describes his height, heritage, Myers-Briggs personality type and his intention of "looking for someone who will make fun of movies with me." Presumably Posobiec found this in Tanya Tay, his wife. The two were married in early November after a rehearsal dinner featuring Papa John's pizza.
Though he spent two months at far-right media startup The Rebel, on Bumble, Posobiec describes himself as an "aspiring writer." It's entirely possible the profile is either entirely falsified (unlikely) or old enough that he forgot to deactivate it—though it's strange a B-team alt-right mouth-breather might have signed up for a feminist dating in the first place.
G/O Media may get a commission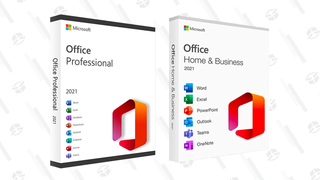 89% off
Microsoft Office Professional 2021 Lifetime License
Whether the profile was ultimately created by Posobiec or not, he joins the illustrious ranks of other intolerant jerks to be ousted from dating services, like sobbing neo-Nazi Chris Cantwell. Good company to keep!
Posobiec did not immediately respond to a request for comment.
Update 1/24 5:25pm ET: Posobiec replied via Twitter DM to claim the account's creator was "clearly some troll." He further added "I have a hot eastern European wife, as everyone knows."
Update 1/24 10:58pm ET: Doubling down, Posobiec claimed on Twitter that he intended to file "an identify theft report with the FBI." Approximately 15 minutes later, Bumble confirmed the account in question was tied to his actual Facebook profile.