California's Division of Occupational Safety and Health has opened an investigation into Tesla following a report from Reveal detailing whistleblower allegations that Tesla was underreporting serious workplace injuries at its Fremont, California, factory.

The inspection started on late Tuesday and can last up to six months, according to Bloomberg. The agency, known as Cal/OSHA, wouldn't disclose to Gizmodo what prompted the investigation, but Bloomberg notes that employee complaints can elicit such a probe.
"Cal/OSHA takes seriously reports of workplace hazards and allegations of employers' underreporting recordable work-related injuries and illnesses on the Log 300," a Cal/OSHA spokesperson told Gizmodo in an email. They added that the agency's inspections "typically include a review of the employer's Log 300," which is a record of work-related injuries and illnesses, "as well as a review to ensure that serious injuries are reported directly to Cal/OSHA within eight hours as required by law."
The report from Reveal, which is published by the Center for Investigative Reporting, included comments from numerous former and current Tesla employees who expressed concern that the Fremont factory did not prioritize safety over production. For instance, internal records obtained by Reveal indicated that the company mislabeled some serious injuries as personal medical or minor incidents.
A former safety member told the publication that they saw "broken bones and lacerations" that the carmaker allegedly did not record appropriately. Cal/OSHA said in a statement that the agency defines "a serious injury or illness as one that requires employee hospitalization for more than 24 hours for other than medical observation, or in which a part of the body is lost or permanent disfigurement occurs."
G/O Media may get a commission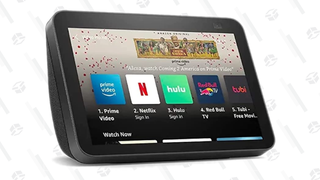 "They knew they were reporting incorrect numbers," former Tesla safety lead Justin White told Reveal. "Those workers were being injured on the floor and that wasn't being captured, and they knew that."
What's more, the Reveal report suggested that Elon Musk's aesthetic preferences fostered an unsafe work environment. Musk reportedly doesn't like the color yellow, so lanes were color-coded in shades of gray. The CEO also reportedly doesn't like too many signs or the beeping sound the forklift makes in reverse.
Tesla disputed each of Reveal's claims, characterizing Reveal's reporting as "an ideologically motivated attack by an extremist organization working directly with union supporters to create a calculated disinformation campaign against Tesla." But as Reveal noted, many of the whistleblowers who came forward had no involvement with unionization efforts.