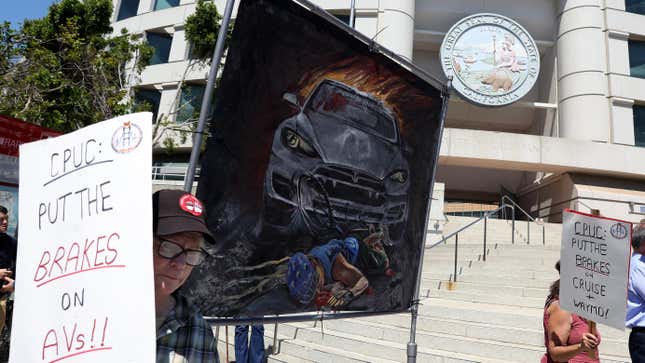 Nascent robotaxi services Waymo and Cruise are going to be out in force on the Streets of San Francisco like rambunctious, autonomous, teenaged hooligans after a state public utilities body granted the companies license to drive out at all hours of the day and night, even without a safety driver behind the wheel.
No Google AI Search, I Don't Need to Learn About the "Benefits of Slavery"
After a grinding more-than-six-hour meeting late Thursday, the California Public Utilities Commission agreed to allow self-driving cars courtesy of General Motors and Google to go out at all hours of the day and night throughout San Francisco. The commission voted 3-to-1 in favor of the measure.
Now, robotaxi companies Cruise and Waymo are allowed everywhere they please within San Francisco city limits, without a safety driver present. Previously, Cruise was limited to specific areas of the city from 10 p.m. to 6 a.m. without a safety driver present, but was allowed out any time with a driver present. Waymo was similarly allowed fared passenger service everywhere with a safety driver.
To throw a bone to critics, the commission wrote into both companies' resolutions that it will "increase engagement" with the state's Department of Motor Vehicles and law enforcement to keep tabs on these driverless taxis. The commission also begged the companies to engage more with residents and city officials, both of which have had serious complaints about the robotaxis blocking traffic, hindering public transit, and making other illogical moves on the road.
The livestreamed meeting went late into the day as residents got up to voice their concerns and ask the commission to vote no. A few residents added their support for the services, saying they helped some disabled riders who struggled with human interaction. Other transportation and accessibility advocates noted that driverless cars "leave people with disabilities out in the cold" since they can't help passengers load mobility equipment like human-based taxi services can.
Mara Math, a leading member of the San Francisco's Paratransit Coordinating Council, said, "Remember the Jetsons? We were promised that automation would offer a golden age for us. And, as usual, it turns out to be more of a golden shower on us."
Other residents shared their fears of even more cameras being out on the streets and lost transportation jobs, and general concerns the driverless cars were hindering emergency vehicles. The San Francisco Fire Department recently claimed self-driving cars had hindered their fire trucks and EMTs 66 times from the start of the year into July.
Some San Francisco residents were so upset with the vehicles they had been going around putting traffic cones on the robotaxis' hoods. Protesters claimed this stalled them out and required them to be reset, though Waymo previously told us that people were misinformed about how these automatic EVs operate.
One of the CPUC commissioners, John Reynolds, used to work as general counsel at GM-backed robotaxi company Cruise from 2019 to the end of 2021. Other city elected officials called on Reynolds to recuse himself from the contentious vote, but the commissioner claimed the "passage of time" gave him enough leeway to cast his vote.
Unsurprisingly, the companies could not be happier with the vote. Kyle Vogt, Cruise's co-founder and CEO, wrote "It's a huge milestone for the AV industry."
Waymo hailed the CPUC's decision, with co-CEO Takedra Mawakana saying that this was the "true beginning of our commercial operations in San Francisco," despite the company operating in the city since 2020. The company declared it had 100,000 signups on its waitlist.
Just last month, the human safety driver involved in the first-ever pedestrian fatality at the hands of an autonomous vehicle pled guilty to endangerment for not paying attention while behind the wheel. This does set a precedent that the people responsible for collisions are the people who are ostensibly "operating" a robotaxi, but what hasn't been clearly defined is who is responsible if a completely autonomous car kills someone. This and other issues will surely continue to be discussed and defined as more robotaxis and other AVs hit the road.