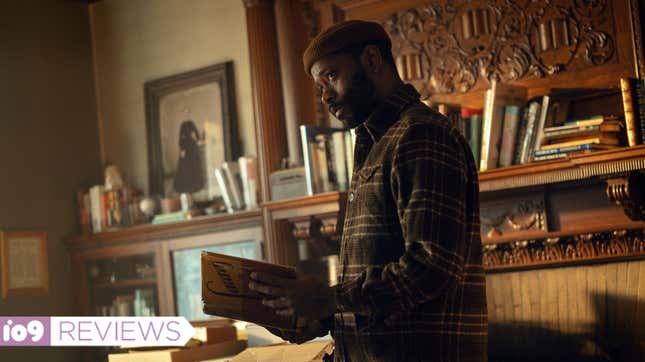 If you've read Victor LaValle's 2017 novel The Changeling, you'll have a good idea of what to expect from Apple TV+'s new series. The adaptation starring LaKeith Stanfield and Clark Backo keeps mostly true to LaValle's pitch-black fairy tale—but not entirely, making some key changes that land with varying degrees of success.
Vizio's Latest TVs Go All Quantum
For the most part, though, The Changeling is rather stunning. It's the story of rare bookseller Apollo (Sorry to Bother You's Stanfield) and librarian Emma (Letterkenny's Backo) Kagawa, who find domestic bliss tested when their son Brian is born, and Emma begins to suspect—in keeping with the folk legend referenced by the title—the infant has been swapped with a creature that is "not a baby." In its telling, The Changeling explores the power of books, the hidden wonders of New York City, the stealthy terrors of social media, and the uneasy idea that dark and ancient forces still control destinies in the modern world. Its narrative weaves together with a careful symmetry, as the viewer is invited to spot parallels between Apollo and Emma's childhood traumas, the lives of their parents (with a focus on Apollo's mother, Lillian, powerfully played at different ages by Adina Porter and Alexis Louder), and eventually their own actions as they grapple with what could be postpartum depression, or something more supernatural. Once Emma acts on her gut instincts, the couple splinters—then, driven by the same blend of grief and horror, sets out separately to find the truth behind the worst thing that's ever happened to them.
We're not 30 minutes into the first episode when Apollo discovers a treasure tucked into a book he's picked up while making the estate-sale rounds: a racy postcard sent by famed occultist Aleister Crowley. Apollo's find sets the tone for The Changeling's world, a place where ordinary occurrences are tinged with magic, and surprises that seem like coincidences soon start to feel like they were manipulated by cosmic forces. Over eight episodes, The Changeling digs into the why behind what happens to Apollo, Emma, and Brian, but despite the different explanations that swirl around, some wilder than others—including a wishing bracelet, a prophetic picture book, a powerful self-portrait, a few different ill-made bargains, and the dangers of posting too many photos of one's newborn on Facebook—the show steers away from tidy explanations. It's more concerned with the idea of how familial love can propel people to do things that might seem inexplicable or even unforgiveable, to the point that it's tempting to believe sorcery is somehow involved.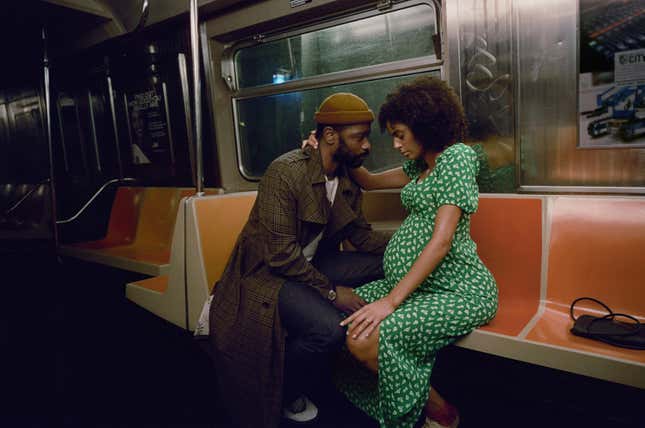 LaValle narrates each episode with his poetic prose, and The Changeling has a knack for scattering oddly perfect written phrases (graffiti that reads "When you believe in things you don't understand, you suffer;" a certain significant book inscribed "to the daddy of our dreams") and repeated themes (nobody is what they seem, there are always two ways to see things) throughout in a way that feels profound rather than pretentious. The performances are across the board outstanding, especially the leads but also Jane Kaczmarek as a non-nonsense "witch" who steps up to help both Emma and Apollo, Malcolm Barrett as Apollo's sarcastic best friend Patrice, and Samuel T. Herring as William Wheeler, a man who ingratiates himself with Apollo after revealing his own marital problems.
Each episode of The Changeling runs 45 minutes to an hour-ish, and it keeps to a brisk pace, mixing fantastical visuals with New York City grit while propelling Apollo and Emma along their respective quests. Near the end of the season, though, the series takes an entire episode to explore a character whose journey is more tangentially related to baby Brian's fate. While it enriches the show's deeper themes about generational trauma and fills in some blanks from Apollo's past, the detour is a bit startling—especially since the finale runs just 30 minutes. Episode eight feels so abrupt after all that came before, particularly in the context of such an otherwise precise translation of the novel, that I checked with Apple TV+ to make sure there wasn't anything wrong with my screener. (There wasn't.) We obviously won't give anything away, but if you emerge confused and feeling like you'd prefer a finale that brings a different sort of closure to Apollo and Emma's story—well, LaValle's wonderful page-turner is there for you too.
The Changeling series was written and adapted by Kelly Marcel (Cruella, Venom, Venom: Let There Be Carnage), who's also the showrunner and an executive producer; it's directed and executive produced by Melina Matsoukas (Queen & Slim, Insecure). The first three episodes of The Changeling arrive September 8 on Apple TV+, with a weekly rollout after.
---
Want more io9 news? Check out when to expect the latest Marvel, Star Wars, and Star Trek releases, what's next for the DC Universe on film and TV, and everything you need to know about the future of Doctor Who.