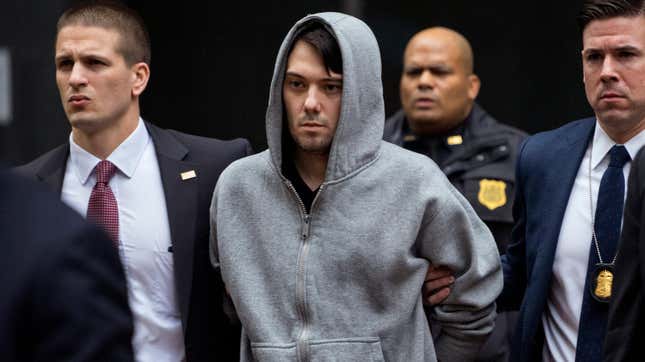 Twitter has suspended an account tied to disgraced "Pharma Bro" Martin Shkreli just days after the release of his new ChatGPT-inspired "Dr. Gupta" medical chatbot. Though it remains unclear which tweets, if any, ultimately landed Shkreli in Twitter jail this time, the former pharmaceutical villain-turned-crypto-evangelist-turned-AI-apostle was suspended in 2017 after repeatedly harassing a Teen Vogue journalist.
NPR Is Going Dark on Twitter | Future Tech
Shkreli used the account @marty_catboy to announce the launch of his new medical advice chatbot on Friday, which he claims could one day become a "replacement for all health care information." For now, it's basically a ChatGPT knockoff. @marty_catboy responded to a handful of replies discussing the new product before it was suspended over the weekend. On Monday, the Dr. Gupta Twitter account retweeted another user's tweet questioning why Shkreli had been suspended. That retweet called out Elon Musk and Twitter's safety team, neither of which have commented on the suspension at the time of writing. Gizmodo reached out to Twitter for comment but received the poop emoji in response.
When reached for comment, Shkreli asked for G/O Media's CFO to pay him $100 for an interview and threatened to 'expose' me.
Shkreli, who spent seven years behind bars for securities fraud, acknowledged the suspension on LinkedIn Monday, saying, "it's easier to get out of literal jail than Twitter jail." He then directed his audience to follow him on Substack and Jack Dorsey's newly launched decentralized social media platform BlueSky.
"I'd rather be on Twitter (and give them my $, including ad dollars), but I have to post somewhere!" Shkreli wrote.
Shkreli's first suspension came after he photoshopped his face over photo of a journalist and her husband
This isn't Shkreli's first Twitter jail sentence. In 2017, the huckster, once dubbed "the most hated man in America," was indefinitely suspended after he repeatedly harassed Teen Vogue journalist ​​Lauren Duca. Shkreli added a line to his Twitter bio at the time saying he had "a small crush on @laurenduca." He then went full creep mode and changed his profile picture to a doctored image of Duca and her husband with Shkreli's face photoshopped onto the man. Twitter never revealed the precise reasons for Shkreli's suspension, but a spokesperson at the time said it was related to Duca's harassment.
Twitter does not appear to have reversed the suspension on Shkreli's original account even after the takeover by self-described free speech absolutist Elon Musk.
Update April 25, 2:10 EST: Added comment from Martin Shkreli.