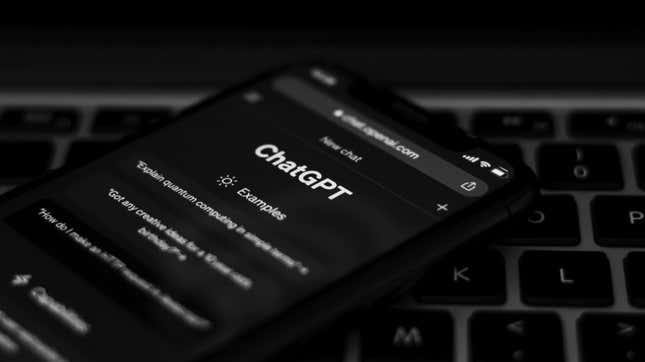 After months of fake ChatGPT apps duping users into paying money for what is still a free service, OpenAI has finally come around to creating its own mobile version of its ultra-popular AI chatbot. The new iPhone-only version of ChatGPT can accomplish important tasks like creating a screenplay of Batman buying Robin a Hot Pocket, now with a slimmed down, mobile-friendly UI.
The new app released Thursday is free, though just like the regular version of ChatGPT users will need to pay an extra $20 for ChatGPT Plus to get access to the GPT-4 language model, faster response speeds, and access to upcoming features. It also syncs between devices so users can see their own chat logs. The mobile app does have a slight edge over the browser version by integrating OpenAI's Whisper speech-to-text model.
The browser-based ChatGPT also officially supports some third-party plugins for Plus subscribers. Some of these allow the language model to access the internet or allow the chatbot to find and shop for products. Gizmodo reached out to OpenAI about whether the mobile version can support plugins, but we did not immediately hear back. An Android version of the app should be coming "soon," according to OpenAI's blog.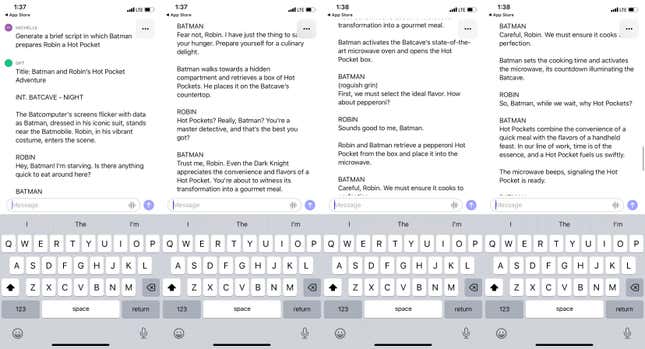 ChatGPT now joins the likes of Bing, which also operates on GPT-4, in the move of AI into a mobile format. Some other chatbots like Antrhopic's Claude or Inflection AI's Pi are accessible through integrations in other software like Instagram or Discord.
In the time since OpenAI's chatbot was released late last year and now, the cottage industry of fake, paid-for ChatGPT clones has gotten out of control on both the App Store and Google Play. As Gizmodo has previously reported, some apps cost $8 a week for the privilege of using an AI model that may or may not even by GPT-3. The cybersecurity firm Sophos reported Tuesday there were a number of apps trying to piggyback on the chatbot's popularity.
Some of these apps use off-platform advertising to lure users into paying for a service you can get better and for free elsewhere. The Sophos researchers noted several of these apps like "Open Chat GBT" and "AI Chat GBT" used a logo similar to OpenAI's icon for ChatGPT. Some even claimed they had created ChatGPT, but the chatbot was buried under a mountain of ads that could only be totally shooed away by paying a subscription. Some features wouldn't even work correctly without the subscription. The apps also stoked up their influence with a number of fake, 5-star reviews all while locking up and requiring payment after just a few uses.
Even though most of these apps have been removed from the app stores, they still made quite a chunk of change before they were pulled down. According to data from Sensor Tower, Open Chat GBT made somewhere below $1,500 across both App Store and Play Store. Still, there are plenty of other copycat apps still available on the app stores. One of the still-available apps Sophos noted, Genie, claims to offer a GPT-4 service for $7 a week or $80 a year. While users need to pay for GPT-4 on the official app, at least OpenAI doesn't bombard users with ads and notices to pay for more than 4 prompts a day. Sensor Tower data shows Genie makes its developers AppNation $1 million a month.
---
Want to know more about AI, chatbots, and the future of machine learning? Check out our full coverage of artificial intelligence, or browse our guides to The Best Free AI Art Generators, The Best ChatGPT Alternatives, and Everything We Know About OpenAI's ChatGPT.