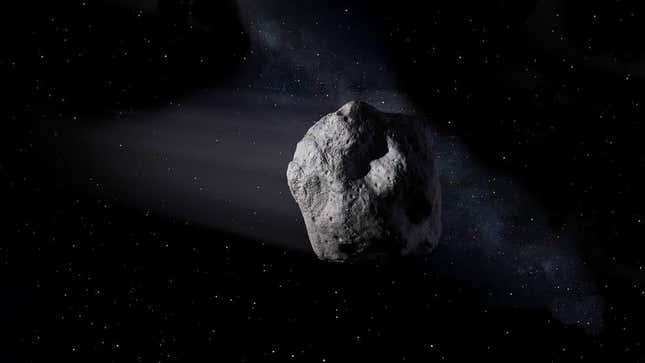 China has selected a small, near-Earth asteroid as the target for an upcoming mission that will help it prepare against future threats of incoming space rocks.
Astronomers Could Soon Get Warnings When SpaceX Satellites Threaten Their View
The mission is targeting asteroid 2019 VL5, a small object that's about 108 feet (33 meters) in diameter and orbits the Sun every 365 days, bringing it in close proximity to Earth. Chen Qi from China's Deep Space Exploration Laboratory revealed the planetary defense mission's target during a presentation at the 8th IAA Planetary Defense Conference in Vienna, Austria last week, according to SpaceNews.
China's planetary defense test is slated for launch in 2025 and will include both an observer and an impactor spacecraft tucked inside a Long March 3B rocket. Following their launch, each spacecraft will follow a different trajectory, according to Wu Weiren, chief designer of China's lunar exploration program, who revealed the mission plan to China's CCTV in November 2022. One spacecraft will reach asteroid 2019 VL5 first to survey it and study its topography, while the second spacecraft will follow on a collision course with the asteroid.
The impactor spacecraft will smash into the small asteroid, hoping to deviate its trajectory by 1 to 2 inches (3 to 5 centimeters). Initially, the deviation seems insignificant, but over time it could increase to 620 miles (1,000 kilometers) within three months, according to Wu.
Following the impact, the observer spacecraft will come back around to check in on the asteroid. China has also prepared for follow-up observations using ground-based telescopes, as well as space telescopes like Xuntian, SpaceNews reported.
China's planetary defense test is similar to NASA's DART mission, which slammed into an asteroid in September 2022 and successfully altered its trajectory. DART targeted a binary asteroid system, colliding with Dimorphos, a 525-foot-wide (160-meter) asteroid that orbits a larger space rock. However, China's mission is aiming for a much smaller asteroid, while sending two spacecraft after it instead.
The Chinese space agency announced its asteroid smashing mission last year, revealing the country's plans to craft an entire planetary defense system that includes tracking near-Earth objects, collecting meteorites, and developing deflection technologies. "There's also little gain for everyone to compete on this front because we are facing an extraterrestrial threat," Ye Quanzhi, an astronomer and research scientist at the University of Maryland, told The Planetary Society. "So I think China's potential emergence as a new player can open up possibilities for collaborations."
China's space program is competing with the U.S. on most fronts, including establishing a sustained presence on the lunar surface. When it comes to planetary defense, however, perhaps the two countries can join forces against a common threat.
For more spaceflight in your life, follow us on Twitter and bookmark Gizmodo's dedicated Spaceflight page.