A new automated system is helping to monitor the world's biodiversity by recording the sounds of nature and uploading them to the web in real time. Anyone can listen to the tracks, and approved users can help train the software to automatically identify species in the recordings. Researchers hope to eventually transform the project into a truly global citizen science program.
Global biodiversity is not doing so well these days, with many scientists even believing that we're on the brink of the world's sixth mass extinction. Ecologists, conservation biologists and others often try to come up with mitigation strategies to help combat the numerous threats to the world's various organisms, including climate change and deforestation, but such attempts are confounded by the lack of reliable information out there.
Simply put: We just don't know how well (or how poorly) many species are doing.
A major problem is that assessing the health of species is a costly and time-consuming endeavor, which often requires scientists to repeatedly go into the field to count individual animals or monitor their calls. Sometimes scientists will enlist the help of community volunteers for citizen science programs, but such projects rarely — if ever — benefit species in dense tropical ecosystems or other remote areas.
G/O Media may get a commission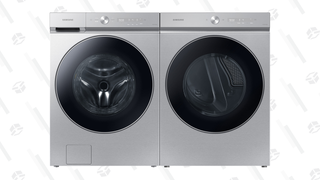 Get $500 back in credit
Last Chance: Samsung Bespoke AI Washer and Dryer Preorder
So to help give experts the long-term data they need to monitor biodiversity, a team of researchers designed a system that automatically records and identifies species, called the Automated Remote Biodiversity Monitoring Network, or ARBIMON.
The Sabana Seca, Puerto Rico ARBIMON station. Courtesy of Mitchell Aide.
The idea for the project stemmed from the work of two graduate students, recalls ARBIMON project leader Mitchell Aide, a biologist at the University of Puerto Rico-Rio Piedras. The two students — whose thesis projects focused on birds and frogs, respectively — created a small system to automatically take five-minute recordings at a time of the environment. They quickly amassed tons of data, but they had to sit and listen to it all to pick out species in the recordings.
"One day I walked in to where they were working and saw that they were either reading a paper or doing something else while they were listening, but they weren't paying 100 percent attention to the recordings," Aide tells io9. After glancing at the audio spectra on the computer screen, Aide immediately saw that there were five different species in the recording. "So I thought: 'If I can tell this just by looking, we need to figure out how to get the computer to do it, too.'"
After enlisting the help of computer scientist Carlos Corrada-Bravo and others, Aide and his team developed the cyberinfrastructure necessary for ARBIMON.
Out in the field is a permanent monitoring station made up of an iPod Touch 2G with a pre-amplifier, a microphone, a 12 V car battery, a voltage converter and a router, all housed in a water- and shock-proof case. The station also includes a 50 W solar panel and a radio antenna. The team developed an app that records one minute of audio every 10 minutes, resulting in a total of 144 recordings a day, though this can easily be changed to suit project needs.
Schematic of the ARBIMON project. Courtesy of ARBIMON.
Each audio recording is automatically sent to a MacMini computer at nearby base station via the router and antenna, and then subsequently deleted from the iPod. At the base station, the computer stores all of the recordings on an external hard drive, compresses them and then forwards them to the project server at the University of Puerto Rico. The files are then uploaded to the ARBIMON website, where anyone with an Internet connection can view and listen to the recordings.
The team also developed a web application to identify species in the recordings, though it requires people to train the software first. To start, algorithms mark regions of interest (ROIs) in a recording, which are likely animal calls. You can then go in and identify a specific ROI as the vocalization of a certain animal. To help the software learn the vocalization, you have to give it examples from other recordings, and then tell the application to develop a model based on the examples. From here, you test the model on different recordings to see how well it identifies the animal calls. Other tools in the application allow you to measure the accuracy and precision of the model so that you can further improve it. Once satisfied with the model, you can apply it to all of your recordings — the system can process some 100,000 to 150,000 recordings in just an hour.
The researchers have already tested out ARBIMON on the coqui llanero (Eleutherodactylus juanariveroi), an endangered frog species discovered in Puerto Rico in 2007. The team initially monitored the calls of the species from March 2008 to September 2011, and the data suggested that the species was in decline. But after collecting another year of data, they found that the frogs' calling rate had returned to normal, suggesting that their numbers weren't falling after all — the decreases in calls initially discovered were likely part of a natural cycle common in other species. "This is a good example why it's important to have this kind of long-term data," Aide says.
Eleutherodactylus juanariveroi frogs calling at the Sabana Seca site in Puerto Rico. Courtesy of ARBIMON.
Aide and his colleagues have now collected over 1 million recordings from permanent monitoring stations in Puerto Rico, Hawaii, Arizona, Costa Rica, Argentina, and Brazil, but only two stations (both in Puerto Rico) are still up and running due to finances. Though you can certainly listen to and view the recordings online, only approved users can train the software to identify species because the system is currently very project oriented.
"Right now most of the projects are associated with a student's thesis, research by the forest service or other groups," Aide says. "An important component down the road is to get students and citizens involved with the project."
However, this is not to say there's nothing you can do at this moment. Aide says that once you set up an account online, you can upload your own recordings and train the software to identify species in your audio. You can also apply existing models to your recordings. So if you want to do your own long-term project to monitor local species, you can certainly do that — you can even add other users to your project to help out. Aide says that the team would also consider allowing people help out on existing projects.
The researchers are seeking funding to get their monitoring stations back up and to build other stations around the world, such as in the Amazon rainforest, national parks in Columbia and other remote areas that may be a little dangerous for biologists and ecologists to do fieldwork. Aide thinks ARBIMON could eventually be used as an educational tool. "We could create displays in museums with the sounds of the tropics, or wherever," Aide says. "We could have people come in and listen to the rain in the Amazon and the birds and other animals calling."
Along the same lines, Aide adds that each ARBIMON recording is like a "museum specimen," in that it can be permanently stored for decades. Future generations will be able to hear the sounds of remote animals that may be extinct. And decades down the line, scientists will have improved tools and techniques, allowing them to better analyze the recorded sounds of nature.
"But the main motivation for the project is to improve biodiversity monitoring," Aide stresses. "We feel that we've created tools that will help the community improve biodiversity monitoring. That's the most important part about it."
You can check out a detailed description of the ARBIMON cyberinfrastructure in the journal PeerJ. Or get involved with the project online by visiting the ARBIMON website.
Top image of Eleutherodactylus juanariveroi, via CoquiPR.com.