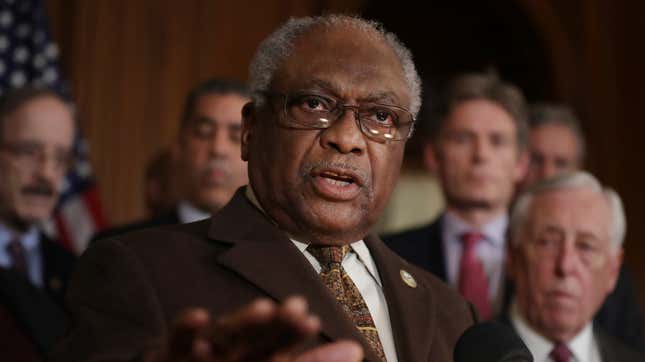 The so-called digital divide in the U.S. has become all the more glaring over the course of the current pandemic. A new bill could help close the gap.

Enter the Accessible, Affordable Internet for All Act, a new bill that was spearheaded by Democrats Rep. James Clyburn, of South Carolina, and Minnesota Sen. Amy Klobuchar and rolled out on Thursday morning. As its name suggests, the bill seeks to bring affordable, high-speed internet connections to the tens of millions of people that lack it, and lends a hand to those that need extra help affording their monthly internet bills. The full cost to get the program up and running? A little over $94 billion.
The lion's share of the $94 billion—around $80 billion—is authorized to be spent on deploying broadband infrastructure across the U.S., with a focus on the lower-income rural and urban communities with no or limited access to broadband. There's also $6 billion set aside to offer additional funding for the Emergency Broadband Benefit Program; and $2 billion for the Emergency Connectivity Fund, a sweeping initiative meant to fund connectivity for K-12 students and teachers.

Broadband providers that want to pitch in on these deployments will also need to meet a few qualifications. First, the bill states that these providers need to offer these households internet speeds of "at least 100/100 Mbps," which, to put that into context, is about what's needed for a household of two to five people to be online at the same time without speed issues. Providers are also required to offer this service at lower prices than what's typically charged for these type of speeds, which usually falls around $50 to $60 per month on average. Finally, the bill mandates that ISPs offer an "affordable service plan": no hidden fees and no overcharging,
It's worth noting here that Clyburn had previously floated a similar affordable internet proposal not long after the pandemic began, but it faced pushback from the Republican-led Senate. Let's hope that the Biden administration's pledge to close the digital divide, along with a Democratic-controlled Congress, can undo some of that damage.