You'll have to wait a bit longer for more Force Awakens footage. Do we now know what disaster kicks off Marvel's Civil War? Everyone you could possibly want is allegedly back on Twin Peaks. Plus, teasers for Universal's new Monster universe, new 12 Monkeys casting, and even more Last Ship. To Me, My Spoilers!
Captain America: Civil War
Heroic Hollywood have another alleged scoop on the film, this time a description of the horrifying superpowered fallout event that kicks off the U.S. Government's decision to register and control superheroes:
The international incident in the film involving the Avengers that results in collateral damage involves Captain America and Scarlet Witch who are trying to apprehend Crossbones. The only problem is that Crossbones is wearing a suicide vest full of nasty explosives. In order to protect the civilians on the ground, Captain America orders Scarlet Witch to levitate Crossbones above ground. She does and unfortunately is unable to contain the massive explosion that sets off near a populated building causing death and destruction.
You know the drill with unnamed sources giving out rumors—draw a pinch from your salt reserves for this one.
---
Nemesis
The announced adaptation of Mark Millar and Steve McNiven's superhero miniseries Nemesis has moved studios— it's no longer in production at Fox, and has now moved to Warner Bros. [Comic Book]
G/O Media may get a commission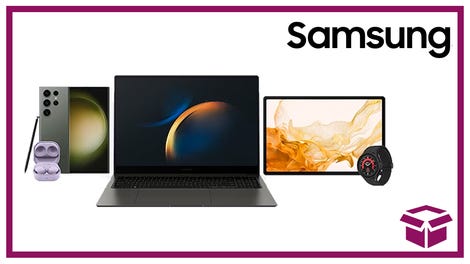 24 hour deals
Discover Samsung - Daily Deal
---
Beetlejuice 2
Although the news itself is pretty old, Winona Ryder has confirmed that a sequel is still happening:
I think I can confirm it, but I really don't know much more than anybody else.
---
Universal Monsters
Producer Alex Kurtzman says the shared universe will focus on horror elements:
I think there was some lost-in-translation quality to the way it was received, because I promise you there will be horror in these movies. It is our life goal to make a horror movie. The tricky part is actually how you combine horror with either adventure or suspense or action and be true to all the genres together. In some way, 'Mummy,' dating all the way back to the Karloff movie, was the first to do that. It was the first to combine horror with — I wouldn't say action, but certainly a lot of suspense. So it's more about how you blend the different elements and stay true to each one, but there will definitely be horror in the monster movies. … We will hopefully serve it up good and plenty.
[CBR]
---
Star Wars: The Force Awakens
Excited for that new footage being shown off at Disney's D23 Expo this weekend? Well, don't be: J.J. Abrams has confirmed there'll be no new footage shown:
It is true, we are showing no footage, behind the scenes or otherwise. In the fall, there'll be a trailer.

We're thrilled to go to D23 and meet the fans, but it's a tricky thing to try and rush [footage] for a convention or preexisting event that would, of course, be fun to show something at.
Here's a new high-res version of the new shot from this week's international TV spot. [Star Wars on Facebook]
---
Arrow
Eysia Rotaru has been cast as a love interest for Oliver—but only in flashback sequences rather than the show's main timeline. [TV Line]
Following on from last night's reveal that John Constantine of the recently-cancelled Constantine will guest star on the show, a few more details have been released. First off, the episode will be titled "Haunted", and here's a brief description:
John Constantine is a weather worn exorcist and expert on the supernatural and the occult. He is a detective, magician, and a hunter of demons, and will provide critical support to Oliver (Stephen Amell) when arrows aren't enough.
Meanwhile, speaking to TV Insider, Producer Marc Guggenheim has revealed that Constantine's appearance is tied to the fallout from Sara Lance's upcoming resurrection and transformation into the White Canary, ahead of Legends of Tomorrow:
Unlike Thea, who wasn't fully dead, the consequences of using the pit on someone as dead as Sara was creates some unforeseen difficulties, and John Constantine is uniquely suited to help our team deal with those.
---
Twin Peaks
Good news! The revival will enter production next month—but an episode count or a premiere date are still undeclared. [/Film]
Meanwhile, Showtime president David Nevins says that every returning character you could want to see in the show will actually appear:
I think you should be optimistic that the people that you want will be there and then there will be surprises in addition. Happily, there will be no other directors. David Lynch is directing the whole thing. He's directing it like one long movie is how he's approaching it.
[TV Guide]
---
The X-Files
Annabeth Gish will return as her Season 9 character Agent Monica Reyes. [CBR]
---
Fear The Walking Dead
Cliff Curtis discusses how the vibe of the show will differ to The Walking Dead:
What's great about our show is in our world we don't even know about that other show. We don't know about what's coming or what this whole phenomenon is. So the audience knows so much more than we do and it's kind of like we're just sort of carrying on, trying to carry on with our normal lives — like go pick up the kids from school. Oh, the school's not really a school anymore. Oh, we've got to go and get that stuff to go to the library, and the library's overrun, and oh, we've got to go to the emergency ward. So this discovering, it's more like a natural disaster-type setup where there's a natural disaster, whatever this virus is or this disease that sort of overrun our nation.
[CBR]

---
12 Monkeys
Jay Karnes and Brendan Coyle have been cast in the series. Karnes will play the recurring role of Robert Gale as a "savvy FBI agent", while Coyle will guest as Doctor Benjamin Kalman, a "former Markridge bioengineer racked with guilt over the deadly virus his team gave birth to". [Entertainment Weekly]
---
The Last Ship
The show has been renewed for a third, 13-episode-long series. [Spoiler TV]
---
Defiance
Here's a few new promotional pictures from "Of a Demon in my View" and "The Awakening"—follow the link to see more. [Spoiler TV]
---
Gotham
Finally, here's a new picture from season 2, teasing a "different kind of circus" coming to the show.
---
Additional reporting by Gordon Jackson and Charlie Jane Anders. Top image: Constantine, God rest its soul.