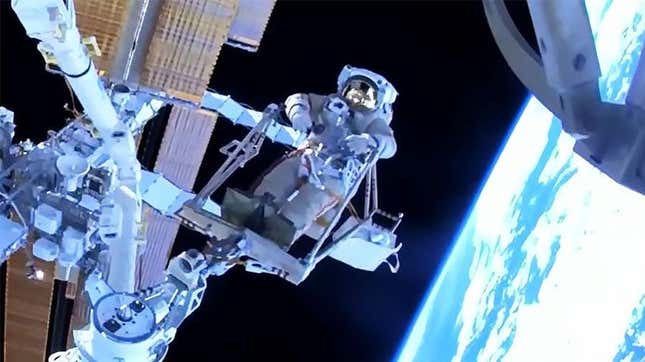 At the end of a nearly seven hour spacewalk outside the International Space Station (ISS), a Russian cosmonaut got to strap onto a giant, 37-foot-long robotic arm attached to the orbiting lab for its first test drive in space.
Taylor Lorenz Talks "Extremely Online"
Roscosmos cosmonauts Sergey Prokopyev and Dmitri Petelin stepped outside the space station on Wednesday at 10:44 a.m. ET for a scheduled spacewalk that lasted for six hours and 35 minutes. After completing the assembly and maintenance work to the ISS, Prokopyev tested the European Robotic Arm (ERA) as a way for astronauts to safely move across the outside of the space station during their spacewalks.
Prokopyev rode at the end of the massive robot arm while another cosmonaut, Andrey Fedyaev, controlled ERA from inside the Nauka module at a slow and steady pace. Wednesday's spacewalk was Prokopyev's eighth spacewalk to date, but presumably a rather memorable one as he became the first to ride the robotic arm. NASA uses the Canadarm in a similar manner when transporting astronauts during spacewalks.
ERA launched to space in July 2021 and has already been used to transfer payloads from one side of the ISS to the other. The robotic arm is designed to resemble a human arm, complete with two hands. It moves in a distinctive manner, mimicking the movement of an inchworm. To advance, it shifts one hand in front of the other, methodically moving back and forth. It has the ability to carry up to 17,600 pounds (8 metric tons), transferring payloads as they arrive to the ISS, helping out with spacewalks and even moving astronauts themselves while they are tethered to the outside of the space station.
The important new tool has been at the center of heated political tensions between the Russian space agency and its European counterparts following Russia's invasion of Ukraine. In July 2022, Russia threatened to withhold access to ERA, which is attached to the Russian orbital segment of the space station, and have its cosmonauts discontinue working on its installation.
Luckily, the giant robot arm was unbothered by the space drama and continues to thrive in low Earth orbit.
For more spaceflight in your life, follow us on Twitter and bookmark Gizmodo's dedicated Spaceflight page.