Filmstruck and its Criterion Channel are set to be shuttered at the end of this month, but it appears a viral online petition along with some high-profile celebrity endorsements from the likes of Christopher Nolan and Guillermo Del Toro may have changed some executives' minds. In an announcement today, Criterion said its own standalone service will return in the Spring of 2019, and it will include the excellent special features and curatorial programming that made it stand out from other platforms.
What's more, the Criterion Collection says its streaming library will also be available on WarnerMedia's Netflix competitor that's expected to launch at the end of next year.
The situation breaks down like this: AT&T is currently merging with Time-Warner, owner of HBO, Turner, and WarnerMedia. AT&T proceeded to shut down some streaming projects on that end as it builds its mega-service that is also said to include HBO content. On Thursday, Deadline reported that WarnerMedia CEO John Stankey is considering rolling the Filmstruck offerings into the new streaming service. And Criterion's announcement confirms that we'll at least be getting its old channel back in proper form and some sort of variation on the Filmstruck goodness through Warner's film library. When contacted by Gizmodo, WarnerMedia confirmed that it will be adding films from the Turner library as well—which makes this all look like Filmstruck 2.0 is on its way.
Criterion is already offering people who want to sign up early a discounted rate on an annual subscription.
You can read the full press release below:
The Criterion Collection and WarnerMedia announced today a new chapter for the beloved collection of Criterion films. In the Spring of 2019, through a special arrangement with WarnerMedia, the Criterion Channel will launch as a free-standing streaming service. Additionally, the popular library of films will be part of WarnerMedia's recently announced direct-to-consumer platform that is planned to launch in the fourth quarter of 2019. Today's announcement ensures that fans will have access to these films from the Criterion Collection as well as films from WarnerMedia's deep and extensive library in what will be a rich and curated experience, which will further expand the audience footprint for these classic and acclaimed movies.

The Criterion Channel will be picking up where FilmStruck left off, with thematic programming, regular filmmaker spotlights, and actor retrospectives, featuring major classics and hard-to-find discoveries from Hollywood and around the world, complete with special features like commentaries, behind-the-scenes footage and original documentaries. The Criterion Channel will continue to produce their guest programmer series, Adventures in Moviegoing, which has already featured such cinephile luminaries as Barry Jenkins, Guillermo del Toro, Bill Hader, and Mira Nair. Criterion's monthly 15-minute film school, Observations on Film Art, Tuesday's Short + Feature, and the Friday double-bill will all be back as well.
G/O Media may get a commission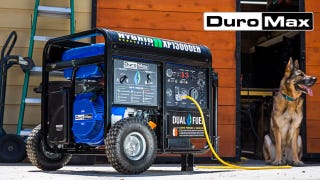 Black Friday Sale
DuroMax Generator Sale